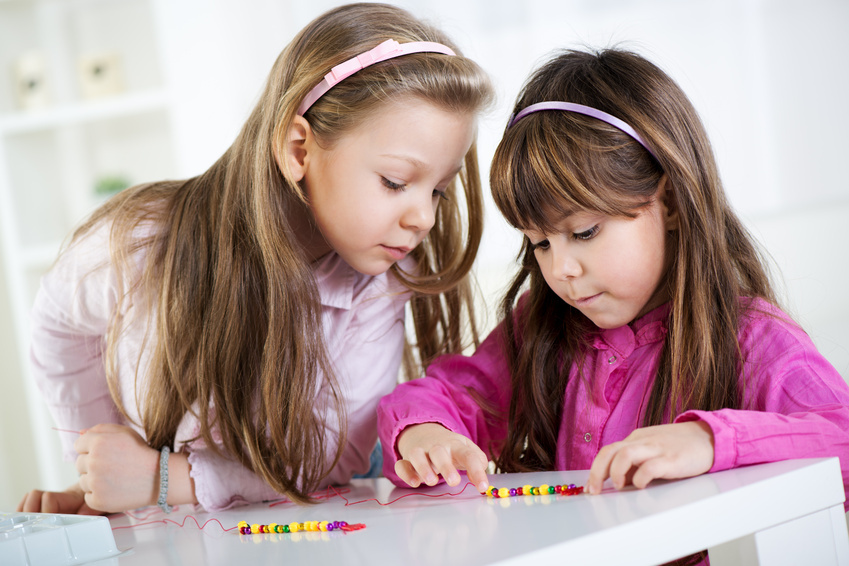 Children's jewellery comes in many forms, including necklaces, earrings, bracelets, and charms. While some pieces come ready for wear, other pieces are designed for make. Jewellery making proves a fun craft for children of all ages, and kids can proudly wear and display the finished products.
Friendship Bracelets

Commonly made from cotton, silk, linen, yard, or hemp, friendship bracelets come in both shop-bought and handmade fashions, and kids can exchange them with others as gifts and symbols of friendship. They are designed for wear until they fall off naturally. The most common type uses brightly coloured embroidery floss. Beads or other adornment may feature in the design. Similar to macramé or crochet, the friendship bracelet making process involves tying a series of small knots. The number of friendship bracelet threads used varies according to preference; the greater the number of threads, the thicker the bracelet and the more strenuous the process. The type of thread also contributes to thickness. Generally speaking, kids should use anywhere from two to six threads to make handmade friendship bracelets.
Rainbow Looms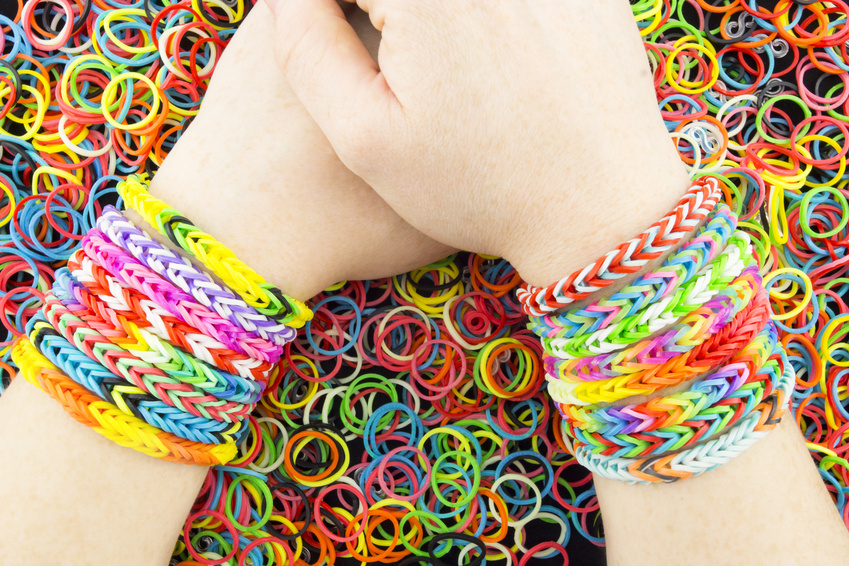 A plastic pegboard measuring 51 by 200 mm, the Rainbow Loom has push pin-type pegs over which users loop and pull small, coloured elastic bands with a plastic crochet hook. Children can then weave the resulting looped knots into bracelets, charms, and other jewellery pieces. Multiple design options exist, each of which suits a particular skill level. The Rainbow Loom kit comes with a loom, a crochet hook, special C- or S-shaped fasteners, and multi-coloured plastic elastic bands. You can also purchase additional elastic bands separately as kit add-ons.
Slap Bracelet
Slap bracelets, sometimes referred to as snap bracelets, have fallen in and out of fashion throughout the decades. These jewellery pieces consist of a flexible band of metal that has been slightly padded and coloured with material. To wear, simply slap it against your extended wrist; the flexible metal encircles the wrist. Often very affordable, they come in many colours and designs, with many particularly aimed at children. Choose bright colours as well as fun and crazy designs that often attract kids. Still, many snap-on bracelets bear the logo of sports teams or depict famous Disney or cartoon characters. Additionally, kids can trade slap bracelets back and forth amongst friends, or those in a group can wear matching ones to symbolise their solidarity and friendship.