A christening ceremony is a once in a lifetime event for any baby, and you want your daughter to look her best for the photos. Christening gowns are a traditional outfit for both girls and boys, but there are several styles to choose from. Some churches do prefer specific options, such as a traditional dress for a formal baptism, but usually, choosing a christening dress style for a girl is a personal decision for the parents. While you should usually choose a white christening gown, there are three very popular types of dresses for you to choose from.
Traditional Christening Dress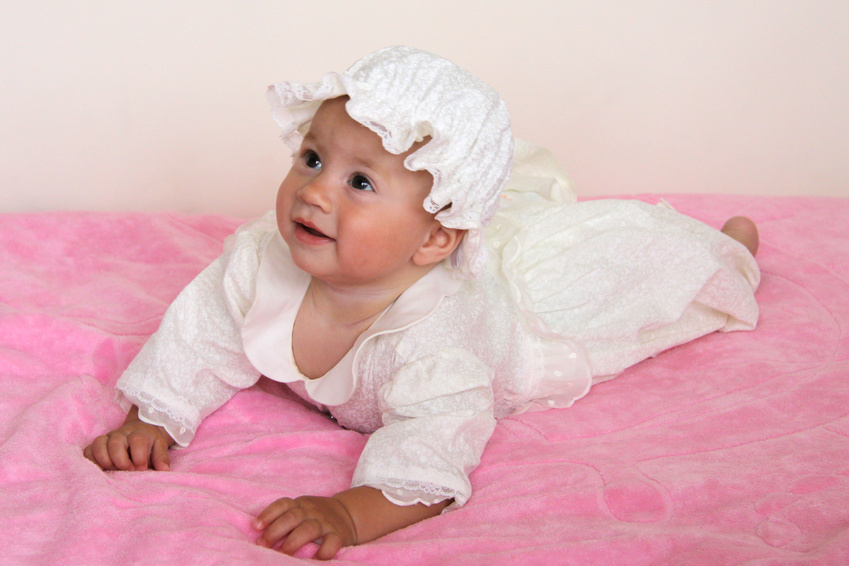 The traditional christening dress is the most common and easiest option for you to pick for your daughter, or the girl you are buying for. Traditional dresses are all white, usually include a lace overlay, and are appropriate for very formal christenings. The traditional christening dress is cathedral length, or longer than the baby. The exact style for these gowns does vary depending on the manufacturer, but the most popular style is the Victorian christening gown, which features a great deal of lace and embroidery. Traditional dresses are the most popular for heirloom christening gowns. Popular fabrics include silk, organza, satin, and various types of cotton, with lace overlay and embroidery.
Modern Christening Dress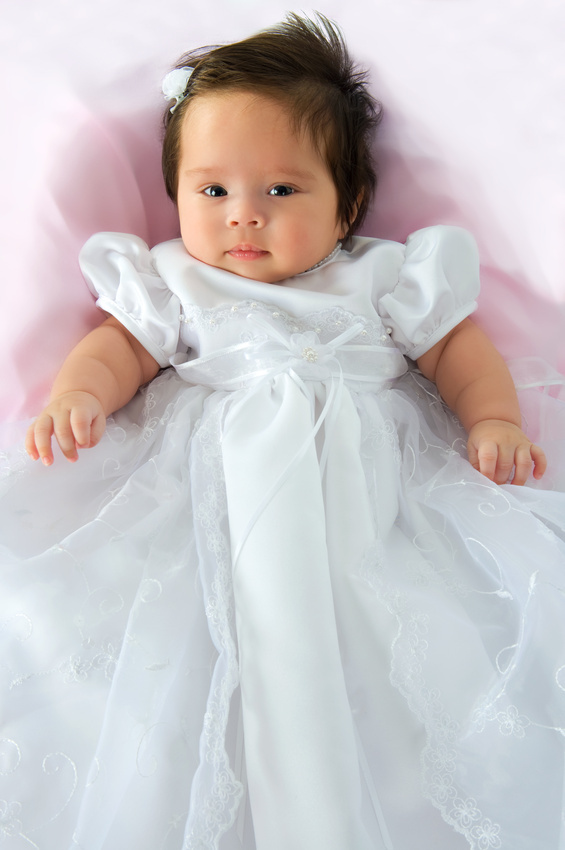 The modern christening dress is usually quite distinctive from the traditional version in that it is less formal, and usually more colourful. Most of these feature embroidery, and may also include coloured ribbons, coloured and contrasting lace, and personalisation. Some designer christening dresses resemble women's fancy or formal dresses, with tailored waists and flared skirts. These christening dresses are most appropriate for formal to semi-formal baptisms, but do vary a bit depending on the designer. Modern styles are usually considerably more fashionable than modern or casual christening dresses, although they can be casual or formal.
Comfortable Christening Dress
Comfortable christening dresses offer the most comfort to the baby. These dresses usually slip on over the baby's head and feature no waist or tight areas. These dresses are ideal for casual christenings where the baby's comfort is most important. Some casual christening gowns are also quite affordable, although prices vary. Popular materials for these gowns include cotton, silk, matte satin, silk shantung, and linen. Most comfortable christening dresses are also shorter than traditional styles, which makes them easier to get on and off, and easier for a baby to wear. Some dresses also feature lace overlays, small ribbons, and embroidery.