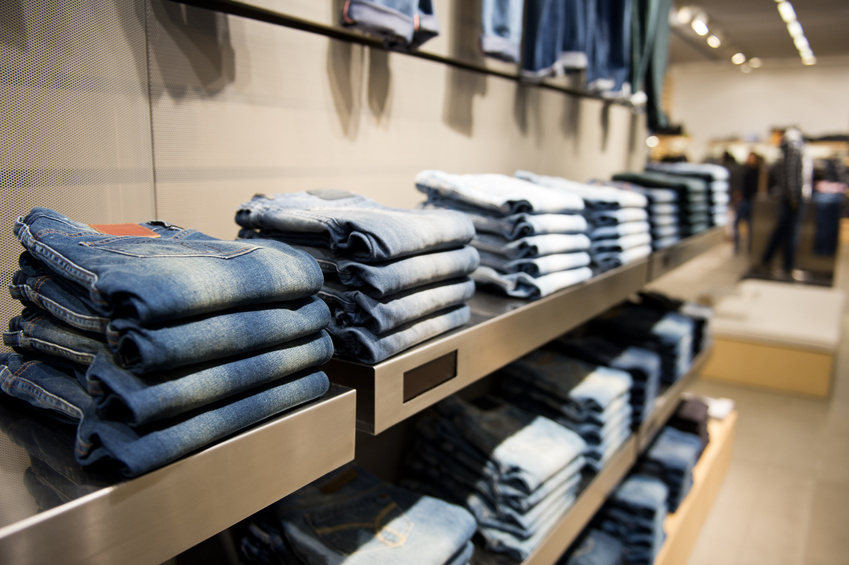 The American designer brand True Religion offers stylish clothing for men and women. The top classic True Religion apparel items available on eBay feature high-quality construction and fabrics coupled with chic designs. True Religion Stella jeans are women's petite skinny jeans suitable for variety of body types. True Religion women's casual trousers and True Religion men's eagle graphic T-shirts are ideal for casual occasions.
True Religion Women's Stella Skinny Jeans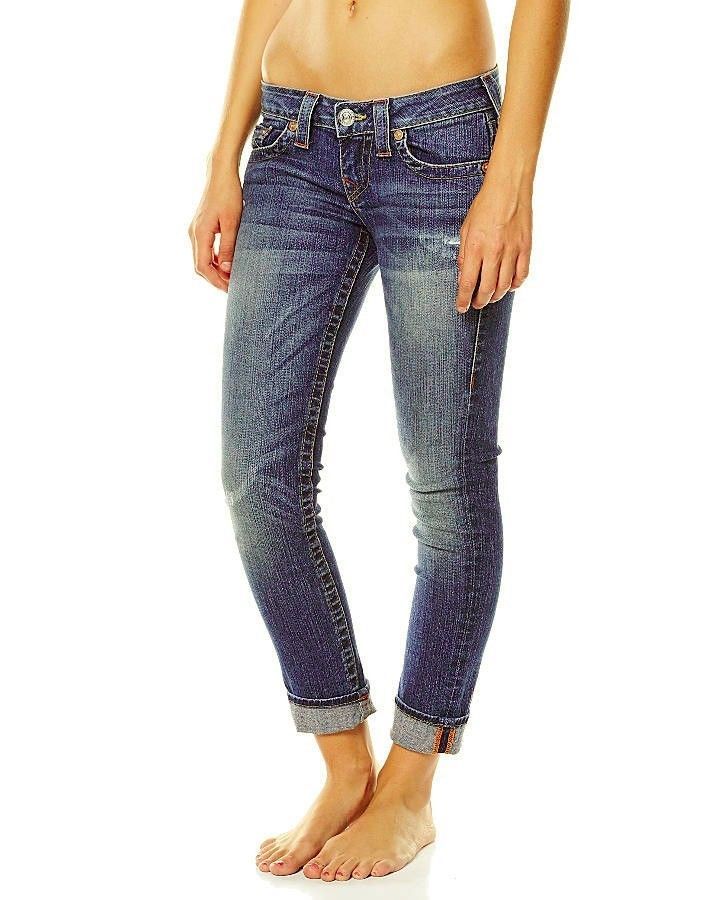 True Religion Stella women's skinny jeans are suitable for petite women. These True Religion jeans feature orange bar tacks that contrast with the deep indigo colour of the manufacturer's Dark Pony Express wash. They are five-pocket jeans in standard lengths with flat fronts. The jeans create a skinny silhouette and sit on the ankle for minimal stacking, making them suitable for wearing with ballet flats or high heels. You can wear Stella jeans with casual or smart-casual outfits, and their dark rinse creates a polished look. Stella jeans have a medium rise waist and zip fly. They consist of 99 per cent cotton and 1 percent elastane for stretch and comfort. Sizes range from 23 to 32.
True Religion Women's Relaxed Sport Trousers
True Religion women's relaxed sport trousers are suitable for exercise or lounging. They come in grey and consist of 100 per cent cotton. Cotton is soft and breathable with excellent moisture-wicking properties, so these trousers remain comfortable during strenuous activities and relaxing times at home. They offer a loose fit with wide elasticated waists and trouser cuffs for added warmth. Darker colours in the waist and cuffs create stylish accents. Sizes range from extra small (XS) to medium (M). These casual trousers come with a drawstring at the waist that allows you to adjust the fit if required.
True Religion Men's Grey Eagle Graphic Tee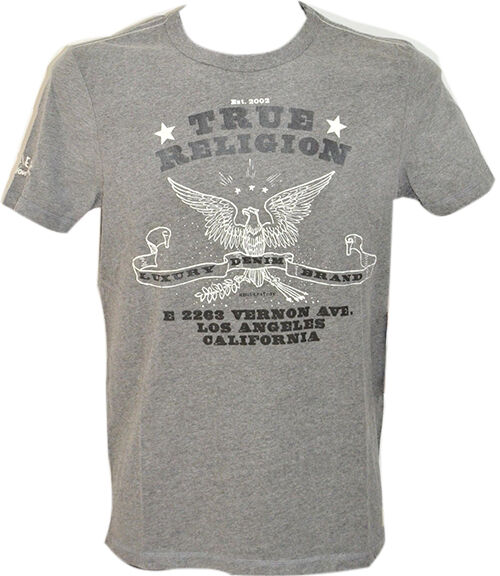 The True Religion men's grey eagle graphic tee features a distressed classic motorcycle crew logo. The graphic is a detailed sketch of an eagle with its wings spread and its talons thrust forward, grasping a banner in its beak. The True Religion brand name sits above the eagle in white and the rest of the T-shirt is a light grey. The design creates a vintage effect using moto chic and distressed lettering. The shirt consists of 100 per cent cotton and has a crew neck with soft neck trim for increased comfort. This slim-fit T-shirt has short sleeves, and sizes range from small (S) to triple extra large (XXXL). Although the grey True Religion T-shirt is the most popular option, these shirts are also available in cream, light blue, and dark blue.