Modern home phones look nothing like Alexander Bell's invention from the beginning of the 19th century. They have become smaller, cordless, and more powerful. The modern phone opens the door to many different types of communication, and it even provides features that can make everyday life a lot easier. Allowing the convenience of cordless talking, the top 3 cordless home phones fit into any home.
Panasonic KXTG 8564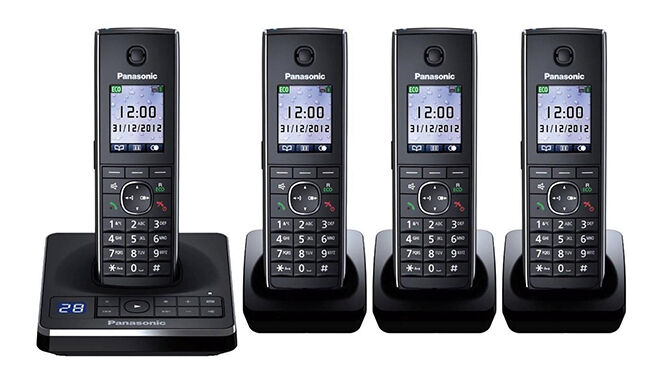 The Panasonic KXTG 8564 comes from a line of quad cordless DECT phones suited for a large home or a small office. It is compatible with ordinary telephone lines and older analogue technology. Users can connect the phone with a wired headset, and it has a belt clip for extra portability. This Panasonic model offers voice pitch control and can alter the sound to be easy on the ears. The caller ID announces the name of the caller and remembers the last 50 calls. The phonebook holds up to 350 numbers and names, and the call log stores the last 10 numbers. Its built-in answering machine can record up to 40 minutes of voicemail accessible from the base or any of the four handsets. It even has an integrated baby monitor function that can detect the baby's cry on one handset and pass that information onto another.
BT 6510
A highly capable set of triple cordless phones, the BT 6510 can come in handy for those running a home office. Users can program the phone to become a secretary that filters all incoming calls. Call Control allows users to send any unwanted call straight to voicemail. Users can adjust the settings to not answer international and withheld numbers; the list of numbers that goes to voicemail can hold up to 10. Each handset offers 12 hours of talk time and 120 hours of standby. The answering machine records up to 30 minutes of messages, and the call log remembers the last 50 numbers. Users can store up to 200 names and numbers inside this model, which supports text messaging and a range of 300 m.
BT Freelance XD8500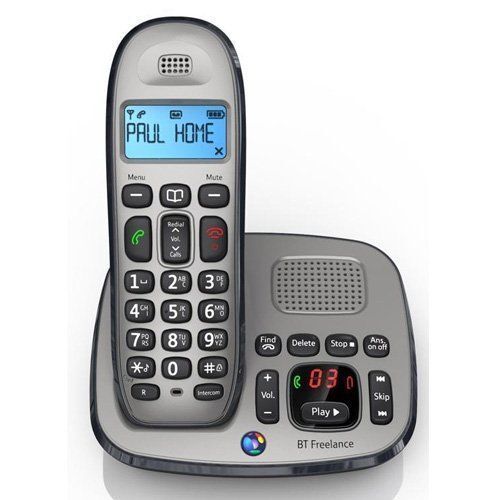 This BT model proves that an elaborate home phone system is not always necessary. A single cordless phone, it provides all basic features that a user may need. It has a caller ID, a phonebook that can store 50 names and numbers, and it memorises the last 40 calls. The answering machine can record up to 25 minutes of voice messages that users can access remotely. Lastly, it has an outdoor range of 300 m and lasts up to 12 hours of active use.