Crepe makers are designed to help you cook perfectly formed crepes with ease. These appliances come in several forms, including both gas and electric crepe maker varieties. Whether serving crepes with fruit or filling them with sweets, like Nutella, a crepe maker helps you impress your dinner guests.
Breville VTP130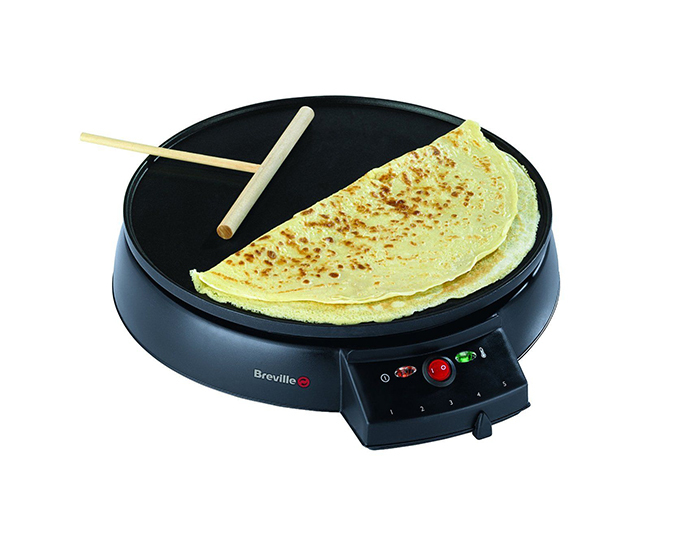 Similar to an electric griddle, this traditional crepe maker boasts an impressive 1000 kW of power, perfect for cooking crepes as well as pancakes, omelettes, blinis, flour tortillas, and other household favourites. It also features a variable temperature control with five settings for versatility. Perfect for those with limited time, it rapidly heats up to a medium setting in just three minutes. Simply power on the appliance, and wait for the green ready-to-cook indicator light to give you the visual prompt to get started. The Breville VTP130 comes with a T-stick tool, helping you effortlessly spread the mixture flat onto the hot plate for even cooking. It also comes with booklet full of sweet and savoury recipes. Equipped with a 30-cm wide, non-stick coated aluminium plate, it also proves easy to clean. There is no dismantling required to wash the plate after use; simply wipe the area clean with a damp cloth. Still, a fitted cord storage makes for a tidy kitchen area.
Kitchen Craft Crepe and Pancake Pan
The Kitchen Craft 24-cm crepe and pancake maker is lightweight in design and features a heavy-duty non-stick interior as well as a high quality 2-mm base. It also features a comfortable, riveted handle with an integral hanging storage loop for optimal storage. Classically styled, the crepe maker proves dishwasher safe for ease of cleaning. This kitchen appliance works well on both electric or gas ranges for ultimate versatility. Whether a novice to the art of crepe making or a professional cook, this crepe pan suits any kitchen space.
Severin CM2198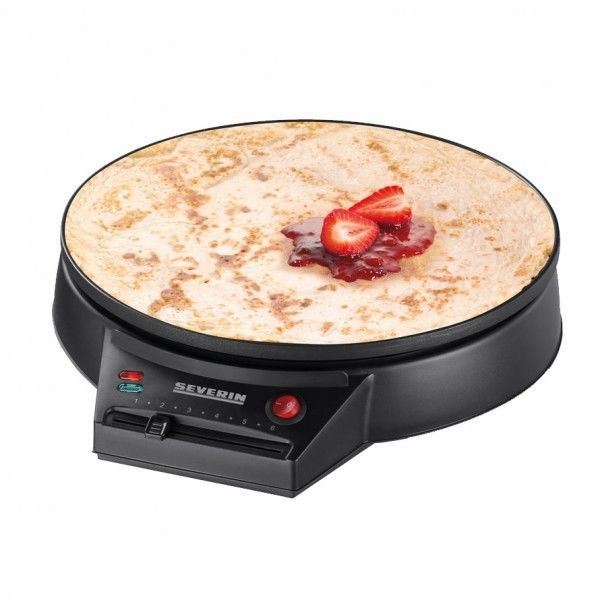 The Severin CM2198 crepe maker is perfect for in-home cooking and proves ideal for making not only crepes but also omelettes and pancakes. It features a powerful 1000 kW plate and a 30 cm-wide, non-stick coated pan that prevents dough from sticking, allowing for perfect crepe formation and easy cleaning. An included wooden spatula and wooden turning stick further ease the crepe making process. Equipped with a continuously variable thermostat and a high-quality plastic housing, this crepe machine has a simple on and off switch and a ready-to-use indicator for user-friendliness. Still, non-slip feet provide total stability during operation, while cable storage makes for a clutter-free countertop space. Furthermore, its sleek black design complements all modern kitchen decors.