Daytime running lights, also called DRLs or daylight running lamps, are low-power bulbs fitted to a vehicle to improve visibility during the day. A 2011 law affecting the UK and Europe requires DRLs in all new passenger vehicles. Though not required by law, users can retrofit older vehicles with aftermarket daytime running lights and enjoy the same safety benefits while adding a stylish modern look to their cars.
Philips Daytime Running Lights Daylight 9

One of the company's top DRL models as of 2014, the Philips Daylight 9 replaces the Daylight 8. It is part of the third generation of Philips DRLs. This road legal solution uses nine LEDs in each unit and meets all the requirements of a DRL. The included DRL controller turns the lights on automatically when an engine starts and dims them when headlights come on at night. It is compatible with different types of cars, including hybrid and electric models. Buyers can mount the Daylight 9 at multiple angles with a horizontal range of 40 degrees, resulting in wide viewing angles. Like other Philips DRLs, this model features a clip-on installation system. Once users fit the brackets, the modules simply click into place and lock. Moreover, these daytime running lights have a robust aluminium housing that is corrosion resistant, weatherproof, and impact resistant.
Osram Light@Day
The stylish Osram Light@Day features a curved shape and a homogeneous light beam without LED point lights. Users can also set it up to function as both a daytime running light and a position light. Using LEDs with a colour temperature of 6,000 Kelvin, these bright units do not consume much power, resulting in less stress on a vehicle's alternator and therefore lower fuel consumption. Like other road legal DRLs, it turns on automatically when an engine starts and turns off as soon as drivers turn on headlights. When used as position lights, these LED daytime running lights dim to 50 per cent brightness at night. Osram states that the Light@Day DRL has a high IP 69K protection rating, meaning it can withstand high-pressure washes and other rigours.
Ring Lyra LED Day or Night Lamps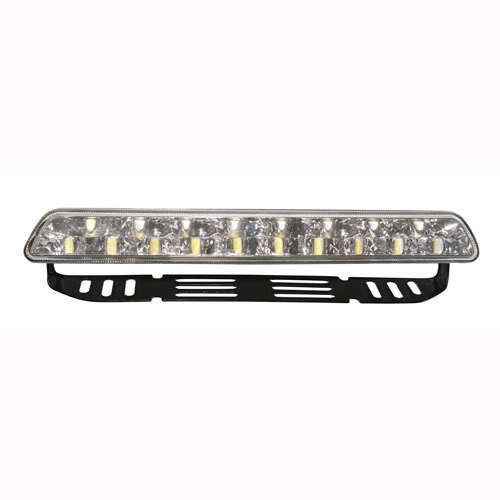 Ring has built its reputation around vehicle lighting, so it is not surprising that it also offers quality daytime running lamps like the Lyra. This model is a dual function lamp that lights up as soon as an engine starts, but dims when sidelights come on at night. Each Lyra unit features 18 white LEDs and meets all UK regulations regarding DRLs. Other notable Ring DRLs include the 150 mm Aurora, circular Apollo lamps, and Cruise-lite styling lamps.