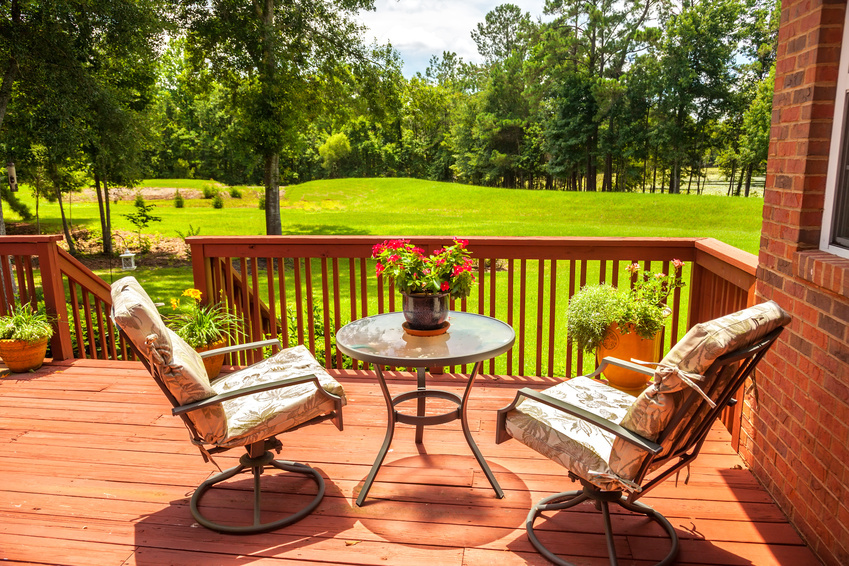 A designer outdoor furniture set is ideal for al fresco dining, outdoor entertainment, and simply lounging in the sun. Many contemporary designs are small enough to fit compact gardens, patios, and balconies. Solid hardwood outdoor furniture is heavier and bulkier, but stylish and durable. Choose a set that matches your home and garden decor by considering the features of the top three designer outdoor furniture sets available.
Allibert Rosario Balcony Set
The Allibert Rosario balcony set is ideal for the patio or the garden. Its wicker effect design provides a contemporary look, and its quality construction featuring durable materials ensures that the set looks its best after prolonged use. The Rosario set consists of Montana chairs and a small square table. The chairs measure 62 by 60 by 89 centimetres and the table measures 59 by 59 by 43. Allibert Montana chairs have high backrests for improved comfort. The set is easy to assemble, clean, and maintain, and it includes comfortable cushions with removable, washable covers. You can use the compact, cosy Rosario Balcony Set indoors or outdoors. It comes in anthracite, brown, and cappuccino.
ScanCom Wiltshire Outdoor Dining Set
The ScanCom Wiltshire outdoor dining set is a seven-piece solid eucalyptus wood outdoor set with galvanised steel hardware. It includes a rectangular X-leg dining table with a top measuring 150 by 90 centimetres, four folding chairs, and two folding armchairs. The table has a parasol hole in the middle, so you can add a shade if needed. The folding armchairs measure 52 by 91 by 56 centimetres and the folding chairs 48 by 91 by 56 centimetres. The folding chairs facilitate storage, helping you to take the best possible care of your outdoor furniture. The wood carries Forestry Stewardship Council (FSC) certification and comes pre-treated with ScanCom sealer oil for added protection against the elements. The manufacturer recommends sealing the set with ScanCom Hardwood Sealer Oil once a year.
Keter Carolina Lounge Set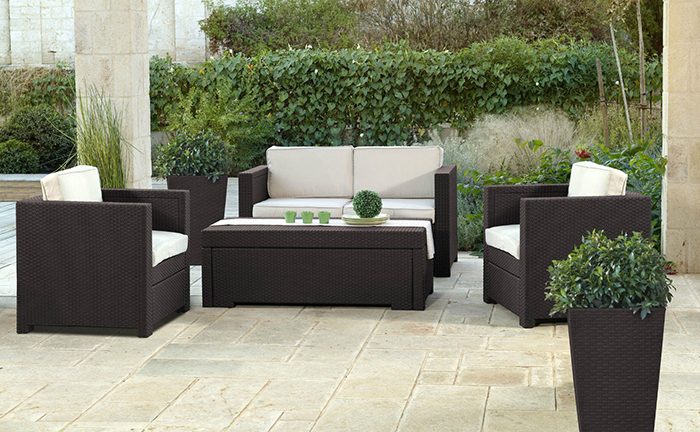 The Keter Carolina lounge set is suitable for the patio or garden. It includes a rectangular coffee table, a two-seater settee, and an armchair in anthracite grey with removable cream cushions. The set consists of polyresin flat rattan weave, which is durable, maintenance free, weather-resistant, and fade-resistant. This material does not rot and the set is water resistant. The non-metallic frame cannot corrode and requires no maintenance. The Carolina lounge set is easy to clean and the cushions come with washable covers. The set is sturdy, but light enough to move with a minimum of effort. The grey colour with cream cushion accents creates a sleek, contemporary look in any garden. You can use this furniture indoors or outdoors.