Having a double gas oven provides plenty of oven space, even when you are cooking for many guests. The two ovens also allow you to cook different items at different temperatures. With a huge range of double gas ovens to choose from, and because they are so integral to your household, purchasing the right one is a daunting prospect. However, choosing from among the top three double gas ovens allows you to purchase with confidence and get the oven that best meets the needs of your household.
Rangemaster CLAS110NGFCY Double Oven
Available in cranberry or blue, the Rangemaster CLAS110NGFCY is an attractive range cooker with double oven. It features aesthetically pleasing brass trim and the ovens run on conventional gas, while the hobs operate on electricity. Both gas ovens have a capacity of 66 litres each, providing ample room, even for large meals. This Rangemaster oven also boasts a warming cavity, to warm your plates or keep cooked products warm while you are waiting on the remainder, as well as a fourth cavity for pan storage. This is a very popular model, not only because of its appearance and safety shut-off features, but also because of its energy efficiency, quiet operation, and ease of use, with a simple push-button ignition.
Hotpoint HAGL60K Freestanding Gas Cooker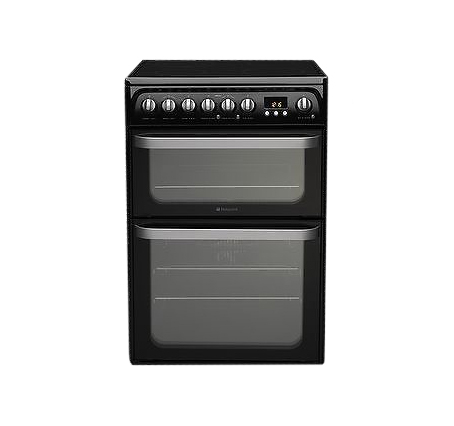 The Hotpoint HAGL60K freestanding gas cooker has a main oven capacity of 65 litres, while the second oven has 35 litres, giving you plenty of oven space. The top oven also doubles as a grill, and the oven comes with a matching grill pan. This model features door air cooling, reducing the external temperature of the oven while maintaining the internal temperature by expelling air through an internal vent between the control panel and the door. This versatile oven offers you exceptional control, features a programmable electronic timer, and comes complete with an LPG conversion kit for those who do not use conventional gas.
Belling FSG55TCF Freestanding Gas Cooker
Belling produces high quality, long lasting products, and the Belling FSG55TCF is no exception. It boasts a main oven capacity of 69 litres, so is a great choice for large families. The secondary oven, offering an additional 39 litres of cooking space, makes this a popular choice for those who need to cook at differing temperatures or for large numbers of dinner guests. The cast iron pan supports increase the stability of your pans on the hobs, and the cooker also features a wok ring, perfect for whipping up a tasty stir-fry. This fast-heat double gas oven boasts removable inner glass for easy cleaning.

Other than the 3 ovens listed above, consider Beko as a trustworthy alternative.