Easter is a magical time of year, and it is no surprise that kids love celebrating the holiday with a few crafts. Thanks to Easter's colourful nature, it is possible to enjoy kids' crafts that are vibrant without being too messy. Some of the best Easter craft ideas for kids involve simple decorations that family members of all ages can enjoy when the big morning arrives. From baskets and bonnets to simple cards, great Easter crafts make this holiday extra special.
Make an Easter Basket

When the big morning rolls around and kids are ready to find their Easter eggs, they need Easter baskets to hold all the goodies. Crafting baskets rather than purchasing them is a great way to enjoy some Easter fun and put a personalised stamp on decorations. To make baskets, kids need scrap cardboard, craft foam, Pritt glue sticks and Easter stickers. They use the scrap cardboard to fashion the baskets and handles, apply the glue to hold it all together, and then decorate with the stickers. Pritt sticks are easier for little ones to work with, but traditional glue produces longer lasting results.
Create an Easter Bonnet
Easter bonnets are a lot of fun for kids of all ages, especially when they have some creative freedom on the decorating. To make Easter bonnets, kids need black cardboard, white foam sheets, staplers, and items for decorating. This may include fake straw, glitter and Easter stickers. To make the bases of the bonnets, they cut large circles and then cut holes large enough for their heads. Tall hats can use large rectangles, curved and stapled together, to create the height. Glitter, Easter chicks, bunnies, and colourful eggs serve as ideal decorations.
Design Easter Cards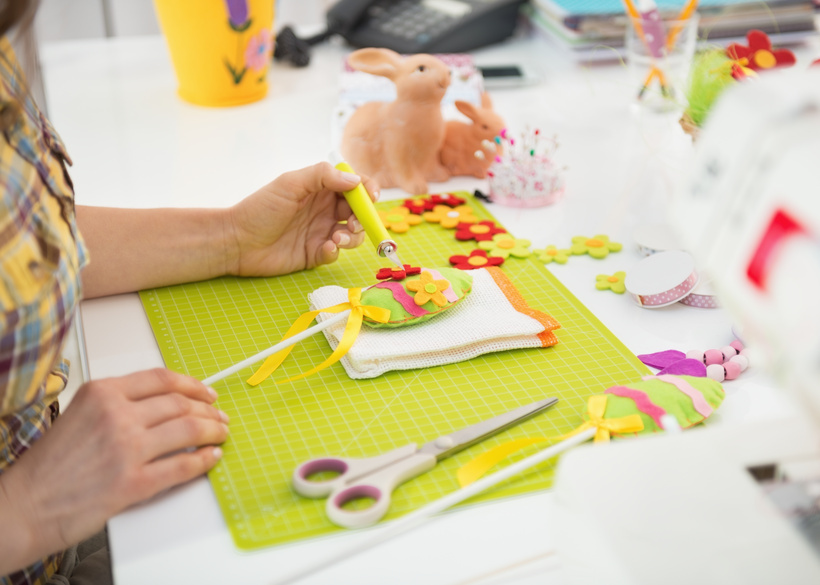 As far as themed crafts go, few are as simple or magical as cards. With very little effort, it is possible to produce Easter cards that are endlessly adorable. Kids start with blank cards, poster paint, Pritt Stick and decorative items with an Easter theme. Foam shapes and foam sheets come in handy and are easy to glue. Easter cards are particularly fun when it comes to younger children because the mess is minimal, especially if adults remove paint as a possibility. After finishing the cards with simple messages, kids are ready to deliver them on Easter morning.