Electric bikes provide riders with an eco-friendly way to enjoy assisted riding. Anyone interested in making the transition to electric bikes can start off by becoming familiar with how these bikes work and some of the top bikes on the market today.
How Electric Bikes Work
Electric bikes are essentially basic road or mountain bikes that have the added benefit of integrated motors that can power bikes forward without a rider pedalling. This provides riders with the ability to rest during extended rides, steep inclines, or when towing. A rechargeable battery powers the motor and typically detaches from the frame for charging away from a bike. Many electric bikes also come with regenerative braking; every time a rider brakes, it recharges the battery. Some electric bikes are the result of a rider taking a standard bike and retrofitting it with a electric bike conversion kit.
Haibike Xduro AMT Pro
Many regard Haibike as the company that launched the e-bike revolution. Their Xduro AMT Pro bicycle is a top pick for many electric bike aficionados and features a Bosch Performance Line mid-motor drive system. Haibike has optimised this motor to deliver a standard speed of 20 kph. A hydro-formed aluminium frame along with a bottom bracket created with a gravity cast technique make this bike lighter than most e-bikes while still protecting the motor on the road. The form factor on this bike focuses on mountain bike riding and features rugged wheels, a SRAM X01 11-speed rear derailleur and 200mm Fox CT Kashima rear shocks.
Stromer ST1
Available in both a men's frame and a step-through frame, the Stromer ST1 is another well-respected e-bike. An easy-to-read display on the handlebars serves as the interface between rider and bike, displaying essential performance data such as battery charge levels, consumption, and regenerative braking rates. The design of the gearless hub motor on this bike eliminates stress on the bike's gears and chain. Consumers have the choice between two motor configurations: the Elite, which features nine speeds for handling steep inclines and towing and the 27-speed Platinum, which can address most any terrain.
Polaris Vector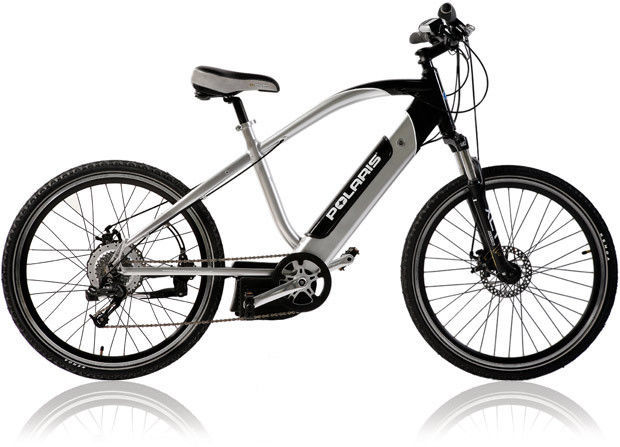 This custom designed bike from Polaris features integrated cables, regenerative braking, and a controller. The 450W DuoDrive motor sits low down on the rear tube to make this a very balanced bike that any rider can handle with ease. Polaris' intent in designing the Vector was to balance power and efficiency, so the bike delivers a very smooth ride despite its large motor. Designed for street and city riding, the Vector has a streamlined form factor available only in a high step frame design. This Polaris electric bike can deliver around 1.25 hours of ride time without any rider assistance.