Fishing lures, or artificial fishing baits, for fly fishing are meant to attract fish. Available in a wide array of colours, styles, sizes, these angler essentials can work in both fresh and saltwater, depending on the type. They often use movement, flash, vibration, or colour to help bait the fish. Many are equipped with one or multiple hooks to help catch the fish when they strike the lure.
Smithwick Rattlin' Rogue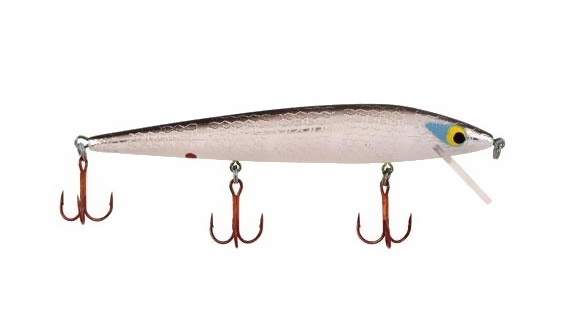 A good option for larger trout, the Smithwick Rattlin' Rogue suits both cold or clear water. A favourite amongst bass anglers, this classic fly fishing lure is equipped with loud fish-attracting rattles and a wounded-minnow action that helps to produce explosive strikes. For optimal results, allow the trout lure to rest on the surface of the water before beginning the retrieval. Vary the jerks of the rod tip from light to hard, slow to fast, and short to long. Slow rolling the lure also proves successful; allow the Rattlin' Rogue to wallow along or rest slightly below the surface with a slow retrieve. Measuring about 11.4 cm in length, it comes in multiple fish-enticing colours, including clown and tiger roan.
Rebel Tracdown Minnow
The sinking version of the original Rebel Minnow, the Tracdown helps anglers catch trout, bass, smallies, panfish, walleyes, and other game fish in moving water. Its straight tracking facilitates targeted presentations. This trout fly lure sinks at a rate of 30 cm per second, allowing the angler to count their lure down and retrieve it at a precise depth. Constructed of quality components able to withstand repeated strikes, the Rebel Tracdown Minnow features 3D eyes and comes in several colour patterns, including gold and black, silver and black, and silver in blue. Lastly, it is available in various lengths, depending on the needs of the angler.
Blue Fox Vibrax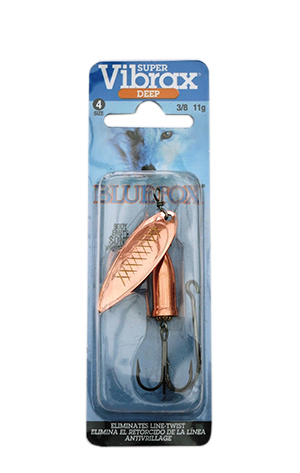 The Blue Fox Vibrax features brass stamped blades, a stainless steel shaft, and a high quality VMC hook, which proves extremely sharp for quick penetration and perfectly tempered strength. This trout spinning lure has an internal vibration rattle, designed to lure pike, bass, panfish, steelhead, and trout. The patented two-part, machined brass body also gives off low-frequency sound vibrations that attract fish and trigger strikes while eliminating line twist. Still, calf tail and tinsel adorn the treble hook for visual appeal and an enhanced profile. Equipped with a 60-degree shallow depth blade, this detailed spinner sea fishing lure runs from the surface down to 60 cm, making it well suited for shallow scenarios. This spinning lure comes in various sizes and colour combinations for increased versatility.