Camping furniture allows for a more comfortable experience while enjoying nature. A folding camping tables offer solutions for solo travellers, couples, and even families who want a separate station for preparing and consuming food. The top 3 camping tables are made using the industry's highest standards and only mainly differ in capacity. Base your purchase on which one offers the exact amount of comfort you need.
Easy Camp Calais Table
Measuring 70 by 70 by 70 cm, the Easy Camp Calais fits neatly into its small carry bag. Made of a lightweight aluminium alloy, it only adds 2.9 kg to your camping gear. Moreover, the bag itself measures only 70 cm high and 12 cm wide, which means that the table, when collapsed, takes up a minimum amount of space. It unfolds within seconds and does not need assembly. Able to support as much as 30 kg, this small camping table is ideal to use for food preparation and dining for two. An aluminium version would suit indoor use and makes a nice addition to a garage or balcony.
Easy Camp Provence Picnic Table
A larger model capable of accommodating four people, the Easy Camp Provence Picnic table comes complete with chairs. Users can completely fold and unfold it in seconds. The simple procedure does not require assembly or tools. Unfolded, the table takes up 70 by 86 by 65 cm of space. The folding chairs have a dimension of 35 by 36 by 40 cm, with a steel frame and a polyester seat surface. Additionally, they can easily fit inside the folded table. The table itself folds in half like a suitcase to a much smaller 70 by 43 by 12 cm. Highly portable, it weighs 9.8 kg.
Outwell Stettler Table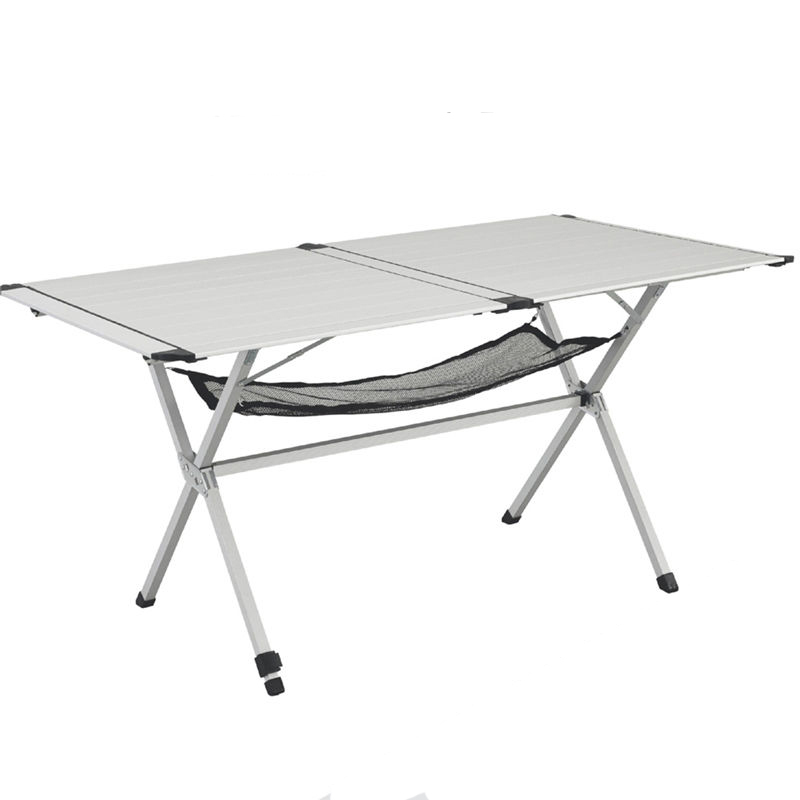 A collapsible camping table that comes without chairs, the Outwell Stettler can accommodate up to six people, as it measures 151 cm long and 79 cm wide. Entirely made of aluminium, it can support weight up to 30 kg, yet the table itself weighs a mere 6.6 kg. However, when packed, this folding camping table remains rather large at 146 by 23 by 22 cm. Fortunately, transportation becomes easier thanks to the carry bag that comes with it. Furthermore, the leg design ensures that users do not bump into the table when they sit down or get up, and it proves versatile since you can adjust leg length to secure the table on uneven terrain.