Indoor ceiling speakers offer excellent sound reproduction without detracting from the decor of a room or occupying precious floor or shelf space. These flush-mounted speakers come in kits that include accessories such as speaker cables, speaker covers, and speaker mounts. Look for a speaker replacement kit with power and impedance ratings that match the rest of your audio system. Before you shop, review the top three built-in speaker replacement kits available to make an informed buying decision.
Electro Supplies 100-Watt 8-Ohm Ceiling Speaker Kit
The Electro Supplies 100-watt 8-ohm ceiling speaker kit includes two pairs of speakers, a four-way switch, and 100 metres of cable. These water-resistant speakers are ideal for bathrooms and kitchens, and the system allows you to split music between multiple rooms. These 16.5-centimetre speakers include woofers with polypropylene cones and 5-centimetre tweeters. They come with fixing kits and simple spade terminal connections. Their maximum power rating is 100 watts and their root mean square (RMS) rating is 40 watts. The Electro Supplies speaker kit requires a mounting depth of 6.5 centimetres and has an approximate cut-out of 132 millimetres and a diameter of 180 millimetres. The switcher unit connects to and distributes the output from a stereo amplifier. You can activate up to four different speaker sets via the push buttons on the unit.
Yamaha NS-IC400 Built-In Speakers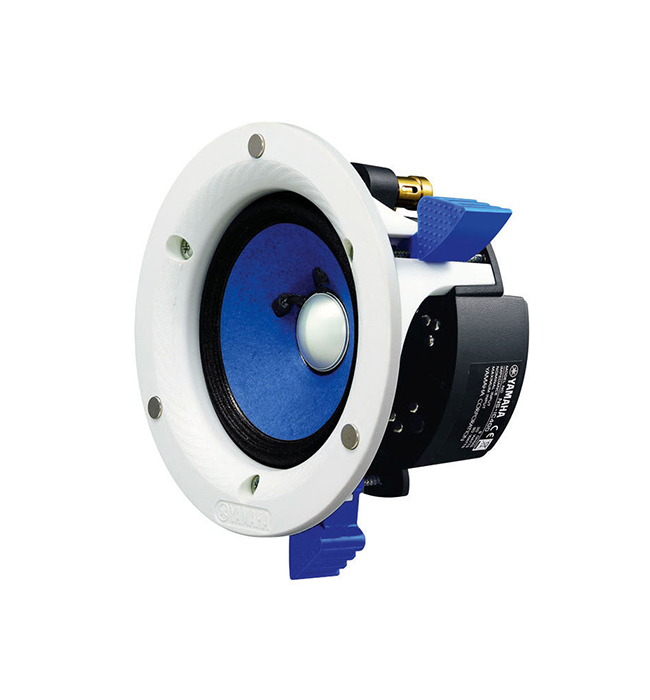 Yamaha NS-IC400 speakers are white speakers with a 92 hertz to 40 kilohertz frequency response, 8-ohm impedance rating, and 85-decibel sensitivity rating. The speakers feature blue polypropylene mica cone woofers and fluid-cooled soft-dome swivel tweeters. Yamaha focused on sound quality when manufacturing these speakers, and the horn-shaped acoustic baffles provide natural, clear sound. The aluminium centre cap smooths frequency response. The kit includes a lightweight grille for each speaker with a slim edge and a magnetic catch for easy, almost invisible installation. The magnetic catch allows for effortless removal for cleaning or painting the grille. A large clamp with a non-slip tread makes for sturdy installation. These Yamaha speakers are full-range open-back type speakers with a 90-watt maximum input power rating.
e-audio Two-Way Ceiling Speakers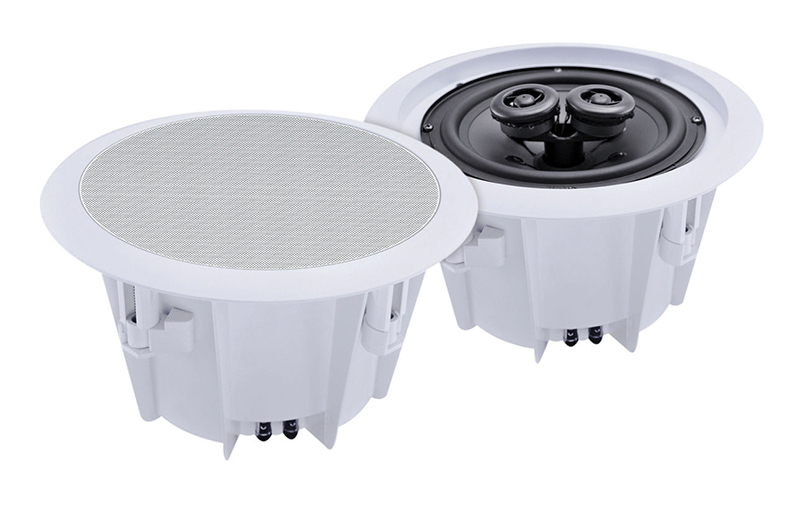 Belonging to the e-audio Professionals' Choice range, the e-audio ceiling speaker kit comes with a pair of two-way 13-centimetre speakers with 8-ohm impedance ratings. The speakers carry an 88-watt peak power rating and an 80-watt RMS rating. They are suitable for commercial and domestic systems and multi-room audio systems. These speakers are water resistant, so you can install them in kitchens and bathrooms. They come with two 1.25-centimetre high polymer tweeters that deliver clear sound and rubber-edged bases that improve bass response. The kit includes a cutting template to facilitate installation.