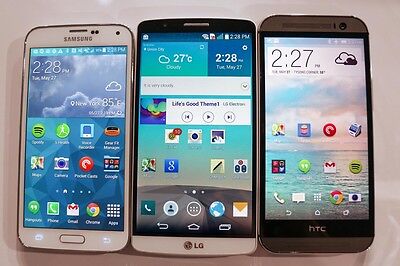 Samsung Galaxy S5 :-
The Good:
1. Waterproof
2. Top Battery
3. Powerful
The Bad:
1. Design


LG G3 :-
The Good:
1. Great camera
2. Great display outside
3. Near zero bezel
The Bad:
1. Lower battery life

HTC One M8:
The Good:
1. Looks awesome
2. Great speakers
3. Duo Camera delivers great images
The Bad:
1. Non removable battery

Overall there is nothing really to choose between any of these phones, they are all brilliant. For me it comes down to:

A. The little things - If you want the biggest phone I would go for the G3. If you want something that sounds awesome and looks awesome go for the HTC One M8. If you think being waterproof would be a cool feature then go for the S5.

B. Brand preference

C. The cost

Whatever your decision I don't think you will be disappointed. Bear in mind when buying second hand try and get the original proof of purchase (usually the manufacturers will request this if there is a problem). Buying off ebay 2nd hand I think getting any of these phones for around £270 would be a bargain. Buying off ebay brand new I would suggest around £300 would be a bargain. If you choose the S5 expect to pay a little more.