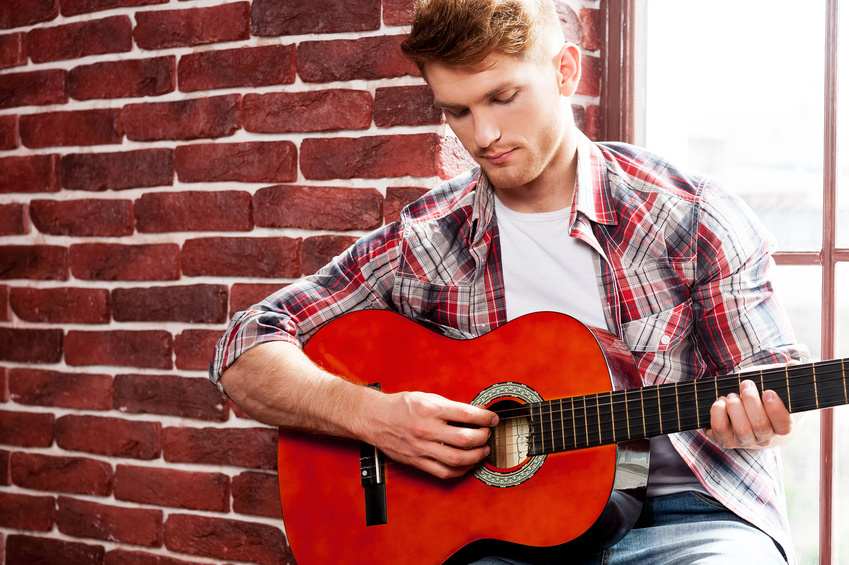 Taylor is an American-based company that specialises in acoustic guitars. They developed an innovative detachable guitar neck, which makes a guitar much easier to travel with. Taylor makes a variety of different acoustic guitars, each catering to different needs.
Taylor Big Baby Acoustic Guitar
The Taylor Big Baby acoustic is a full-sized travel guitar at 64.77 cm in length. It is ideal for players who like a compact style that is easy to take apart and put back together. The Big Baby features a detachable neck for storage while travelling. The neck is Mahogany, the front is solid Spruce, and the sides and back are Sapele laminate. This is a six-string Dreadnought Acoustic, featuring an X-brace. The guitar comes with standard light gauge Elixer strings. Despite the design geared for travel, the Big Baby delivers a bright sound, with excellent mid-range notes. However, its bass notes are not as deep as a typical Dreadnought.
Taylor Baby Acoustic Travel Guitar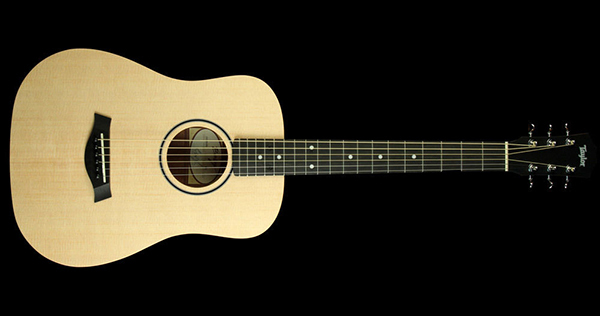 The original travel guitar released in 1996 is the three-quarter size Taylor Baby Acoustic. This guitar was the first Taylor to feature a detachable bolt-on neck for easy, compact travel. The Baby is 57.78 cm in length, but still offers a respectable quality of sound. This six-string guitar features both a Mahogany neck and front with Sapele laminate sides and back. A decorative sound hole rosette is laser-etched onto the surface. A noticeable difference in the Taylor Baby is that it has a back bracing and uses kerfed linings, which make for a sturdy body. The Baby also comes with light-gauge Elixer strings. An alternate option is the left-handed Taylor Baby for lefties.
Taylor GS Mini Acoustic Guitar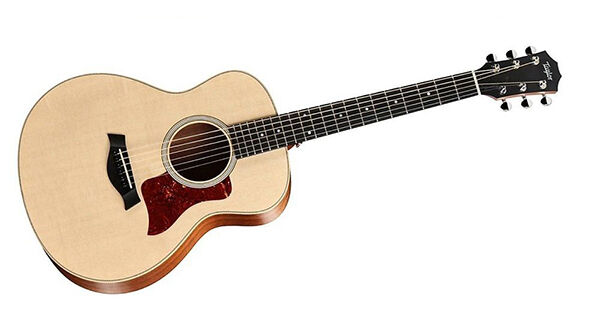 The Taylor GS Mini Acoustic guitar provides the bold sound of the GS in a miniature body. The scale length is a modest 59.69 cm, and it comes with the renowned Taylor detachable neck for travel. The front of the mini guitar is solid Spruce, with a Sapele laminate on the back and sides. A faux tortoiseshell pick guard protects the front and adds a touch of visual interest. Otherwise, the guitar is slightly lacking in structurally supportive elements, such as a back brace. This six-string guitar features and X-brace, and Ebony fretboard. The GS Mini comes standard with medium-gauge Elixer strings. Soundwise, the GS Mini is very musical with plenty of tonal range. However, like other compact guitars it is a bit light in the bass notes.