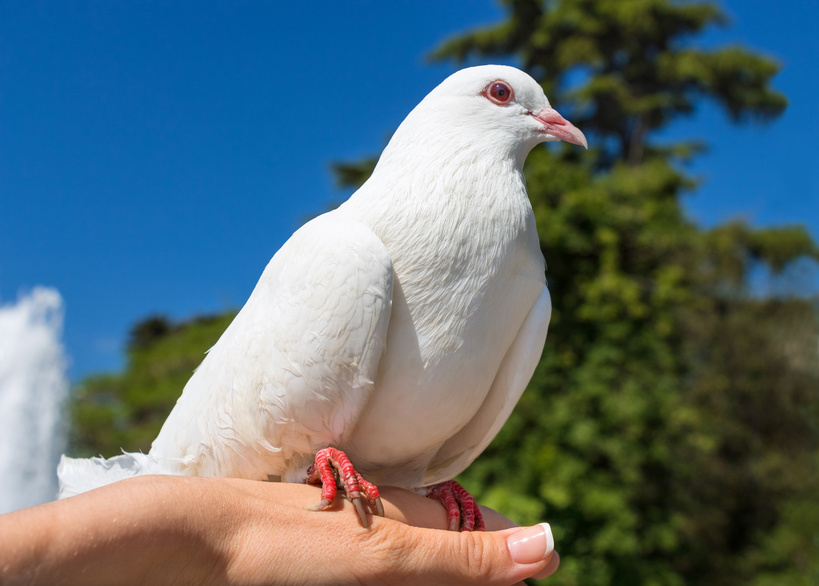 Before the advent of the telegraph and telephone, homing pigeons were important carriers of messages. Domesticated birds are still bred for their speed and homing ability. The sport of pigeon racing is known to have a single starting gate and a thousand finishing lines, as the birds take flight to race home at distances of up to 1,800 kilometres. Pigeon hobbyists understand that a comfortable home, clear identification, and good diet are essential for successful birds.
Pigeon Loft
A good pigeon loft has a minimum of four compartments for cocks, hens, young birds, and an isolated sick room. Pigeons require at least 0.06 cubic metres each to thrive, so the owner must take into account the total size of the flock. In addition to the birds being uncomfortable, disease spreads quickly in a cramped loft. Ventilation is also important because when fresh air flows freely, droppings dry quickly, decreasing the opportunity for bacteria to flourish. Whether building from scratch or buying a ready-made loft, consider the roof design because the goal of a racing pigeon is to return to its loft, not the roof. A gently sloping roof discourages roosting, but many pigeon fanciers install bird spikes or other deterrents to prevent birds from landing on the roof. In addition, the roof must be watertight and well insulated.
Racing Pigeon Rings

Although racing pigeons are well-trained to return to their home loft, they do sometimes become lost and require assistance. Both metal and plastic pigeon rings are available. A racing pigeon wears a metal ring on the leg that contains identifying information, including the organisation with which it is registered, year of birth, and registered owner. Many racing pigeons wear a second band of brightly coloured hard plastic with the owner's telephone number.
Pigeon Nutrients and Medication
Racing pigeons are little avian athletes, and like other athletes, a proper diet helps them to realise their full potential. The pigeon's nutritional requirements are well documented, which enables pigeon fanciers to bypass the old method of trial and error. Grain blends are available with a variety of protein levels for different stages in a pigeon's career. In addition to a proper diet, pigeons sometimes require avian medication, such as wormers, vaccines, and treatments for coccidiosis, candida, and typhoid.