For many people, their sense of style blooms during their teenage years. Therefore, teenagers give a lot of thought to the types of clothes they wear, including their nightwear. Teenagers choose their nightwear on a day-to-day basis; the type of nightwear they are comfortable in today, may not be ideal tomorrow. The choice of nightwear can depend on mood, comfort level, or an event such as a slumber party. The top three nightwear sets for teenagers are pyjamas, chemise, and loungewear.

Pyjamas Nightwear Sets for Teenagers
Pyjamas are two-piece nightwear sets that many clothing brands produce from woven, flannel, or silk fabrics. Plaid, stripe, and floral print pyjamas are popular among teenage girls, but solid colours also have a wide market share. Pastel colours are common for pyjamas and often include various shades of blue, yellow, pink, and green. Pyjama bottoms comprise boxer-style shorts, or long loose trousers to ensure comfort while sleeping or during various slumber party activities. These pyjama bottoms often accompany snug fitting camisoles or loose, short-sleeve, button-front flannel shirts.

Chemise Nightwear Sets for Teenagers

Chemise nightwear sets, also referred to as baby dolls or night dresses resemble short dresses that often comprise a combination of lace and a silk or satin material. These chemise nightwear sets appeal to the older teenagers as they consider them to be a sexier choice compared to pyjamas and loungewear. While chemises have various style choices, V-neck, empire waists, and lace trimmings seem to be a dominant style trend. Even though chemise nightwear does not resemble traditional pyjama sets, they are still popular at pyjama parties, especially among older teenagers and young adults. They are more stylish and flirty, but can also be conservative and comfortable depending on the chemise style and material that the wearer chooses.

Loungewear Nightwear Sets for Teenagers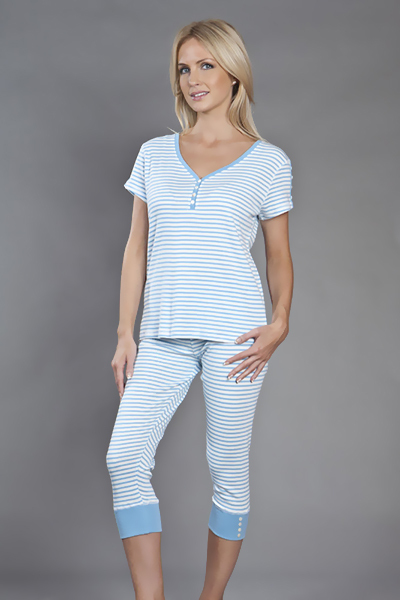 As their name suggests, loungewear nightwear sets focus more on comfort, than style. Teenagers do not simply go to bed in loungewear and then discard them the next morning; instead, they wear these loungewear sets throughout the day and sometimes during Yoga and other exercise routines. Loungewear bottoms resemble cotton sweatpants, and tops can be a choice of matching camisoles, Tees, or sweat tops. Loungewear nightwear sets are popular among university students who lounge around in them in their dorm rooms. If a visitor comes over, they do not have to worry about donning a robe or throwing something on to look presentable; their loungewear is still appropriate for visitors.

Nightwear Branding
Aside from the style and make of the nightwear, some teenagers focus heavily on branding, and popular pyjama brands include DKNY, Calvin Klein, Joules, and Cyberjammies. While people may also know Calvin Klein and Cyberjammies for their chemise nightwear, other popular chemise brands include Elle Macpherson Intimates and Eberjay. Loungewear runs right across the board. Each of these brands has their own line of loungewear with different colours, prints, and materials.