Pendulum clocks can add distinction and charm to your home or office. Depending on your intended environment, a pendulum clock can add the particular effect you want. Finding one that perfectly suits your chosen spot, as well as having the features you are looking for, can take some sorting out, but is well worth the effort. On eBay, you can select from among the top ranking pendulum clocks those types that fulfil your particular needs.
Pendulum Styles

Pendulum clocks are fully mechanical. They involve many gears, cogs, and springs and work on simple physics, and yet look complicated in the electronic age. This seventeenth century technology encompasses tremendous stylistic diversity, and you can choose from among a vast range of designs to create the atmosphere you want for your home or office. Whether you go for an antique wall clock encased in timber or glass, or an overtly modern design, you can offset the rest of your decor with the right choice. When choosing a pendulum clock, however, it is important to consider its sound quality and chime options along with how it looks on the wall or mantel.
Grandfather Clock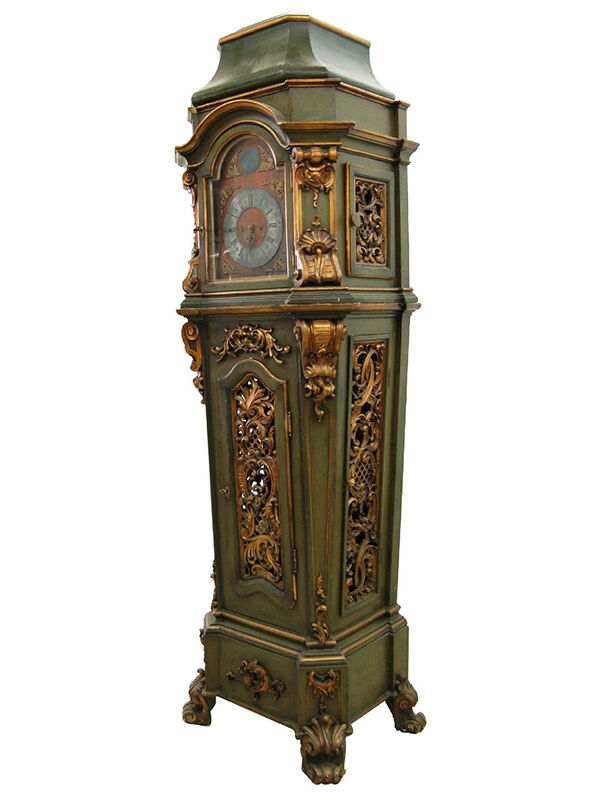 The Grandfather clock evokes timelessness and class. More than a time-keeper, it can also be a status symbol. This floor-standing clock varies enormously in design, from ornately decorated antique styling to simple and elegant modern style. Its pendulum swings via a gravity-based escapement with centrifugal force, which helps enhance its aesthetic appeal. It features deep resounding chimes that you can set according to your own preferences. Reaching six feet or more in height, the Grandfather clock can impress as an imposing feature in a living room or suitably appointed office. A more subtle alternative is the Grandmother clock with its modest five foot height.
Pendulum Wall Clock
Pendulum wall clocks hang vertically and offer time accuracy as their greatest feature. This type also has a gravity based escapement that swings the pendulum, but with the addition of a seconds' hand. The pendulum wall clock is more resilient to temperature and humidity fluctuations that can affect performance. It may be ornate or plain, but its mechanical operation is the simplest of all pendulum clocks.
Torsion Pendulum Clock
The Torsion pendulum clock is one for the mantel. These are delicate time-pieces encased in a glass dome. Unlike wall pendulums, a torsion design generally enables you to see more of the intricate workings and mechanical movement of the clock mechanism. The pendulum on a torsion clock oscillates rather than swings, and a single oscillation takes between 5 and 12 seconds. As it takes less energy to move than a vertically oriented pendulum, it requires less winding. You can choose torsion clocks that you need to wind monthly or annually. This type of pendulum clock allows you to adjust clock speed via a screw mechanism.