An
audio splitter cable
separates an audio signal so that it can travel to two or more connectors. This allows users to operate multiple headphones, microphones, and other accessories connected to a single device. Audio splitter cables come in a variety of configurations to accommodate 3.5mm headphone jack connectors, RCA connectors, Toslink connectors, or a combination of these. Before shopping for audio splitter cables, buyers should check their devices and whether they require male or female connectors. Buyers can purchase the top six audio splitter cables from electronics shops, department stores, and online from marketplaces such as eBay.
| | |
| --- | --- |
| 1 | StarTech 3.5mm 4 Pin to 2 x 3 Pin 3.5mm Headset Splitter Adapter Cable |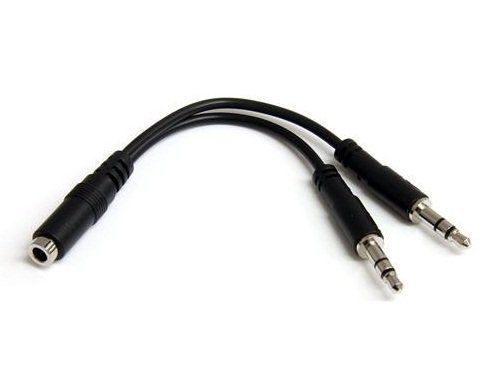 StarTech offers a selection of audio splitter cables and accessories. The 3.5mm 4 pin to 2 x 3 pin 3.5 mm headset splitter adapter converts a four pin 3.5mm audio port, such as those found on most laptops, into two separate three pin 3.5mm audio ports. It has one male and two female connectors, so users can connect microphones, as well as external speakers. The cable allows users to connect older audio accessories to newer computers. It is compatible with all devices that use four pin 3.5mm headphone jacks, including Apple iPhones, iPads,, and iPods..
---
| | |
| --- | --- |
| 2 | Belkin F8V234 Audio Splitter Cable |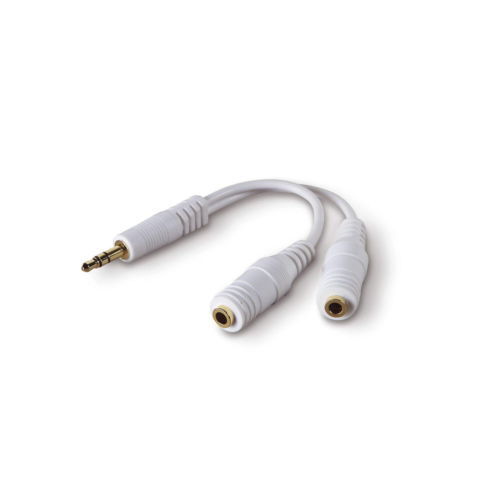 The Belkin F8V234 audio splitter cable allows users to connect two stereo headphones or speakers to a single mini-stereo jack on a portable DVD, MP3, or CD player. It is compatible with Apple iPods and allows multiple users to listen to music from a single device. Installation is quick and easy; the user simply plugs the splitter into the device's headphone jack and then plugs two sets of headphones into the splitter's ports.
---
| | |
| --- | --- |
| 3 | C2G Value Series One 3.5mm Stereo Male to Two RCA Stereo Male Y Cable |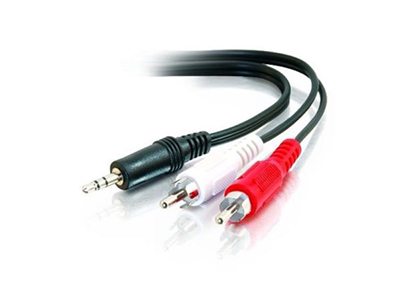 C2G was formerly known as Cables To Go. Its Value Series cable splits an audio signal from a 3.5mm jack to two RCA male connectors. This reasonably priced accessory delivers crisp, clear sound. It features brass/nickel-plated plugs that connect to spiral-wrapped copper-shielded wire. The dual conductor is shielded to limit electromagnetic or radio-frequency interference.
---
| | |
| --- | --- |
| 4 | Lindy 3.5mm Stereo Jack Audio Splitter Cable |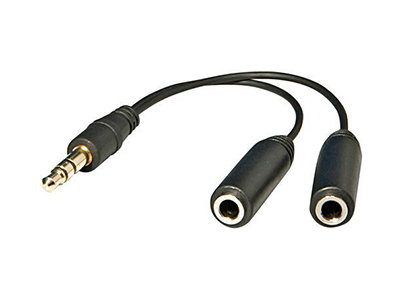 Lindy specialises in the manufacture of good quality cables, switches, and audio-visual accessories at competitive prices. The Lindy 3.5 mm stereo jack audio splitter cable allows users to connect two sets of headphones to a single device. It is ideal for MP3 players, portable DVD players, and Apple iPods.. It features one 3.5mm stereo male to two 3.5mm stereo female connectors. It is 60cm long, which allows for comfortable use.
---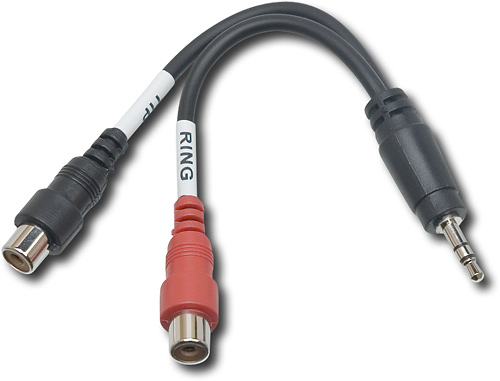 California-based <Hosa manufactures a wide selection of Y cables for audio professionals and discerning consumers worldwide. It produces analogue and digital connectors and cables specially designed for musical instruments and audio-visual industries. Its high-quality cables feature termination types and lengths ideal for performing musicians and recording studios. Hosa Y cables allow users to connect multiple speakers, headphones, and microphones, and are suitable for use with mixing consoles. They come in mono and stereo varieties.
---
| | |
| --- | --- |
| 6 | Toslink Audio Splitter Cables |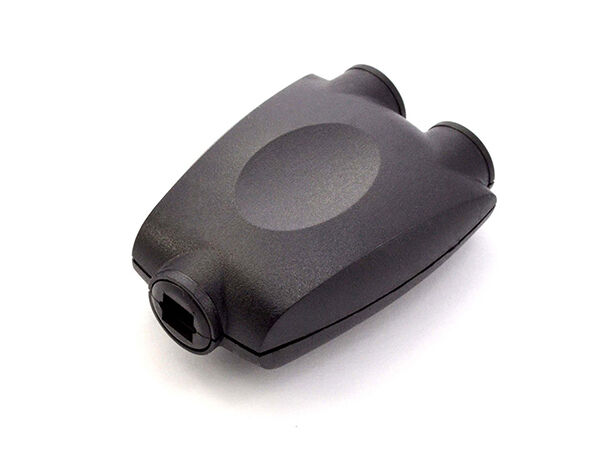 Toslink, from Toshiba Link, is a standardised optical fibre connection system. It is commonly found in devices that carry digital audio signals, such as CD and DVD players, DAT recorders, computers, AV receivers, and video game consoles. Toslink audio splitters resemble small adapters or switches. The audio signal from the output device enters the splitter via a Toslink cable, and additional cables carry the split signal to the connected accessories. When purchasing a Toslink audio splitter, buyers should check whether the seller includes the additional cables that are required.
---
How to Buy Audio Splitter Cables
eBay sellers offer a wide selection of audio splitter cables. To search, simply type a phrase, for example " 3.5 mm audio splitter cable", into the bar that you can access from every page. Browse the items available or refine your results by choosing the most appropriate filters. Read the listings carefully and check which connectors your devices require. An audio splitter cable allows users to separate an audio signal so that multiple connectors can use it. Most cables are configured for two accessories, but some feature enough outputs to connect three or more headphones, microphones, or other accessories.