Anyone who has ever had to huddle around an iPhone with a group of friends just to enjoy a song knows the value of portable speakers. The best models look so sleek and sound so good that the extra bulk becomes an insignificant issue. Three popular options for audiophiles to consider pairing with their iPhones include the Logitech UE Boombox, the Jawbone Jambox, and the Bose Soundlink. Incase you don't have an iPhone, there are plenty of iPhone 6s' available to purchase on eBay now.
Logitech UE Boombox
The Logitech UE Boombox combines sleek styling with eight drivers. It sits 16.5 cm tall, including the rounded handle that runs the length of the speaker, 7.9 cm wide, and 38.6 cm long, making it one of the largest and most powerful portable speakers on the market. However, the benefit is in the eight drivers inside the brushed and perforated aluminium housing. Four passive radiators hold down the bass, while two woofers and two tweeters take care of the mid- and high-range frequencies. The unit's blue plastic ends have buttons for Bluetooth connectivity for up to three devices and large volume controls. A thick rubber base helps the sound and keeps the unit stable at high volumes. Rechargeable batteries handle six hours of playback, and in all, this Logitech speaker weighs a little more than 1.8 kg.
Jawbone Mini Jambox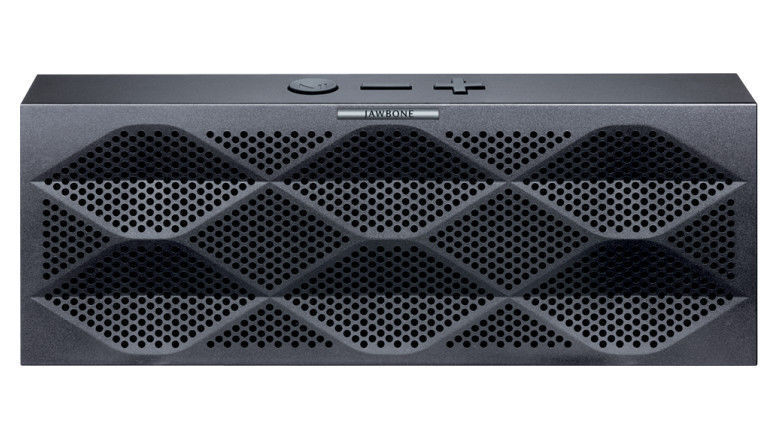 The original Jawbone Jambox set a new standard in the industry for portable speakers, and the Jawbone Mini Jambox continues the trend. At just 15.2 cm long, less than 7.6 cm wide, and less than 2.5 cm thick, this mini Bluetooth speaker produces the best possible sound for its size. The aluminium housing not only comes in a range of colours but also with different grille patterns. It supports Bluetooth pairing with two devices simultaneously and has Jawbone's LiveAudio feature, which processes sound for a slightly richer listening experience. Another plus for iPhone owners is the Jawbone app, as it includes direct access to iTunes. The rechargeable battery charges through a micro-USB connection and lasts 10 hours.
Bose SoundLink III
All three generations of the Bose SoundLink have been best-sellers in portable Bluetooth speakers. Measuring roughly 25 by 13 by 5 cm, the Bose SoundLink III runs in the middle of the range as far as size. It has a streamlined rectangular design with rounded edges. Like other Bose products, the build quality marks the speaker as a premium product, something also reflected in the price. While it has Bluetooth connectivity, it lacks on-board controls for playing, pausing, or stopping the music. Six long thin buttons on the top control volume, muting, Bluetooth pairing, the auxiliary input, and power. Also noteworthy is the 14-hour battery life, but buyers should note that the device recharges with an A/C adapter rather than a micro-USB cable.