Taking preventive measures against crime is never out of place, and using window and door bars gives home and business owners easy means to enhanced security. Irrespective of the kind of door, be it a front door, a back door, or even a garage door, finding a suitable security bar is easy, regardless of whether it is a solid wood, panel, or metal-skinned door.
Reinforcement on the Inside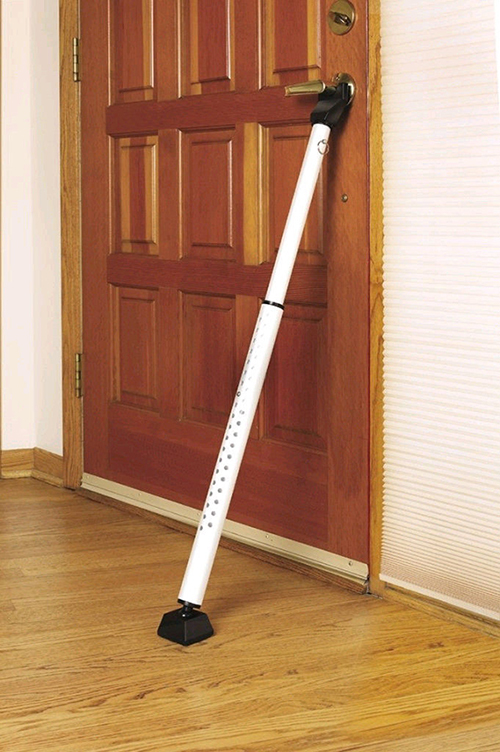 Older people and women who live alone, as well as families, can benefit by reinforcing their doors. This is the main reason people look for door security bars that help them secure doors from the inside. Such a door bar is easy to use with hinged doors as well as sliding doors, and given its portability, it can be taken with buyers when they travel. This provides peace of mind in knowing that even someone with a key cannot open the door from the outside. Using such a door bar is rather straightforward. With a hinged door, wedge the yoke under the doorknob, and place the padded end against the floor. Ones with rubberised ends eliminate any issues with smooth surfaces like hardwood and marble. With sliding doors, remove the yoke and place the bar horizontally, then adjust the bar's length to fit the closed door.
Reinforcement on the Outside

As doors of garden sheds, garages, shops, and offices also require reinforcement, people look for door bars that they can use on the outside. Installation of a typical garage or shed security bar is not particularly difficult, and while some sell with padlocks, others require people to use their own. Doors bars that include anti-tamper lock covers prevent tampering and cutting of exposed locks and offer added protection. For use on the outside, galvanised door bars provide resistance from nature's elements. To match the door, buyers get to choose from different styles, colours, and finishes. For example, while some shed lock bars use hinges and swing to open and close, others slide into place.
Reinforcing Frames
To strengthen door frames and strike plates, buyers need Birmingham bars and London bars. While the former reinforces strike plates and deadbolt pockets, the latter play an important role in reinforcing frames on their hinged sides. These bars work with internal and external doors alike, and security personnel recommended their use for protection against forced entries. These door bars also work with outward opening doors, and they then resist jamming and chisel attacks. However, for optimum effectiveness, fitting Birmingham and London bars correctly is crucial, which includes getting a snug fit through and through. These bars come in varying thicknesses, with some thin enough to remain out of plain sight.