When storing hazardous chemicals, such as toxic insecticides or laboratory chemicals, it is important to have a storage box that is both strong and secure. There are several chemical storage boxes available from a range of brands. Before purchasing storage boxes for chemicals, buyers should learn about the products that offer quality and security.
Chem Safe Storage Boxes
Chem Safe storage boxes are made from 2.5-millimetre thick sheet steel. The metal is fully phosphated and powder-coated to create a durable finish that resists corrosion. The boxes are fully ventilated to prevent the build-up of dangerous gases. Chem Safe storage boxes also feature a brass overspill tap that prevents chemicals from spilling even if the container is overturned. These boxes are lockable, which makes it easy to keep chemicals away from people that should not handle them. There are two sizes available: 120 centimetres by 71 centimetres by 69 centimetres and 129 centimetres by 76 centimetres by 124 centimetres. All Chem Safe storage boxes have a bright yellow and black finish, which makes them easy to spot.
Armorgard ChemBank Storage Boxes
ChemBank chemical storage boxes are ideal for any type of caustic chemicals. They have a fully welded sump base to prevent leaks. They also have two ventilation settings so that users can adjust the amount of ventilation based on the chemicals. ChemBank storage boxes are ideal for outdoor use because the outer layer has a highly weather-resistant coating to prevent corrosion and other weather damage. These boxes are made from 3-millimetre thick steel and have two five-lever deadlocks.
Armorgard FlamBank Storage Boxes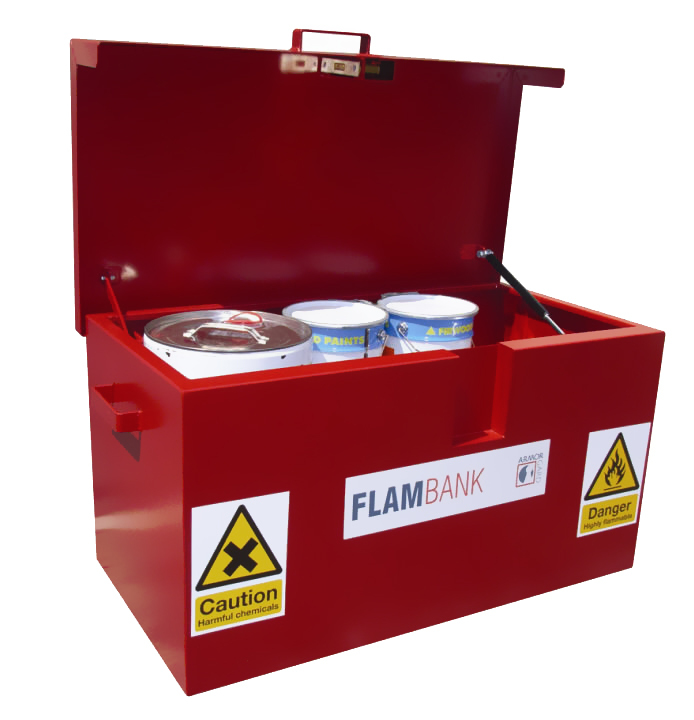 The FlamBank by Armorgard is a fireproof storage box. This makes it ideal for storing highly flammable chemicals or fuel. The box remains fire resistant when exposed to open flames for up to a half hour. FlamBank storage boxes are available in six sizes. These lockable storage boxes have a bright red finish, which distinguishes them from other boxes that are not fire resistant. It also makes them easy to spot, even in areas with low light. They have two ventilation settings and flame arrestor gauze to prevent fuel or chemicals from combusting in the event of a fire.