Strength training can be a daunting pursuit. From weights and bands and other materials to the numerous techniques from which to choose, the options can feel endless. However, there are a few strength training books that provide the experience and knowledge necessary to guide you into strength training.
Types of Strength Training Books

There are many strength training books on the market today. These books vary widely in their writing styles and subject matter, from technical books designed for advanced trainers to reference materials to introductions to the field. Finally, some books offer personal experience, anecdotes, weightlifting advice, professional guidance for teachers, or even nutritional insights. There are, however, a few books that provide time tested treasures for strength trainers, without which any strength training library is lacking.
Strength Training Anatomy
One of the most popular and respected of these is Strength Training Anatomy by Frederic Delavier. This reference book stands out because of the detailed information it provides regarding the inner workings of the muscles and joints and because of its lifelike illustrations. The book is especially useful for providing the reader with exercises targeted to specific areas of the body and for giving the reader detailed information on how they benefit the specific muscles and joints involved in them.
Complete Guide to Strength Training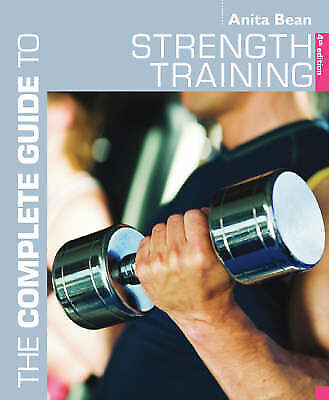 The Complete Guide to Strength Training, by Anita Bean, possesses a well-established reputation as a comprehensive and clearly-written guide to most aspects of strength training. For instance, the book offers not only more than 70 exercises targeted to various parts of the body, but also a nutrition section that covers diets and supplements you can follow to achieve certain goals, such as weight gain or loss. The book is ideal for anyone desiring to learn more about nutrition during strength training or looking for programmes to follow to achieve certain results.
Starting Strength
Starting Strength: Basic Barbell Training by Mark Rippetoe and Lon Kilgore is the foundational book for learning how to strength train through the use of barbells. This highly respected book covers not only the basic lifts you can accomplish with barbells but also delves into the science behind barbells' effectiveness, offers tips for improving your use of the barbell, and tells you how to build your own barbell strength training program.
Tips for Choosing Strength Training Books
These three top strength training books should give you a solid foundation upon which to build your collection. When purchasing additional books, or, for that matter, materials, there are a couple things to keep in mind. First, take into consideration your own goals for strength training, whether you wish to focus on weights, muscle groups, or nutrition. Second, take into consideration your experience level. Avoid overly technical books if you are a beginner, and work your way up to detailed volumes as you gain experience.