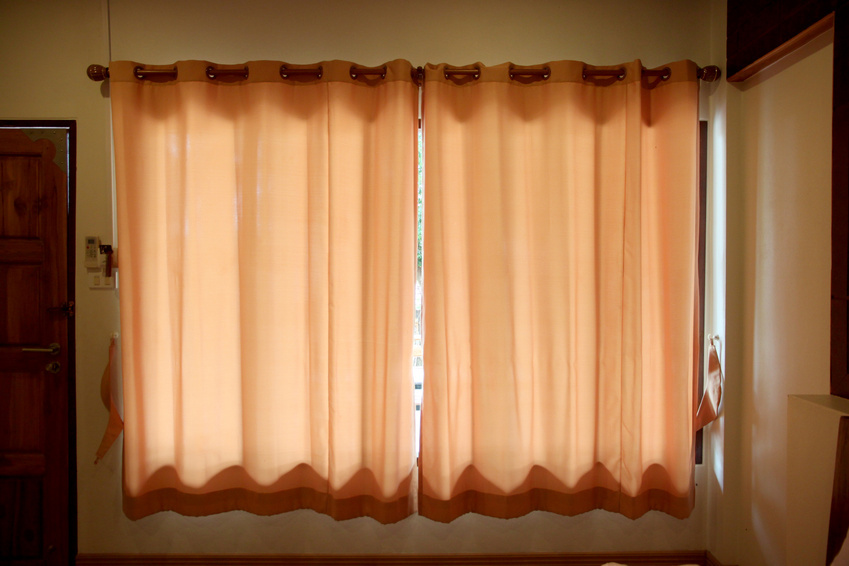 Also called ring top curtains, eyelet curtains slip onto a curtain pole using small metal rings for easy installation. Eyelet curtains offer many functions, from enhancing your room's decor to maintaining your privacy. Curtains help conserve energy, and a new pair of eyelet curtains can refresh a dull room for a brand-new look. Though curtains come in many colours and fabrics, there are some top options to look for when browsing eyelet curtain types.
Blackout Eyelet Curtains
Save some money on your energy bills when you hang a set of blackout eyelet curtains, which block the outside light completely and help insulate your sitting room, bedroom, or kitchen. Made of high-quality thermal blackout material which blocks UV rays, blackout eyelet curtains come in many colours, and include tie-backs to easily keep the panels open when you are ready to welcome the sun into your room. Another benefit of blackout curtains is the fact that they reduce the level of outside noise coming into the home. Some noteworthy brands of blackout eyelet curtains to look for include Next and JAZ. Choose blackout or dimout curtains in a range of styles and colours including floral prints, graphic designs, solid colours, or stripes.
Lined Eyelet Curtains

While eyelet curtains range from soft and sheer to thick and heavy, lined eyelet curtains offer an extra level of protection from the sun and a durable appearance. Made with an inner lining that some curtains do not have, lined eyelet curtains look elegant and offer benefits like added privacy. Designed and made of luxurious material, using lined curtains is an affordable way to make your room look decadent. They come in many lengths and sizes to fit all types of windows. The curtains include the main curtains (outer material), as well as extra lining to give the curtains a more substantial look and feel. They come in many material options including cotton, silk, velvet, and polyester.
Voile Eyelet Curtains
Pretty and sheer, voile eyelet curtains are more for decoration than practical use, but they add a floaty, shimmery look to any room. For sturdier, thicker curtains, choose lined voile curtains for a bit more privacy. Made of lightweight cotton material, airy voile is a soft, natural fabric which is almost transparent without lining. Voile curtains add a gossamer look to your room, and with matching tie-backs, create a chic style for any bedroom or sitting room. Some voile curtains come with added embellishments such as pencil pleats, floral designs, or embroidered decorations on the curtain panels. Comparable to net curtains, voile eyelet curtains are popular due to their affordability and luxurious look, and the curtains are perfect for people who enjoy a bit of sunlight streaming through the windows.