Getting a toy car park, or a toy car garage, gives a child an easy way to keep his cars sorted. A good one can also keep a child busy for hours, allowing him to use his imagination in more ways than one. While a number of good toy cars parks are available, buyers should account for size because they can be quite big as well as age appropriateness.
ELC Big City Garage
The Big City Garage by Early Learning Centre suit for children aged over three years. This three-storey ELC garage comes with a wind-up lift, taking cars to the top section, which has a car wash in place. After the wash, a ramp takes cars down to the lower level, which offers further room for parking. Realistic helicopter sounds and working lights make the helipad on the top floor seem realistic. Moreover, it offers a petrol pump for a realistic feel, and moveable barriers give children the ability to chart their own course when driving, chasing, or racing. Though this Early Learning Garage does not include any cars, children can use it with standard die-cast Matchbox and Hot Wheels cars. Compatibility with the Spiral Race Ramp and the Carry Along City from the Big City line makes for more creativity and fun.
Melissa and Doug Parking Garage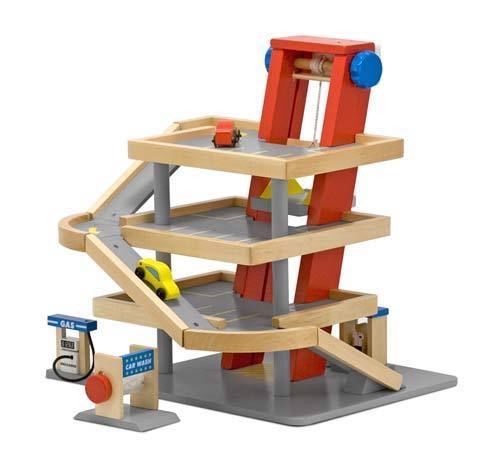 The Melissa and Doug Parking Garage also suits children older than three years. While this toy car park requires adult assembly, an easy-to-follow set of instructions keeps the process simple. Made using plywood, solid wood, plastic, and metal, this predominantly wooden toy garage comes with four levels. A crank lift allows children to move cars in between levels, and the ramps are perfect to get cars zipping down. A parking booth attendant in a toll booth with a flip down arm at the ground level lends authenticity, and its car wash and petrol pump make it seem all the more real. The top three levels offer adequate parking space for toy cars. This children's toy garage comes with two cars and works perfectly well with standard Matchbox and Hot Wheels cars.
Plan Toys City Road Series Parking Garage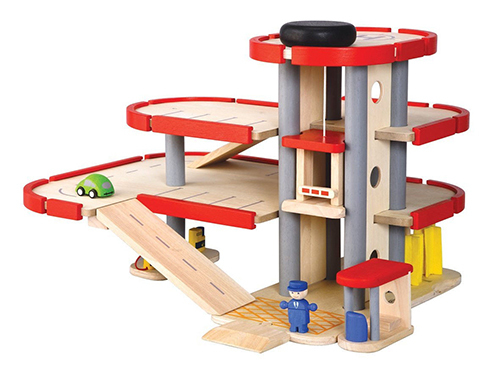 The Plan Toys three-level toy car park is ideal for children whose parents want them to play with products that use eco-friendly materials. Instead of any toxic materials, it uses recycled chemical-free rubberwood as well as E-Zero glue. This kids' car garage offers adequate parking on the second and third levels. It comes with a helipad on the top level; a working lift moves cars up and down; an attendant's booth, an attendant, a car wash, and a petrol pump are part of the ground floor; and ramps make for effective game play. This toy garage suits children aged over three years.