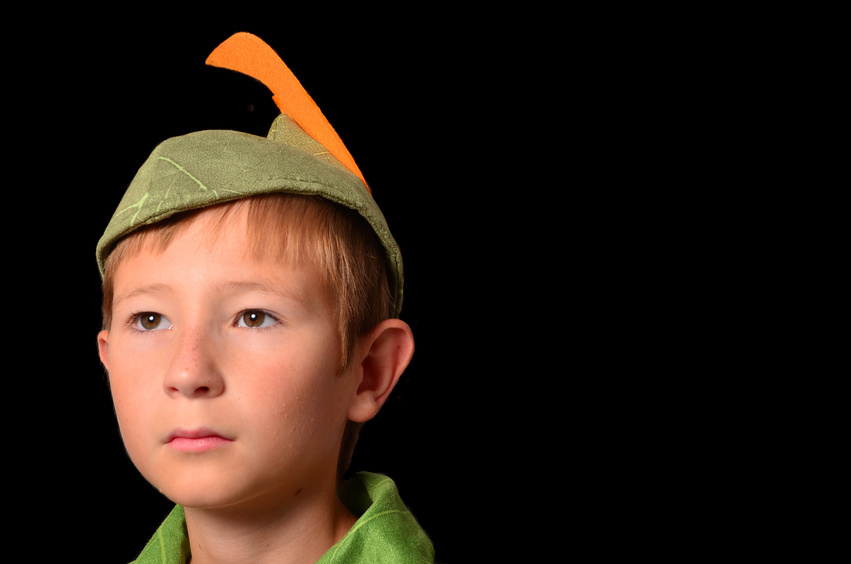 You do not ever have to grow up, and you can pretend to fly just as the iconic character Peter Pan does in the novel by J. M. Barrie. In order to play the part, purchase a Peter Pan costume, make one, or simply let others know your interest in Neverland by wearing symbolic representations known universally. Mimic being the leader of Peter Pan's Lost Boys by learning how to dress like the ill-behaved rogue.
Buy a Costume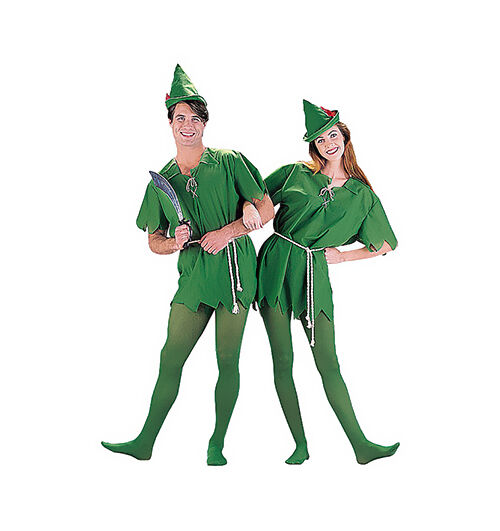 For an instant resemblance to the dashing scallywag, purchase a ready-made Peter Pan outfit complete with tunic, hat, and belt. The Disney outfit is available in children's, men's and women's Peter Pan costumes that may also include a feather to place in a hat, and tights. Have fun wearing your Peter Pan dress up to grown-up parties or for children's playtime sessions of fighting pirates and Captain Hook, and interacting with mermaids and fairies.
Create Your Own Get Up
Purchase a Disney Peter Pan book to get the gist of the complementary items needed to complete your outfit. Buy a silky green T-shirt, and cut the shirt's bottom and sleeve edges in a zigzag pattern with pinking shears to keep the fabric from ravelling. A longer shirt length helps the attire look authentic since it resembles a tunic. Add green tights and boots, and place a belt on top of the T-shirt to complete the ensemble. Slick back your hair with gel, and top it with a hat you purchase or make yourself. Fold a rectangular piece of cardboard into the shape of a boat, glue all sides, cover with green felt, and make sure to add a red feather. Place a plastic dagger or sword on either side of your belt, and no one needs to guess the character's identity.
Focus on Accessories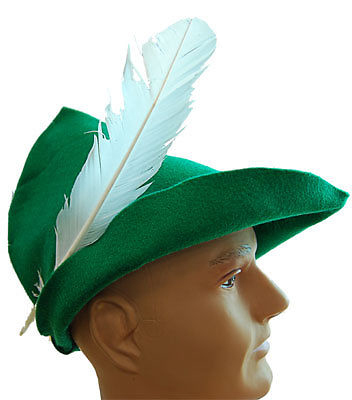 Since the character of Peter Pan has been around since the early 1900s, most everyone sees wearing a Peter Pan hat as the dominant feature of the lookalike clothing. The hat by itself carries the Peter Pan theme and may be available in one-size-fits-all for adults. Another symbolic accessory, a Peter Pan collar, appears on the neckline of a shirt dress or blouse, which is a dead giveaway that you may be a fan of the mischief-maker or a rascal at heart. You can even buy detachable Peter Pan collars to mix and match with wardrobe pieces.