One of the most feminine and elegant materials, organza and weddings just go together. This sheer, flowing fabric features a blend of silks or synthetic yarn and comes with a rigid texture. Using this material in weddings is a tradition and you can find a variety of ways to fit it into your décor and apparel. Learn the top ways to use organza in your wedding for a truly elegant day.
Organza on the Gowns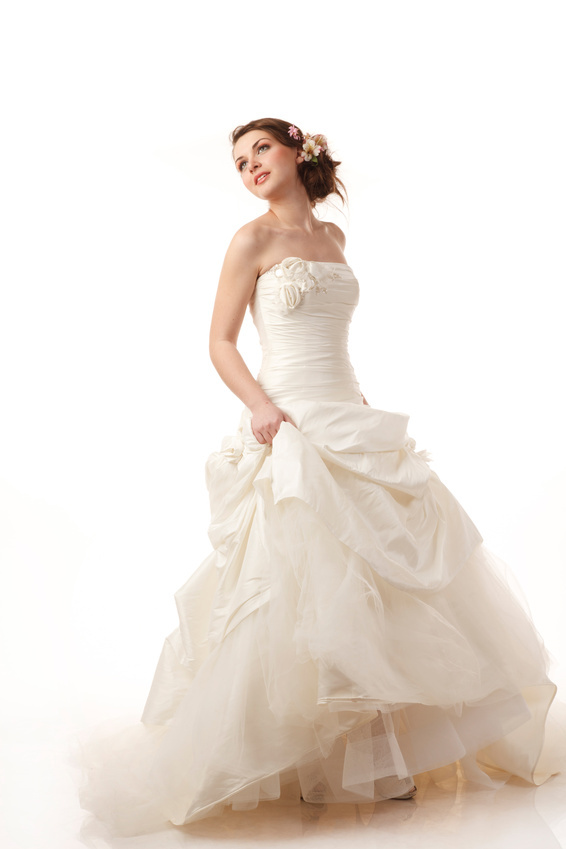 Both bridal and bridesmaid gowns feature organza in a number of ways. Organza helps create the appearance of a full skirt as a slip underlay with layers and layers of it creating a feminine look. Use organza as an overlay as well with appliques weaved through for a more detailed and intricate look. Organza is often part of the bridal veil or the headpieces worn by the wedding party as well. You can wrap an organza shawl around each bridesmaid and even the bride herself. Bridesmaids may choose dyed organza in shades of blue, pink, and lavender to change things up a bit and match their dress. Organza also works as part of the bridal gown train, giving it a longer, extended look for walking down the aisle.
Organza During the Ceremony

Line the church pews with organza in a variety of ways. Twist the organza loosely along the end of each aisle and tie silk flowers around each twist. Feature organza at the altar as part of a canopy, as well as at the end of the aisle where the bridal party starts the procession. While white organza is traditional, dyed organza offers more colour to the wedding ceremony. Choose shades that match the bridesmaid's gowns and the theme of the wedding for a coordinated look. Use a white organza overlay to contrast both the altar decorations and pew décor. Wrap organza around the bridal and bridesmaid bouquets near the stems and line the flower girl's basket with organza in a shade that matches the flowers.
Organza at the Reception
Use organza as a centrepiece at each table. If your centrepiece is a bowl of floating candles, wrap the material around the bowl for a decorative look. If you use flowers as a centrepiece, wrap a piece of organza around the vase. Place a large piece of organza as an overlay on the actual tablecloth or hang it from the bottom of the tablecloth as you did through the church pews with twists and small silk flowers throughout. At the main table, hang large swatches of organza in a decorative manner to showcase the happy couple.