Wine pourers make serving alcohol a dripless task. While some pourers are simple in design, others serve a dual purpose, functioning as both a pourer and bottle stopper. The best pourers allow the wine to flow smoothly from the wine bottle into the wine glass.
White and Red Wine Aerator Pourer
The white and red wine aerator pourer allows you to serve wine without having to worry about staining your favourite linen. A great addition to any kitchen, this pourer fits conveniently into the spout of the bottle to eliminate drips. The pourer also acts as a wine decanter, aerating the wine with its air intake system and air-blending strainer. This helps improve the flavour and the bouquet of a freshly opened bottle of wine. Renowned for its high quality, practicality, and ease of use, it is made of acrylic, stainless steel, and rubber.
Le Creuset WA125 Drip Free Pourer
The Le Creuset WA125 fits snugly against the side of the wine bottleneck, forming a tight seal that prevents drips and leaks. Perfect for any wine enthusiast or party hostess, this stylish wine accessory is sure to impress guests with its quality of performance and sleek, modern design. To use, simply insert the disc into the neck of the wine bottle for hands-free aeration. These pourers are sold in sets of five. Constructed of food-safe stainless steel, it is both washable and reusable. Note that for long-lasting use, you should clean the pourer immediately after use with warm soapy water. The Le Creuset WA125 suits both wine connoisseurs and casual wine drinkers.
Beaumont Stainless Steel Free Flow Pourer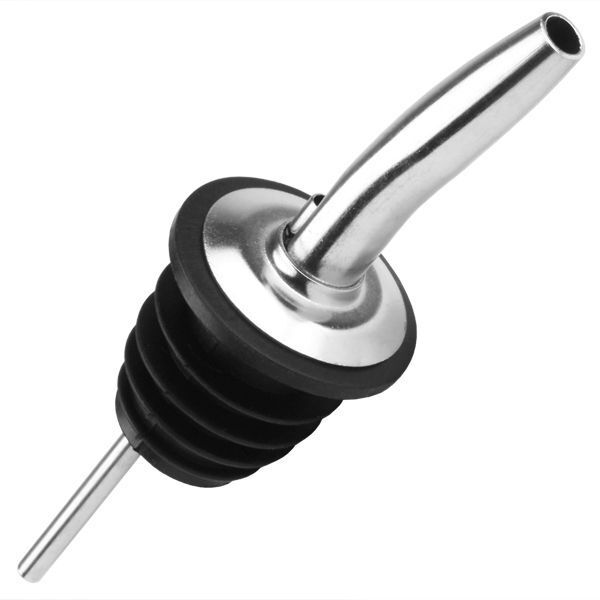 The stainless steel free flow pourer features a clever design to minimise spills and dribbles onto tables and linens. Renowned for providing the perfect pour, this contraption fits all sizes of wine bottles, including both 75 and 150 cl varieties, to form a leak-proof, airtight seal. Featuring a durable stainless steel and black rubber cork construction, it suits for both at-home and professional use. Perfect for those looking to ensure a smooth flow of wine and keep wine fresh between servings, this bottle pourer is an elegant addition to any kitchen or bar. Pour straight from the bottle for hands-free aerating; the aerator helps open up the true flavours and complexities of every glass. To use, simple place the pourer onto the wine bottle and pour. Lastly, it regulates wine flow to prevent surges.