Network switches
are available with a variety of port configurations ranging from five to as many as 72 ports. While larger companies typically require switches that support larger quantities of networked devices, lower capacity network switches are ideal for small businesses and individuals who want to network the devices in their homes. Homeowners may have plenty of ports with an 8-port switch, but those who need to network more than eight computers and printers may want to purchase a
16-port network switch
, such as these top models.
| | |
| --- | --- |
| 1 | TP-Link TL-SG1016D 16-Port Desktop Switch |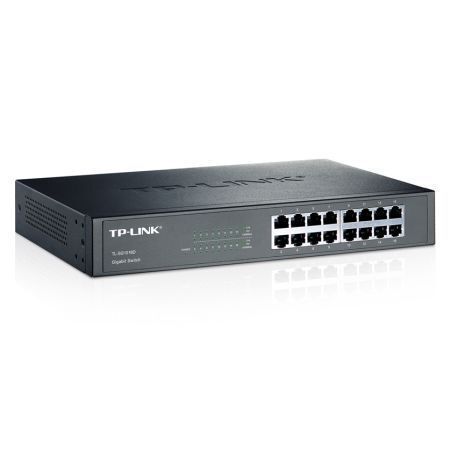 The TL-SG1016D 16-port desktop switch by TP-Link offers users 16 RJ45 ports and is compatible with speeds of 10 Mbps, 100 Mbps, and 1,000 Mbps, so it works with virtually all networks. TP-Link designed this model to sit on a desktop, though it can also be rack mounted if needed. Each of the switch's 16 ports supports auto MDI/MDIX, and the switch is plug and play, so there is no need for users to worry about cable types when setting up their network. The switch also features TP-Link's innovative energy efficiency, which can cut energy consumption by as much as 40 per cent. TP-Link also makes a model that is specifically for rack mounting, so if users plan to install this switch in a rack, they may want to check out the TL-SG1016 switch instead.
---
| | |
| --- | --- |
| 2 | Netgear Prosafe FS116 16-Port Ethernet Switch |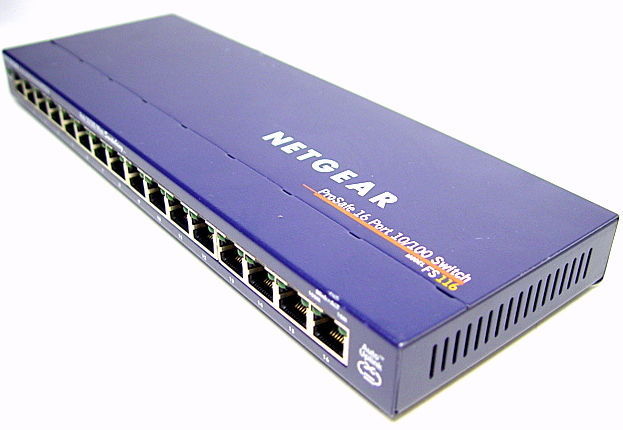 From Netgear, the Prosafe FS116 16-port Ethernet switch accommodates up to 16 separate Ethernet connections, making it perfect for networking small offices and home offices. This switch supports speeds of 10 Mbps and 100 Mbps and is plug and play, so users simply plug in the power cord and connect Ethernet cables and their network is good to go. In addition, the switch supports auto MDI/MDIX connections, so users do not need to bother with specialty crossover cables. The switch is compact, so it can fit just about anywhere, and does not have a fan, which means it produces no noise.
---
| | |
| --- | --- |
| 3 | Netgear Prosafe GS116 16-Port Gigabit Switch |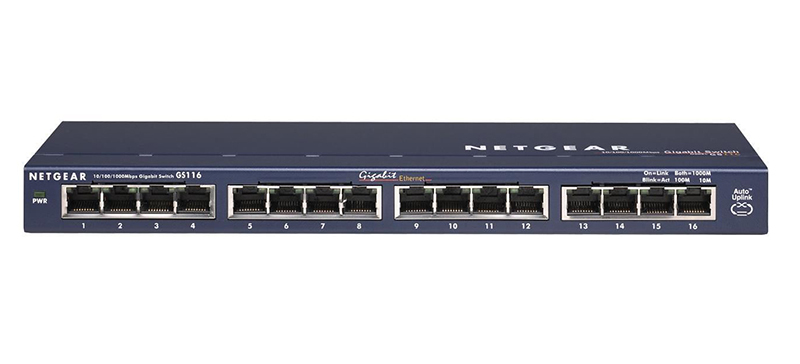 Computer users who prefer the Netgear brand but want a faster switch should take a look at the Netgear Prosafe GS116 16-port Gigabit switch. This switch offers 10 Mbps, 100 Mbps, and 1,000 Mbps speeds for faster computer networking. Furthermore, Netgear's Auto Uplink eliminates the need for crossover cables, and the compact design fits anywhere. This switch also features Netgear's Green technology, which can reduce power consumption by as much as 43 per cent by detecting unused ports and lengths of cables. The switch comes with an AC adapter and a wall-mount kit for those who want their switch wall mounted.
---
| | |
| --- | --- |
| 4 | Allied Telesis AT GS950/16 WebSmart Switch |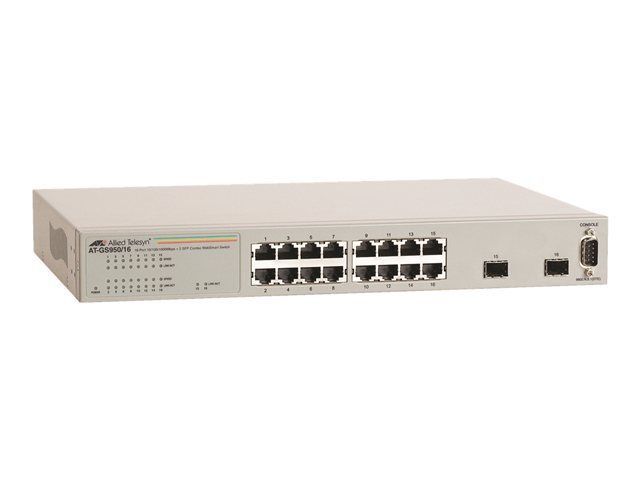 Allied Telesis is another top brand of 16-port network switches, such as the AT GS950/16 WebSmart switch. This eco-friendly switch minimises power consumption and provides 16 10/100/1000T ports, along with two 2 Gigabit uplink ports. Users can manage a variety of settings online, including port mirroring, priority queues, and port trunking/link aggregation. This switch is a great option for those who want the simplicity of an unmanaged switch with the configurability of a managed switch. The Allied Telesis AT GS950/16 switch can sit on a desktop or be rack or wall mounted for the ultimate in versatility.
---
| | |
| --- | --- |
| 5 | D-Link DGS-1210-16 16-Port Gigabit Smart Switch |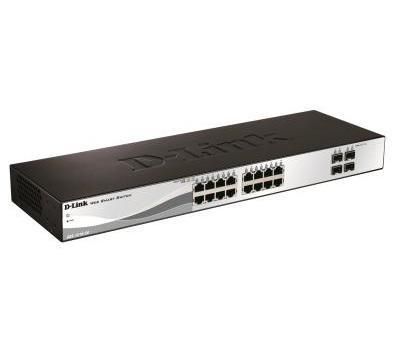 The DGS-1210-16 16-port Gigabit smart switch by D-Link offers a variety of features that make computer networking a breeze, including SFP ports, speeds of 10/100/1000 Mbps, and the SmartConsole utility online. This switch keeps power consumption at a minimum by shutting down power to inactive ports and determining the length of Ethernet cables so each connection receives just enough power. The 16-port switch does not have a fan, which means it emits no noise. It also features a compact design.
---
How to Buy 16-Port Network Switches
Prospective buyers who want to browse the listings for network switches on eBay can go to the site's
Switches and Hubs
department. Once here, buyers can search for specific brands and models, or they can browse the listings and narrow them down using the various filters on the search results page. Buyers who know what they want can enter the product name into the search bar on any eBay page. Networking computers allows users to share files across multiple computers and print to common printers rather than purchasing separate printers for each computer in an office. When shopping for network switches, prospective buyers should determine how many ports they need, keeping in mind future growth as well as present needs. To get the best switches at the lowest possible prices, buyers should shop on eBay for their network switches.