Small offices, businesses, and home users with a wired network and five or less devices use
unmanaged network switches
for easy network connectivity. Operating at speeds of 10 to 100 Mbps, these simple plug and play switches are easy to install and do not require any ongoing maintenance to operate. Moderately priced, a 5-port network switch connects computers, an
Internet modem
, and printers on a basic peer to peer workgroup network. Consumers can find switches at most retail outlets offering computer components and many retailers offer more complex managed network capabilities. For the best selection of the top brands of basic network switches, buyers should consider shopping the eBay marketplace for great deals on simple home or office network switches.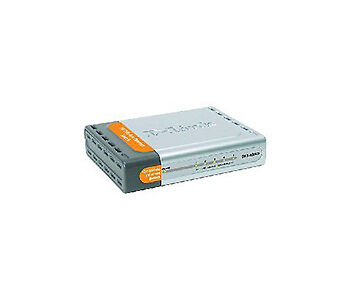 The D-Link DES-1005D unmanaged network switch is a popular, inexpensive, basic switch for small workgroups. Using 802.3x flow control protocol with a store and forward switching platform, all auto-negotiation of MDI/MDIX cross over in full or half duplex mode. This allows the use of common straight through twisted pair cables instead of requiring specialised cross-over cables. Compact dimensions of 142 by 115 by 31 mm allow users to mount the DES-1005D in tight confines or place it on a desktop without it taking up a great deal of space.
---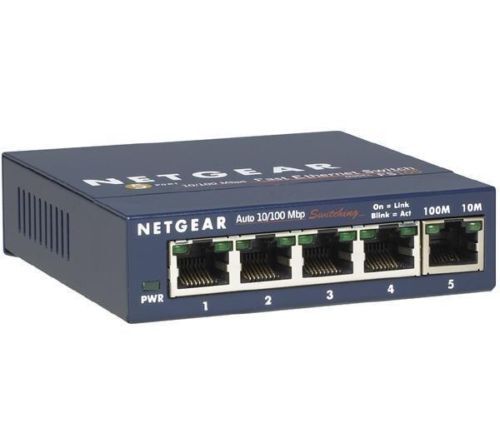 Unlike most competitors in its class, Netgear houses their network switches in full metal cases. Should the switch get dropped or knocked off a table, the metal case does not crack or break as a plastic case might. The Netgear <FS105 five port network switch operates with IEEE 802.3x full-duplex flow control with a bandwidth of 1 Gbps. Each port of the switch has two LED lights to indicate whether it is operating at 10 or 100 Mbps. Solid illumination indicates a link exists, while a blinking light indicates activity is present. A separate power LED on the case indicates the unit is plugged in and operational. Packaged with a wall mount kit for easy installation the FS105 measures 94 by 103 by 27 mm.
---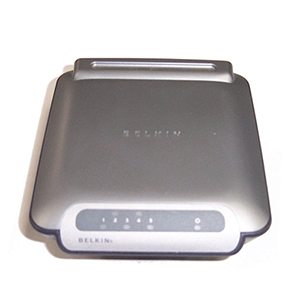 The Belkin F5D5131-5 allows for network sharing of Internet access, printers, and computers in a small office environment. With the featured uplink port, the Belkin unit has the capability of linking to another switch to accommodate an expanding office environment. Using IEEE802.3 and IEEE802.3u standard protocols, the switch is plug and play compatible for workgroup sharing networks. RJ45 connections with straight through twisted pair cabling provide easy direct connections to multiple computers and other network devices. LEDs on the top front of the F5D5131-5 indicate unit power, plus link and activity on the five individual ports.
---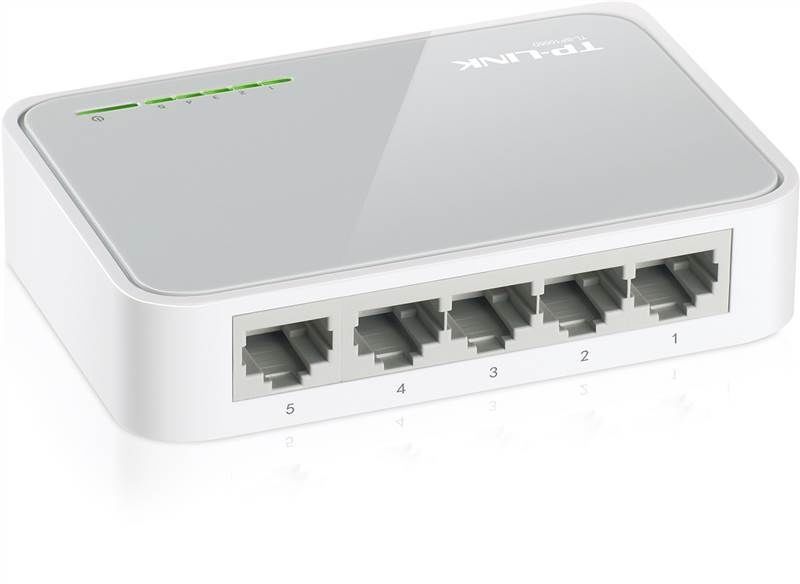 The desktop design of the TP-Link TL-SF1005D network switch features a sleek and slim case measuring a mere 103.5 by 70 by 22 mm. The green technology design of the switch features power savings of up to 60 per cent for buyers looking for eco-friendly products. Auto MDI/MDIX operation means that crossover cables are not necessary for cable connections. IEEE 802.3x flow control provides full and half duplex mode support. Users can position the TL-SF1005D to lay flat for minimal height installation or set on its side for slim fit positioning.
---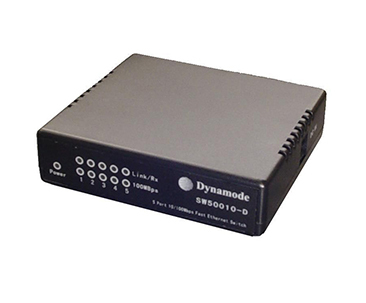 Dynamode is another green energy efficient manufacturer of network components. The Dynamode SW50010-D five port network switch is one of their low power consumption models. Offering IEEE802.3, 802.3u and 802.3x standards in store and forward transmission mode, the switch can provide up to 20 Mbps in full duplex mode. Front mounted LEDs indicate unit power and port link/activity displays. Auto negotiation MDI/MDIX provides straight through cable connections.
---
How to Buy 5-Port Network Switches
Some buyers can feel intimidated walking into a computer store with a minimum amount of knowledge about network components. Purchasing a basic plug and play network switch on eBay is easy and convenient. Simply enter network switch as the keywords into any eBay search bar, click search and all matching items appear. You can narrow searches further by selecting a specific brand from the filter menu if you have a manufacturer preference. Buy with confidence by reviewing individual seller feedback to see how other buyers rate their experience with a chosen seller. Complete the eBay purchase transaction with PayPal for a safe and secure transfer of funds to the seller. Have the product shipped directly to your door for a no hassle shopping experience. Network switches can easily connect a number of different computer components and have you sharing network resources like an IT pro in no time.