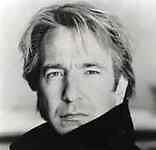 Alan Rickman was born in Hammersmith, London in 1946. A classically trained actor, Rickmans first major film was playing Hans Gruber in the film 'Die Hard'. Many more great films were to follow (and admittedly, some poorer ones, though these were often saved by his appearance ... January Man', ahem!) some making it very difficult to select only 5 for this top five list! An actor of great versatility, he has appeared in a broad range of genres, including comedy, drama, historical and romance. His films include Dogma, Mesmer, Rasputin, Closet Land, Quigley Down Under, Blow Dry, Galaxy Quest, Love, Actually and many many more.
Truly, Madly, Deeply (1991)
Rickman plays Jamie, a deceased cellist, who comes back to help the woman he loved move on. Fabulous story written and directed by Anthony Minghella, also starring Juliet Stephenson, Bill Paterson, and Michael Maloney.
Harry Potter (All of them!) (2001-present)
Can you imagine anyone better suited to the role as Professor Severus Snape? No, neither can I. But just whose side is he on? Hmm ;-)
Robin Hood Prince of Thieves (1991)
Stole every scene he was in as the evil Sheriff of Nottingham. Memorable line 'I'll tear his heart out ... with a spoon!'. Rickman caused many viewers to be rooting for him rather than Robin Hood (played here by Kevin Costner)!
Rasputin (1996)
Played the lead role of Grigori Rasputin, the 'mad monk' to perfection. Also starring Ian McKellen and Greta Scacchi.
Texas - In Demand Video (2000)
Okay, not a film, strictly speaking, but he played his part in this music video so fantastically I felt it was worth a mention. I don't know if it's available for purchase, but there may be some AR fan sites offering it for download. Basically, Sharleen Spiteri and Alan Rickman travel in an open-topped car from the city to the coast, suring which they stop for petrol and do the tango ... as one does!
I hope that this guide was of some help to you.
Please click here to read my other Guides & Reviews
karen_alexander_group