A baby jogger is a three-wheeled stroller that is lightweight, fast, and easy to setup for parents who love getting outside. Take the baby along for a daily run with a high-end jogger that keeps the baby secure and happy. The top strollers have aluminium frames and they feature full canopies, sturdy harnesses, and plenty of suspension. These top quality joggers may also include extra amenities like multiple cup holders, large storage bags, fully enclosed compartments, and
MP3 players
. Parents can find baby joggers in children's stores, retail shops, specialty baby shops, online baby websites, and auction sites, such as eBay.
| | |
| --- | --- |
| 1 | Baby Joggers For Intermediate Training Stroller |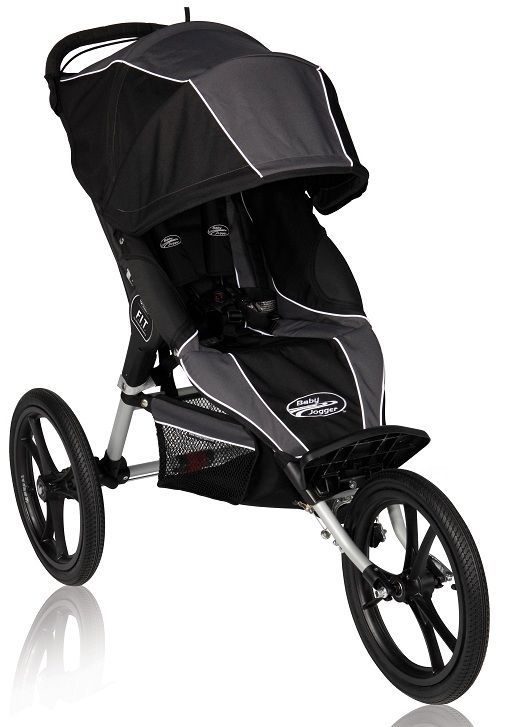 Parents on the go can take their baby along with Baby Joggers For Intermediate Training Stroller (FIT). The three-wheeled FIT stroller is perfect for busy streets and crowded areas. Parents can rest assured that their babies are secure with the multi-point safety harness, padded seats, and a wrist strap to keep the stroller from rolling away even if the locking wheel brakes fail. The baby also stays comfortable out of the sun, wind, and rain with a vent seat top and retractable canopy. When it is time to take the baby out and pack the stroller in the car, the quick fold technology makes it a cinch. Just fold down the top of the stroller and pick up the entire 34-kg stroller by its sturdy handle.
---
| | |
| --- | --- |
| 2 | Baby Trend Expedition EX-Fusion |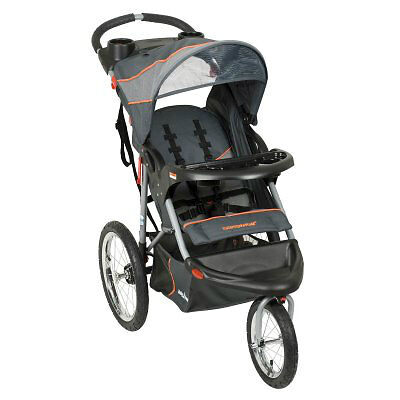 The Baby Trend Expedition EX-Fusion jogger stroller is both lightweight at 22 kg, and luxurious with numerous amenities. The three-wheeled stroller includes many extras like a parent tray with two cup holders, built-in stereos for an MP3 player, and a hidden storage compartment. The baby tray comes with two cup holders too. The baby gets to enjoy daily walks in luxury with a stroller that accepts many brands of infant car seats, which make this stroller a convenient travel system. A sturdy five-point harness system holds the baby in place, while an adjustable canopy with sun visor blocks both wind and rain.
---
| | |
| --- | --- |
| 3 | Beast of Burden Ironman Stroller |
The Beast of Burden Ironman Stroller (BOB) is a super lightweight and sturdy jogger for parents who are serious about their workouts. Keep the baby safe in a bright yellow stroller with rain canopy and five-point padded harness. A state of the art adjustable suspension system makes for the smoothest ride the baby experiences outside of mom's arms. This three-wheeled stroller weighs just 10 kg and folds down in a quick two step process, yet holds up to 31 kg in weight.
---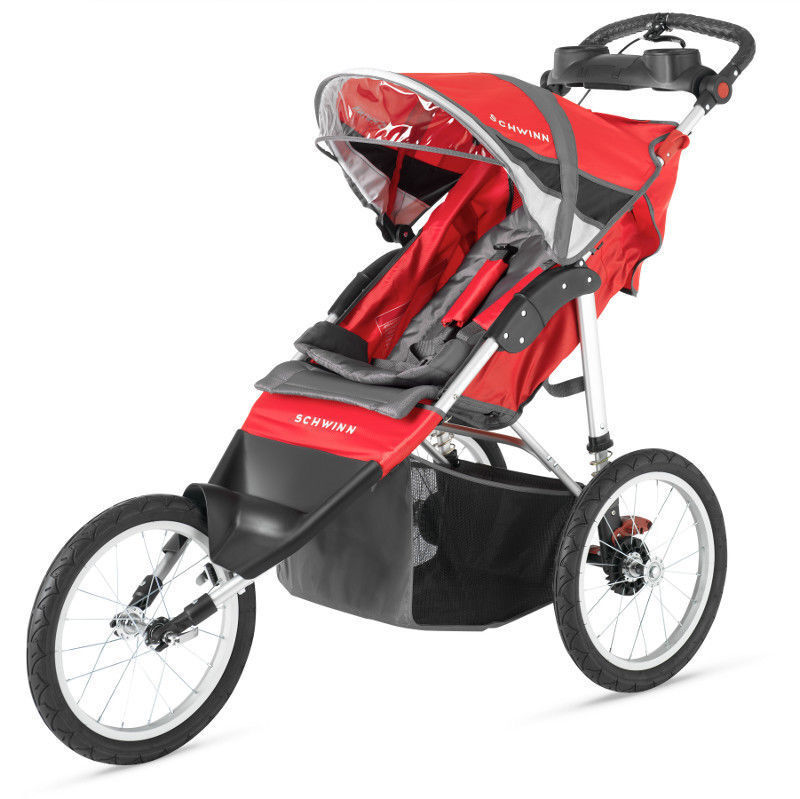 The Schwinn Instep Arrow looks fast and moves fast for parents who like to jog or just need to rush about their daily tasks. An aluminium frame means that this baby jogger weighs only 10 kg, but the stroller includes plenty of extras like a parent tray with two cup holders and built-in MP3 speakers. The bicycle style brake handle along with exposed spring suspension makes stopping and starting smooth and easy. The multi-point harness keeps the baby safe, while a fixed front wheel adds stability to the three-wheel jogger.
---
| | |
| --- | --- |
| 5 | Chariot Strollers' CX1 Jogging Stroller |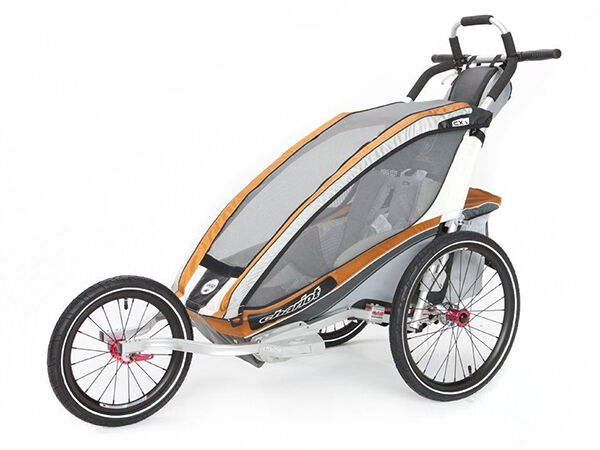 Parents who enjoy the outdoors can still take the baby along for the ride with the Chariot Strollers' CX1 Jogging Stroller. Parents can purchase conversion kits from the manufacturer to turn this jogger into a bike trailer, stroller, cross country ski trailer, and hiker. A deluxe 2-in-1 weather cover fully encloses the chassis with clear windows and fleece lining for legs, so the baby stays comfortable and can see outside. A deluxe padded five-point shoulder harness keeps the baby safe from harm. Safety wrist straps, rear storage compartment, and wallet/keys pocket offer parents even more convenience.
---
How to Buy Baby Joggers
Baby joggers are available from a number of eBay sellers at good deals. Save money and time by shopping through the search engine on any page of the website. The top jogging strollers include smooth suspension, fixed front wheels, extra padding for the baby, a secure harness, and extras for the long ride. Stereos for an MP3 player entertain the baby, while multiple storage compartments and cup holders mean that food and drink are never far from hand. Consider looking for a baby jogger from a local seller to cut down on postage and handling costs. The refinement menu on a search results page can help narrow down listings to only those who are a short distance from you.