There are many things parents need to have for a new baby, including a
baby monitoring device
. This tool allows parents to monitor their baby's sleep patterns and keep track of them during the night or nap time. This can help a busy parent get things done while still caring for one's child. Baby monitors have come a long way since they first came out, and there are now a lot of great options. Some of these choices include the Levana Jena baby monitor, the Motorola MBP36 video baby monitor, the Angelcare AC401 baby movement and sound monitor, and the Samsung SEW3037W wireless baby monitor.
| | |
| --- | --- |
| 1 | Angelcare AC401 Baby Movement and Sound Monitor |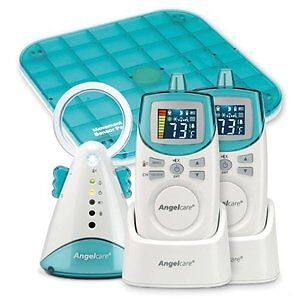 The Angelcare AC401 baby monitor is a unique tool that allows a parent to not only monitor a child through sound, but also through movement as well. It does this by means of a sensor pad that goes under the baby mattress. The monitor lets parents know if the baby has not moved for at least 20 seconds and has an optional feature that alerts a parent whenever the baby does move. This product comes with many extra features, including a thermometer that checks the temperature in the room. The monitor also has a backup battery that kicks on if there is a power failure. The range of the monitor is up to 250 metres.
---
| | |
| --- | --- |
| 2 | Levana Jena Baby Monitor |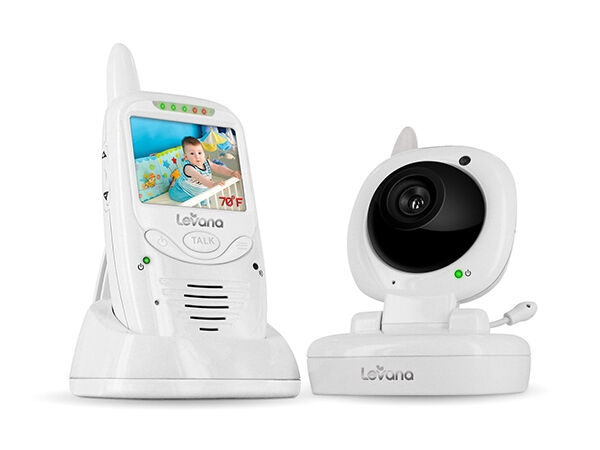 The Levana Jena baby monitor has long battery life, and it works for up to eight hours without a recharge. The device has a secure signal that works for up to 152.4 metres. Parents also love the Talk to Baby feature that lets a parent communicate with their baby in addition to listening in. Another feature this monitor has is night vision that works for up to 4.6 metres to keep an eye on a baby at night as well. Furthermore, the monitor sings five different lullabies, and the device works with up to four cameras too.
---
| | |
| --- | --- |
| 3 | Samsung SEW-3037W Wireless Baby Monitor |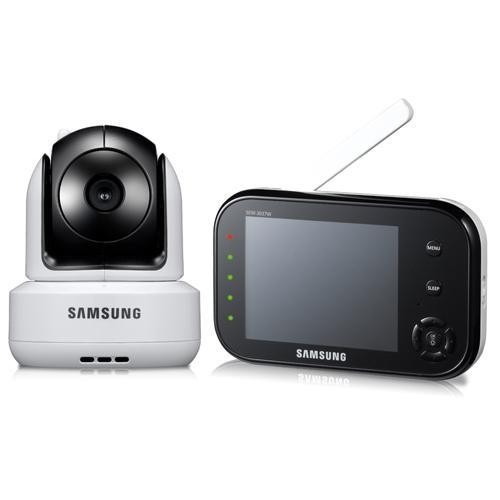 This is just one of the great baby monitors from Samsung. The Samsung SEW-303 also has a video screen to let a parent see his or her baby in addition to listening in. The camera itself has advanced features allowing the user to zoom in, and use infrared to check in on the baby at night. This baby monitor has a range of 374 metres in each direction. The strength of the signal is one of the reasons this monitor is more expensive. This monitor also works with up to four cameras, so it allows parents to keep an eye on the baby in different rooms.
---
| | |
| --- | --- |
| 4 | Motorola MBP36 Remote Wireless Video Baby Monitor |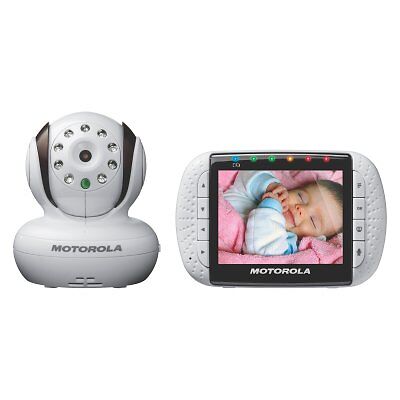 This baby monitor comes in white and utilises 2.4 ghz fhss wireless technology. The monitor has an 8.9-cm screen and a number of features including the pan and tilt of the camera and a zoom feature. The LCD screen is clear and provides great sound quality. The baby monitor can even play five different lullabies. This device's batteries last between 8 and 10 hours. Additionally, the range of the monitor is up to 180 metres, and the device has both a room temperature monitor and infrared night vision to keep an eye on the baby.
---
| | |
| --- | --- |
| 5 | Lorex LW2400 LIVE Sense Wireless Video Baby Monitor |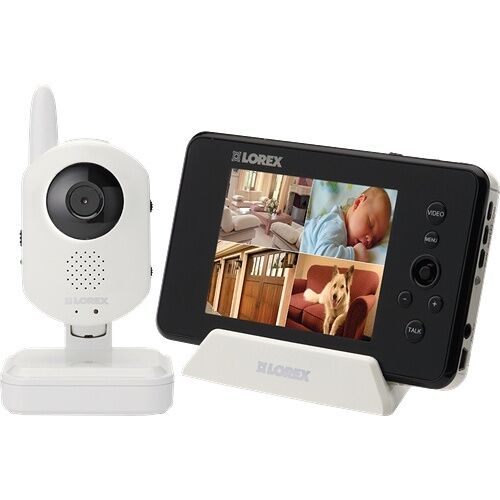 The Lorex LW2400 LIVE baby monitor provides some home security features as well. Up to four different cameras work with this tool, although they do not come with it, and parents can monitor the feed from any computer. It also works with any other device that has Skype. The monitor also has a variety of extra features including talkback capability, clear picture quality, and a thermometer to monitor the room temperature. The night vision feature of the camera has a range of 4 metres in total darkness.
---
How to Buy Baby Monitoring Devices on eBay
If you are looking for a baby monitoring device, eBay is an excellent place to start. One of the easiest things to do is type keywords, such as "baby monitoring device" into the search box. It is possible to narrow your results down by selecting different categories. Take a look at some of the other tools eBay has to offer like the feedback tool where you can see what a previous buyer said about either a specific baby monitor or a seller. You can leave feedback to help future buyers select a monitor too. No matter what kind of baby monitoring device you are looking for, you can find a wide range to meet your needs on eBay.