While infant girls do not technically need shoes for everyday wear, many parents love dressing tiny feet up in trendy and classic footwear. Most infant shoes come with soft soles, as younger babies do not need hard soles for walking just yet. Shoes also keep little feet warm in colder weather and work well for special dress up occasions where tiny booties and socks look too casual.
Baby girl shoes
come in a variety of sizes and styles and work well mixed and matched with both frilly and trendy
dresses
. Shoppers have many options locally on eBay for finding the top baby shoes for girls.
| | |
| --- | --- |
| 1 | Pediped Originals Sadie Baby Shoes for Girls |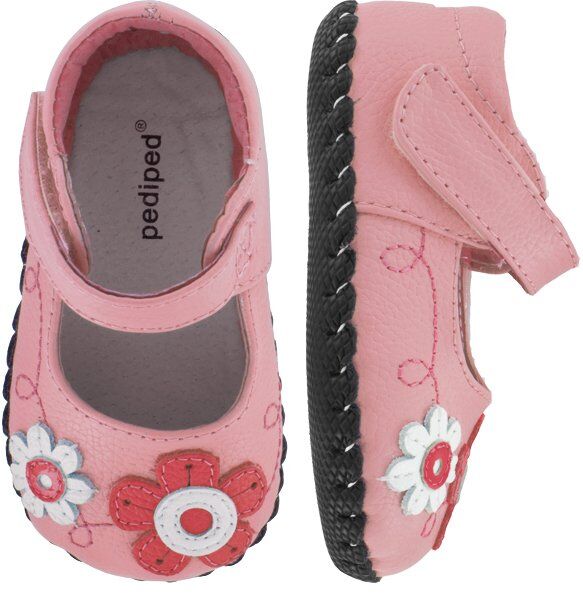 Made with shades of brown, navy, and pink, Pediped Original Sadie shoes offer a soft and flexible fit for a baby girl's delicate feet. The leather exterior, lining, and sole help create a quality shoe built to last that parents can pass down to younger sisters, if necessary. Flowered leather embellishments and delicate pink stitching add a bit of femininity to these tiny little shoes. A Velcro strap opens and closes easily to give Pediped Sadie shoes a Mary Jane style.
---
| | |
| --- | --- |
| 2 | Stride Rite SRT Dream Queen Mary Janes for Girls |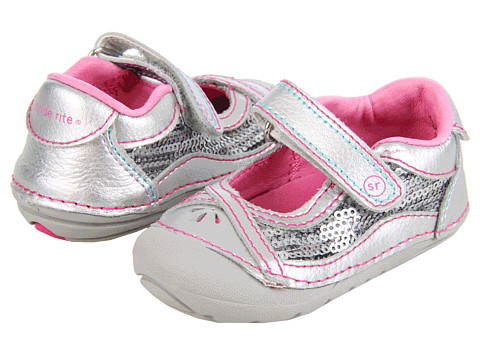 This children's shoe maker products a twist on classic Mary Janes with a little bit of bling to make baby's feet shine. Available in shades of pink, silver, and multi-pastel colours, these sequined shoes are soft enough for little feet both inside and out. A metallic leather material makes up the bulk of this shoe, while a rubber sole makes them ideal for those first standing and cruising moments. Made with flexible material, these shoes move with babies' feet offering a comfortable fit with a feminine flair.
---
| | |
| --- | --- |
| 3 | Puma Drift Cat 4 Crib Shoes for Girls |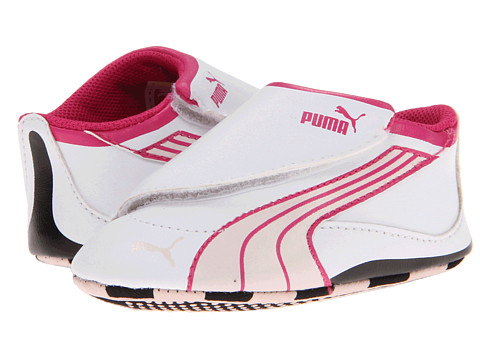 Made for the tiniest of feet, Puma Drift Cat 4 crib shoes come in several light colours for baby girl feet, including sachet, lilac, magenta, and peach blush. A synthetic leather material and cushioned interior offers comfort to ankles and toes, while a soft sole allows babies' feet to flex while not manipulating the natural arch of the foot during their first year. Parents slide babies' feet in and out with ease as these shoes close with a wraparound Velcro band that helps open the shoe wide when needed.
---
| | |
| --- | --- |
| 4 | Livie and Luca Flower Sandals and Crib Shoes for Girls |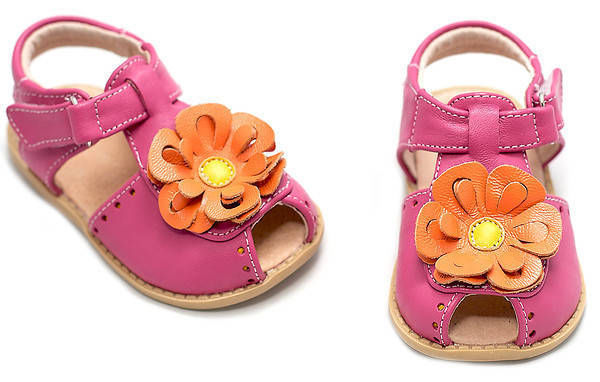 Livie and Luca sandals and crib shoes decorated with leather flower embellishments offer a classic look with trendy colours. Pink, beige, and navy shades come in a sandal for for summer days and crib shoe form for cooler temperatures. Rubber soles on the sandals help older baby girls learn to stand and walk, while the soft leather soles on the crib shoes offer comfort to infant feet. Both the sandals and crib shoes close with a Velcro buckle, making placing feet in the shoe easy and convenient.
---
| | |
| --- | --- |
| 5 | Luvable Friends Mary Janes for Baby Girls |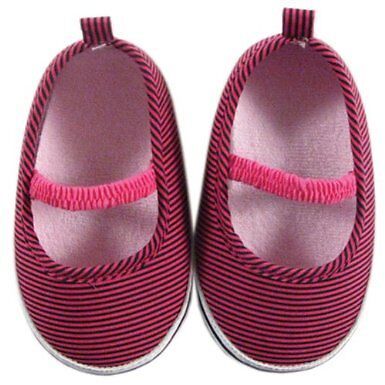 Made from a canvas trainer material, Luvable Friends Mary Janes feature both a pink stripe and pink animal print exterior. An elastic strap across the top of the shoe makes for easy on and off action without squeezing baby girl feet. Designed for early walkers, these shoes come with a non-skid firm sole, as well as a soft and flexible body. A quilted version of this shoe offers parents another choice for smaller babies and comes in shades of black, brown, and pink. Light and dark pink canvas trims and bows offer a feminine look to these little girl shoes. The sole has a flexible, but firm texture so babies learning to walk and stand do not wear them out in record time.
---
How to Buy Baby Shoes for Girls on eBay
The array of baby girls shoes available on eBay make them an easy shopping find. Simply type the brand or kind of shoe you are looking for into the Search bar found on any eBay page. Specify colour and size to narrow the search results. Look for trusted sellers with high feedback ratings to buy with confidence and always ask sellers any questions any time you need information not found in the listing. Browsing eBay Deals offers another means of finding baby girl shoes. eBay Deals showcase virtual flash sales on a variety of popular items. Get your baby girl several shoes for different occasions in a variety of trendy and feminine styles.