Baby swings
imitate the motions of rocking a child in a parent's arms, comforting newborns and stimulating older babies with
toys
and movement. Swings keep infants safely occupied and entertained while their mothers and fathers get things done. Today's swing designs do an amazing job of mimicking a parent's hold while including features like music and toys that keep children entertained while in the swing. Learning about the top five swings of 2013 can help parents make a good choice for their little ones. Parents can find baby swings at department stores as well as online through sites like eBay.
| | |
| --- | --- |
| 1 | Fisher-Price My Little Snugabunny Cradle 'n Swing |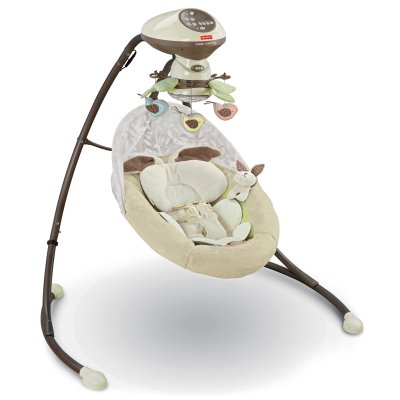 Fisher Price's My Little Snugabunny Cradle and Swing has many useful features to keep infants entertained and soothed. It has two swinging directions, six speeds, and 16 sound effects to accompany the mobile, which includes a mirror and birds. The A/C plug eliminates the need for batteries. The folding design and the ease of use make this swing a great choice for infants, from newborns to one-year-old babies. The brown, beige, and green colour scheme suits both boys and girls, and the fabric seat is easy to remove and wash.
---
| | |
| --- | --- |
| 2 | Graco Duo 2-in-1 Swing & Bouncer |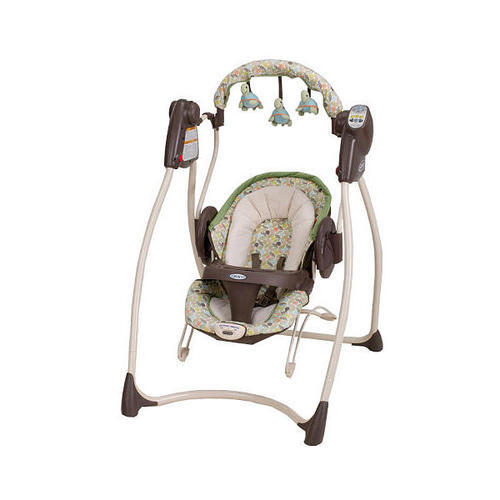 Graco combines the usefulness of a swing with the portability of a bouncer in the Duo 2-in-1 Swing and Bouncer. The swing has six speeds, a row of overhanging plush toys, and 10 sounds, including classical music and nature sounds. The seat of the Graco Duo is a detachable bouncer. The Graco Duo has a flip-up tray for toys and a two-speed vibration feature. The removable seat cover is washable and has neutral colours that match any kind of decor. This swing also plugs into the wall but the bouncer requires batteries for the vibration feature. This product offers great value for parents who want to be able to move the baby from room to room easily in a bouncer but still have the swing function when necessary.
---
| | |
| --- | --- |
| 3 | Fisher-Price Infant to Toddler Swing |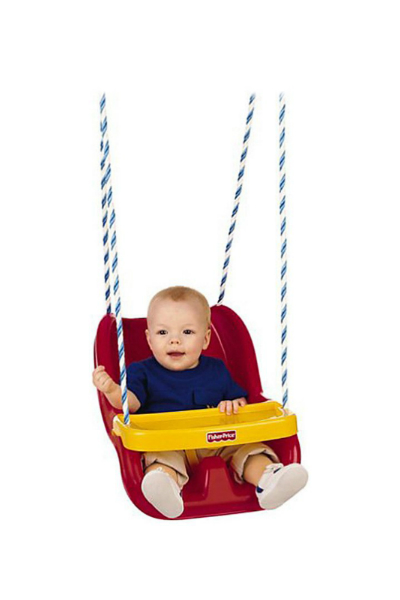 The Fisher Price Infant to Toddler Swing is classic playground equipment for babies, with its red and yellow heavy-duty plastic seat. This swing is durable and safe enough to use with babies as young as six months of age. A three-point harness keeps babies safe, and the removable tray is useful for toys. This inexpensive outdoor baby swing is great fun for little ones and a great way for parents to spend time outdoors with a very young child.
---
| | |
| --- | --- |
| 4 | Graco Lovin' Hug Plug-In Swing |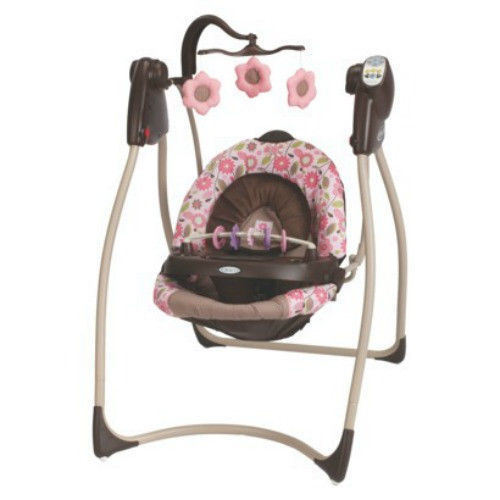 If other swings startle very young infants with their open design, the Graco Lovin' Hug Swing may be the answer. The seat has extra cushions to support and surround the baby's body just as a pair of loving arms would. The support cushions are removable so that the swing can accommodate older babies. The swing has a full set of features, including an A/C plug option to save batteries, 10 music settings, six speeds for swinging, and a five-point harness.
---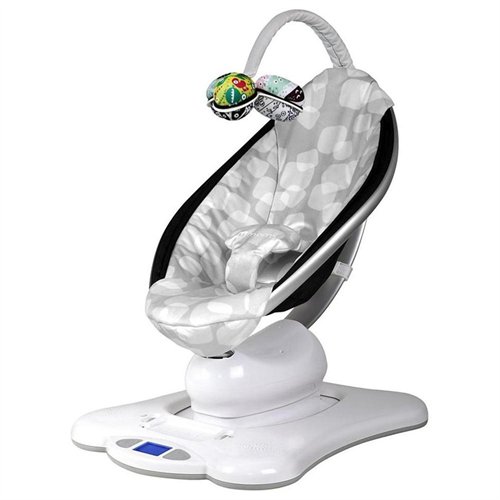 The MamaRoo combines style and utility with a fresh take on baby swings. Instead of the large folding frame that usually holds the swing, 4Moms has a futuristic seat mounted on a moving base. The seat is fully reclinable at any angle and moves in five unique ways that mimic motions that are comforting to babies, namely up and down and from side to side. The hanging ball toys are reversible and feature high-contrast patterns that are developmentally appropriate for infants. The base includes controls for the swing and a dock where any MP3 player connects to the speakers if one does not want the nature sounds that come with the swing. The plush fabric insert is reversible, machine-washable, and comes in six colourful unisex prints.
---
How to Buy a Baby Swing on eBay
eBay makes it easy to find and compare all the best baby swing models online. To browse through the models available, enter the search term 'baby swing' in the search box on any eBay page. Then refine the search by price, brand, or other criteria until you find a swing you like. eBay's Top-rated sellers have award icons on their listings that indicate that they have a long history of excellent service on eBay. A good baby swing adds variety to a baby's day and gives parents a chance to rest. By shopping online for a swing, parents can take advantage of eBay's wide selection and competitive prices and find a swing that keeps the baby gurgling with delight.