In most Christian faiths, converts or proselytes participate in some type of baptismal ceremony to show their devotion, conversion, and acceptance of the faith. For many Christian religions, baptism occurs at infancy though some religions wait until the child is older and can participate in the decision to choose baptism. Adults are baptised when entering a new religious group that does not recognise any prior baptism that the convert may have had in infancy. During these special ceremonies, most commonly called "baptism" or "christening," special clothing is worn by the baptisee. Tradition dictates that the infant wear a long
baptism gown
. These often-intricately embellished dresses frequently become family heirlooms that mothers pass down from generation to generation.
| | |
| --- | --- |
| 1 | Lauren Madison Baptism Dresses |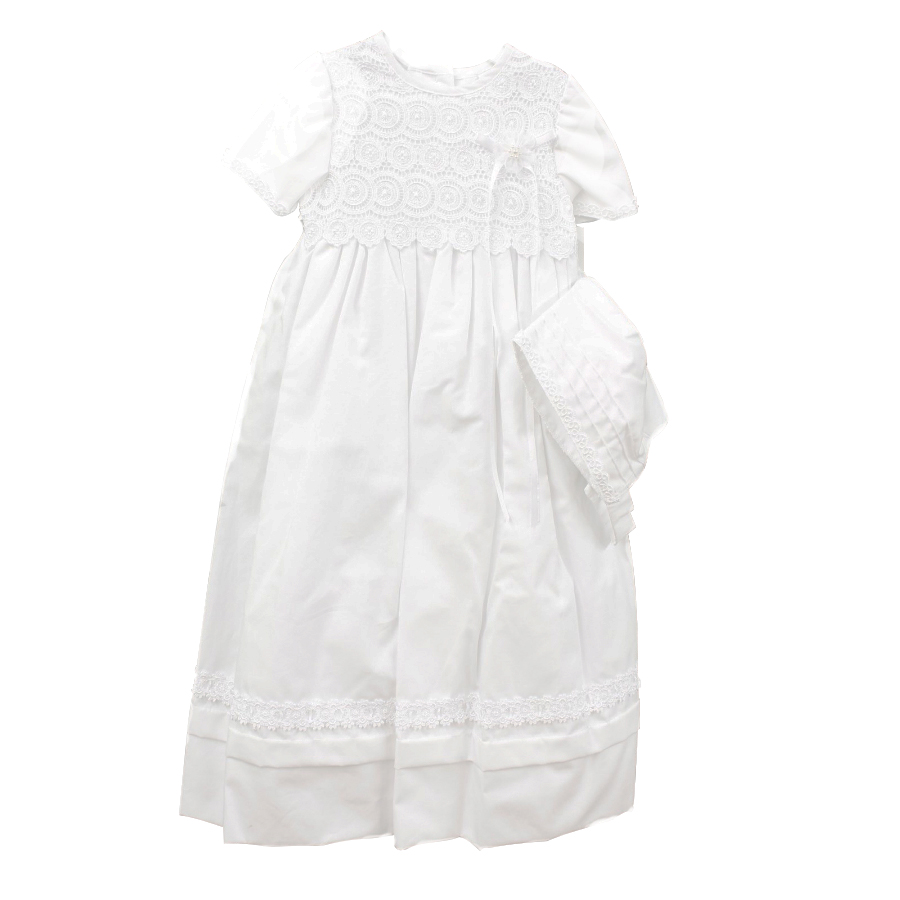 The Haddad Brothers have been making special occasion clothing for infants and children for several generations and parents and grandparents continue to choose their fine quality Lauren Madison clothing line for christenings, baptism, bris, communion, and more. They offer short baptism dresses in organdy, satin, and fine cotton with beautiful embroidery and embellishments. Floral appliqués, ribbons, satin trim, and pearls accent long dresses with sheer embroidered overlays and organza. The Vintage Heirloom Collection recreates turn-of-the-century designs in today's easier care fabrics. Most dresses include a matching bonnet and Lauren Madison offers keepsake underclothing, socks, bibs, and handkerchiefs.
---
| | |
| --- | --- |
| 2 | Joan Calabrese Baptism Dresses |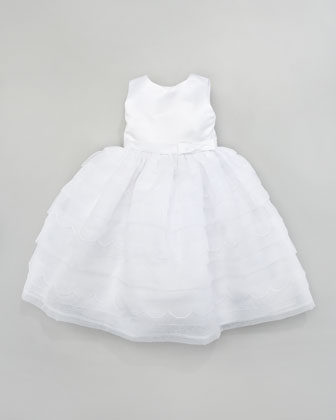 Parents with an appreciation for elegant, heirloom clothing with a designer touch seek after the Italian-inspired couture designs of Joan Calabrese. Calabrese collections for infants and children feature elaborate beading, sumptuous lace, satin ribbon trims, and more. The choice of celebrities and the rich and famous, Joan Calabrese gowns offer styles from the fanciest to the simplest designs. Specialising in larger sizes, these dresses are often preferred by those experiencing baptism as a child. The fine quality of a Joan Calabrese dress ensures that the child is elegantly dressed on his or her special day. Mothers and grandmothers often preserve these gowns to pass from generation to generation.
---
| | |
| --- | --- |
| 3 | Baby Beau and Belle Baptism Dresses |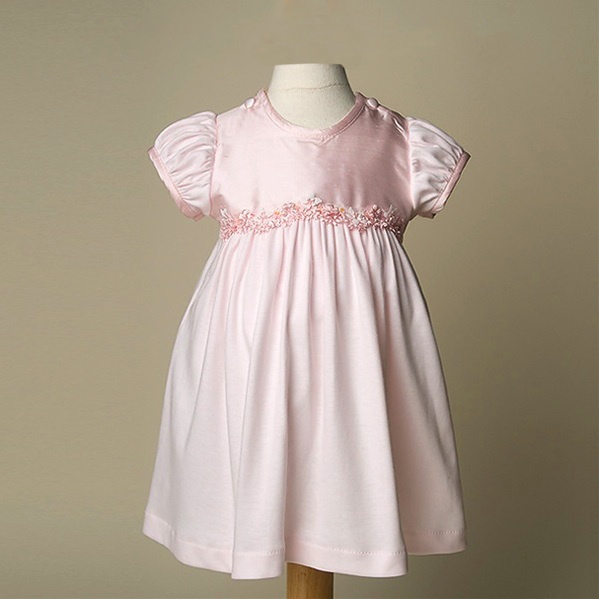 Baby Beau and Belle produces some of the most beautiful christening gowns available on the market today. Designer Roberta Salton uses elegantly soft 100 per cent cotton, knits, and silks to create her gowns. Venetian lace, French ribbons, satin rosettes, pearls, and Swiss embroidery embellish these dresses. The coordinating booties, bibs, hats, bonnets, and headbands enhance these darling dresses and complete the ensemble. If the weather for the baptism day forecasts chilly, a Baby Beau and Belle sweater is the perfect topper to baby's christening outfit. The clothing is beautiful yet comfortable.
---
| | |
| --- | --- |
| 4 | Sarah Louise Baptism Dresses |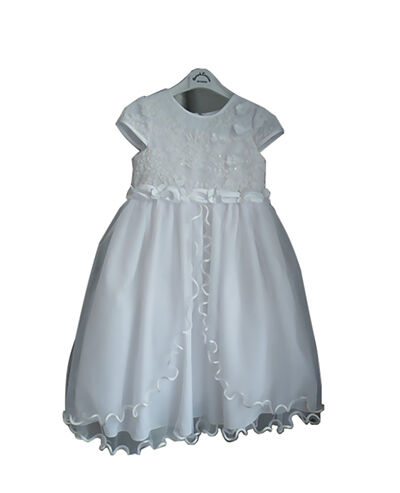 A Sarah Louise baptism dress is a wealth of detail. With petite trims and delicate appointments, these delightful gowns nod to the importance of the Baptism Day. As a leading UK children's clothing designer, Sarah Louise dresses promise quality materials and designs for discerning parents. Heirloom gowns feature layers of silk, fine cotton, and organza. Intricate smocking accents the bodices of many Sarah Louise styles, as embroidery, ruffles, and scallops accent the traditional designs. Available accessories include socks, shoes and booties, bibs, blankets, bonnets, bloomers, sweaters, and even charming keepsake jewellery.
---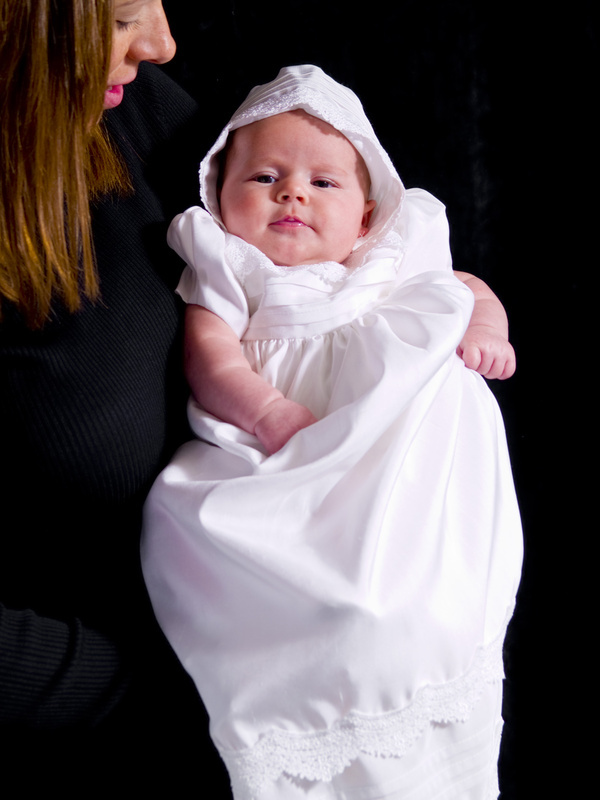 Roco Clothing boasts "high-quality christening gowns at low prices" for parents and grandparents who neither choose nor can afford designer gowns. Roco uses fine traditional satin, tulle, organza, or nylon/polyester blends in constructing these delightful, affordable gowns that feature multi-layered skirts, both long and short, and short sleeves. Lace trims, satin ribbons, rosebuds, sequins, and pearls embellish these comfortable gowns. Complete the baptism day outfit with matching bonnet, headband, jacket, socks, shoes, and more accessories.
---
How to Buy Baptism Dresses
Whether for infants or children, the baptism or christening day is an important milestone in the life of the child and the parents. The traditional white baptismal dress is a customary part of the event and the child looks stunning in pictures and memories in any of the beautiful dresses. The gown can become a lifelong keepsake, as parents and grandparents pass these beautiful treasures from one generation to the next. Choosing an elegant, heirloom christening gown begins by searching among eBay's emporium of baptism clothing. Type keywords into the search field and further narrow the search by categories such as boy or girl clothing, size, designer, price, condition, and more. eBay's Top Sellers, as indicated by the gold seal, often offer special discounts, such as free shipping.