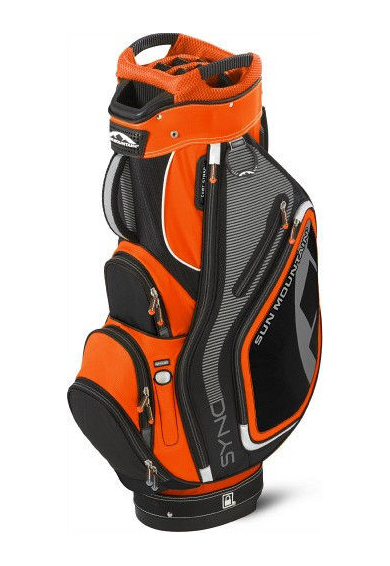 With golf now becoming a much faster-growing global sport that everyone can enjoy, the demand for golf equipment is at an all-time high and it is important to buy the right equipment a user's needs and wants.
This guide will fully explain the greatest benefits of buying a single-strap golf bag and why it is a vital decision for experienced pros, young players and beginners. Combining traditional ideas with contemporary design ideas, single-strap golf bags revolutionised the sport.
Single-strap golf bags are ideal for golfers looking for a relaxed, laid back atmosphere and can be taken simply to the course or the driving range. eBay is a great place to browse and find a single-strap golf bag, as they are available at a wide range of prices with a broad selection of makes and designs.
Why Buy a Single-Strap Golf Bag
There are many reasons why any type of golf player should purchase a single-strap golf bag, and the decisions come down to how a player will use it.
Lightweight
A top benefit for golfers who like to walk the course is that single-strap golf bags are extremely lightweight and can be lifted with ease even if full of equipment. Rather than having to pay a caddie to carry equipment around, a single-strap golf bag can be carried simply without risking injury to a player's back. This is in turn makes buying a single-strap golf bag an affordable and cost effective choice.
Their lightweight design makes this ideal for a golfer's lifestyle that is fast-paced. It is also beneficial to players that play a few holes occasionally, and also to those who dedicate time to playing a full 18 holes. A single-strap golf bag will not weigh a player down who wants to get round the course efficiently.
Storage
Storage inside a single-strap golf bag is very efficient as the ability to organise eight clubs, or fewer clubs if you are unwilling to bring the whole set, is basic yet incredibly effective. Woods, irons, putters and drivers all fit snugly inside the padded inside of the single-strap golf bag, and despite being smaller and sleeker than a standard golf bag, they are extremely versatile, so players will have no worry with them holding all the bare essentials players will need to play golf.
Many will come with zippered pockets or pouches to hold anything a player will need such as golf balls, water bottles, pencils, mobile phones, wallet or any small item; some will even be fitted with an umbrella holder.
Travel
Another positive of single-strap golf bags is that they are not designed to be bulky or spacious so are ideal for travelling. Single-strap golf bags can easily be fitted in the boot of a car or onto a mode of public transport without causing hassle.
This makes carrying the clubs to different courses easy and a single-strap golf bag will come in very handy for golfers who travel across lands to play the sport. Some bags are even collapsible, which makes packing and carrying the bag even simpler.
Single-strap golf bags can also vary in a travel sense, as some come complete with a stand or cart bag. Stands are very useful for golfers without a caddy, because the golf bag can stand on its own whilst the player takes their shots. An extra benefit to a stand bag is that when the bag is placed on the ground, the weight automatically activates it, leaving the golfer without worry, so he or she can carry on with their game.
Material
Single-strap golf bags are made from waterproof materials, such as nylon or leather, making them perfect for outdoor activities. The material inside usually contains a padded lining preventing clubs from clattering and becoming damaged while the bag is being moved.
Minimum Stress on Body
Using a single-strap golf bag will allow a golfer to greatly reduce the weight that is carried on the back and shoulders that a double strap golf bag would create. Different methods of carrying the bag will distribute the weight accordingly. By holding the bag in place with an arm, clubs will feel lighters and will make club selection easier as the bag can simply be swung around and over your shoulder.

Types of Single Strap Golf Bag

There are many types of single strap golf bag and any dedicated golfer should consider which is best for them. On eBay there is a bag to cater for every standard and quality of golfer and some of the most general types include.
* Carry Bag: Carry bags are by far the most popular choice for amateurs and pros alike as they are by far the most practical due to their ease to carry and store equipment. They work just as well when placed on a cart as when carried and evenly distribute weight across the base meaning no awkward parts stick out when they are being carried.
* Pencil Bag: Ideal for quick round or for a lunchtime trip to the driving range, pencil bags are much smaller than a regular single strap golf bag but still can hold plenty of clubs and accessories comfortably.
* Tour Bag: Tour bags will make anyone feel like a professional as they are the most state of the art golf bags around and will carry a full set of clubs and accessories with even room to spare.
What to Consider When Purchasing a Single-strap Golf Bag
There are particular factors to think about when considering purchasing a single-strap golf bag.
* How Often Will They Be Used? Single-strap golf bags are perfect for a quick round of golf and for quick movement to different courses, so buyers must consider how often they will use the bag.
* What Condition Should The Golf Bag Be In? As eBay is a buying and selling website it is not uncommon to find a second-hand single-strap golf bag, so buyers must consider if they would want new or tried and tested.
* How Often Do You Walk When Golfing? Some golfers prefer to use a caddy and a golf buggy on the course, and a single-strap golf bag may be more suited to those who travel the course on foot and are more hands on with their clubs and equipment.
Where to Buy a Single-Strap Golf Bag
Single-strap golf bags are available at a wide range of sporting goods stores and also online. But for a more varied selection, eBay is a good destination, as there is a whole host of choices for those being cost-effective or looking for a top range item.
A main positive of purchasing from eBay is that when observing products, a buyer can search through shop specific stores in the website or from individual sellers. Both with give a comprehensive description of the single-strap golf bag along with an image meaning buyers can buy with confidence.
When typing 'single-strap golf bag' into the eBay search engine, users can browse through and manually pin down their preferences as well narrowing their search down to conditions such as price, distance and time. eBay's handy selector tool on the left hand side, automatically pinpoints options that a buyer may want to consider. When purchasing a single strap golf bag this could be anything from the condition, to the brand make, as brands such as Nike, Wilson, Callaway and Taylor Made are all readily available on the website.
When purchasing an item on eBay it is important to read the seller information and their ratings, so you can buy with confidence, especially for an item that could mean a lot to a player. The important factor about eBay is you can easily view the contacts, payments and delivery costs that the buyer sets out.
Buyers must be wary when purchasing on eBay and only buy from sellers they have full confidence in. Reviews, feedback ratings, warranties and money back guarantees are the best way to determine how good seller may be. Keeping an eye on the amount of sales a seller has made may also be of telling if they are trustworthy, however this is not always be the most sufficient way of determining.
eBay will let users buy a single-strap golf bag through PayPal as this is an extremely safe and secure way of paying for goods online. All eBay users are protected by the Buyer Protection Program which protects buyers if something were to go wrong.
Conclusion
Buying a single strap golf bag on eBay is fantastic choice as many bags are sold by fellow avid golfers who understand what the product entails and all its specifications. Along with careful consideration and thorough searching, the right single strap golf bag is there for everyone and will give hours of use on any course.
Golf is close to many players' hearts and choosing the right equipment is something that is not taken lightly. eBay will provide an added confidence when purchasing online, because it offers guidance along with lengthy product descriptions.