Bermuda shorts
are loose, knee-length shorts popular as beachwear. They come in several different styles, from low-cost holiday clothes to rugged work shorts. Bermuda shorts are more popular in men's styles, but Bermuda shorts for women do exist. A woman can also wear men's shorts, but she should wear them at the hips, not the waist, in order to show off feminine curves. When shopping for Bermuda shorts, buyers should remember that sellers might label them as cargo shorts, swim shorts, or something else. Knowing the top five Bermuda shorts can help consumers choose from the wide variety of Bermuda shorts available in local stores or on eBay.
| | |
| --- | --- |
| 1 | Tom Franks Men's Beach Board Flora or Striped Swim Shorts |
Bermuda shorts come in many distinct styles and the most casual is the board short. Surfers like board shorts because they allow freedom of movement and because they dry quickly. Traditionalists wear nothing under board shorts for swimming, but some people wear underwear, swimsuits, or wetsuits underneath, both for privacy and as protection from sand. Board shorts are also great for casual wear on land. While they differ from other Bermuda shorts in some respects, they have the same length and the same loose, comfortable fit of traditional Bermuda shorts. Tom Franks Beach Board Shorts feature lightweight fabric in bright colours and bold prints. They have a mesh lining, an elastic waistband, and two pockets. They are low-cost but offer superior comfort and quality for the money.
---
| | |
| --- | --- |
| 2 | Military Style Cargo Shorts |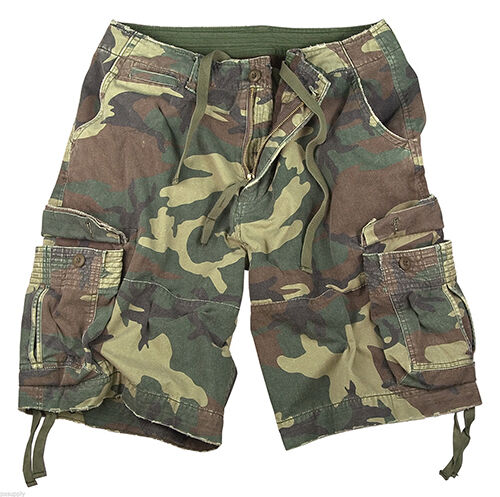 Military style cargo shorts are available in camouflage print or solid colours, such as khaki, grey, or blue. Rugged construction and several pockets make these shorts practical for any outdoor recreation or work in hot weather. Besides the standard side and rear pockets, cargo shorts can have as many as six bellows pockets, all with button or snap closures. All those pockets are perfect for carrying easily accessible gear, anything from a pocketknife or a compass to a wallet or emergency personal medication. Some shorts have zip flies but most have button flies, another practical measure, since broken buttons are easy to replace.
---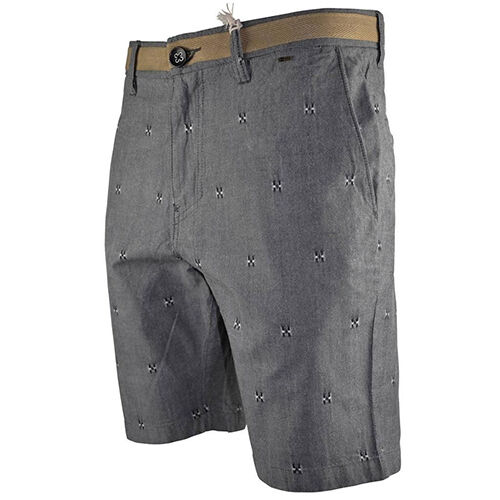 Billabong made a name for itself making swim shorts for surfing as well as technical clothing. Billabong's line of Bermuda-style walking shorts is certainly comfortable enough for casual wear. At the same time, the sturdy-looking fabric and the classic cut gives these shorts a professional look. Billabong shorts are much closer to the original Bermuda shorts, which men still use in Bermuda as a short version of dress pants. Men can dress up Billabong shorts by pairing them with a lightweight short-sleeved collared shirt.
---
| | |
| --- | --- |
| 4 | Puma Men's Golf Tech Bermuda Shorts |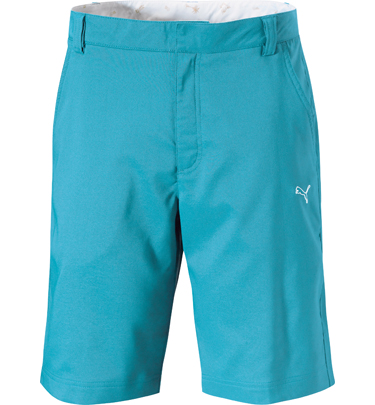 Puma does make its golf shorts in the traditional stripes and plaids, but not everyone likes these designs. Some people dislike golf shorts because they do not like stripes and plaids, even though there are good reasons for wearing golf shorts out on the links for reasons that have nothing to do with the colour. In hot weather, a pair of loose-fitting shorts helps keep a golfer cool, and the classic cut of Bermuda style shorts is a good match for the somewhat formal attire most golfers wear. Puma also offers its golf tech Bermuda shorts in a wide range of solid colours, something to match any outfit and anyone's taste. The elastic waistband allows complete freedom of movement while at the same time helping to grip the shirt and keep it from coming untucked when the golfer swings. The wicking fabric and loose cut help keep a golfer cool and dry even in hot weather.
---
| | |
| --- | --- |
| 5 | Tommy Hilfiger Kensington Rome Women's Bermuda Shorts |
This is the classic dressy yet casual Bermuda short in cool cotton twill with slash pockets and a zipper closure. The only major difference is that Tommy Hilfiger made this short for women. Traditional Bermuda shorts have a boxy appearance but the somewhat narrower cut of the legs makes these shorts appear graceful in a way that flatters the female figure.
---
How to Buy Bermuda Shorts
eBay is a good place to look for shorts because the selection is good and the prices are reasonable. Choose between new and used in almost any style. Shoppers who already know exactly what they want can use the Advanced Search feature to find it quickly. People who prefer to browse a bit can use a general basic search instead. Start with a keyword like Bermuda shorts, then use the menu options to narrow down the results. Use the contact link on the seller's profile to ask any questions about a listing. When looking for a new pair of Bermuda shorts, the important thing is the length and loose fit, not the name.