A
water heater
is an absolute essential for the home. They are also useful items for camping, caravanning, and other outdoor applications. Big, bulky, costly storage-type water heaters are the traditional type but are not energy efficient and are expensive to maintain and replace. The most popular water heaters are now under sink models, oversink models, and tankless instant heat models. Consumers must ensure they purchase the correct fuel type, either electric or gas, and purchase a new water heater capable of handling their hot water requirements. Because quality, features, and longevity vary from heater to heater, consumers should do their research and carefully consider purchasing one of the most popular water heaters with a reputation for quality.
| | |
| --- | --- |
| 1 | EcoSmart ECO11 - Redring Powerstream 3 Phase Plus |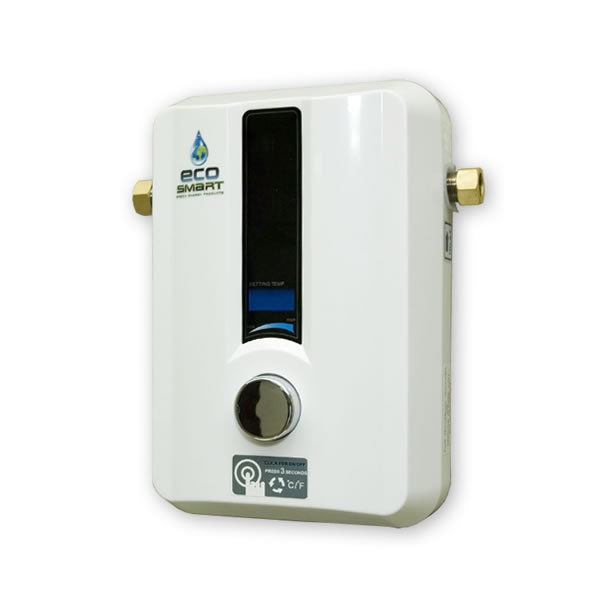 The Redring Powerstream 3 Phase Plus, an instant electric water heater that provides large quantities of hot water where consumers have a three-phase electric supply of 415V is readily available. This economical unit is energy efficient and supplies up to 13 litres of water per minute at a maximum temperature of 50 degrees Celsius. The unit connects to the standard UK mains water supply on the cold water line. For ease of use, it is controllable with a UK standard tap fitting. It boasts easy installation and an automatic safety cut-off in the event of the unit heating beyond a safe temperature. To maintain efficiency and performance, the stainless steel element is resistant to limescale accumulation.
---
| | |
| --- | --- |
| 2 | Rheem 22V50F1 - Triton T30i Oversink Electric Water Heater |
The Triton T30i oversink electric water heater is designed for hand washing. This small, compact unit is an instant water heater, delivering hot water suitable for low flow requirements, such as hand washing. It has an easy to use temperature control dial and an adjustable swivel arm for easy access. This unit connects to the hot water line and has a 15 millimetre inlet connection compression. The Triton T30i is not suitable for moderate or high flow applications, such as washing up, but does deliver a maximum of eight litres per minute. It boasts simple installation and is easy to keep clean. This unit is ideal for locations where space is at a premium.
---
| | |
| --- | --- |
| 3 | Bosch AquaStar 2700ES-LP - Rheem Tankless Direct Vent Water Heater RRTG-64DVN |
Rheem are known for their quality and durability when it comes to products for the home or business. The Rheem tankless direct vent water heater RRTG-64DVN provides a maximum temperature of 60 degrees Celsius. The unit comes with a handy remote control for easy temperature control. This power saving unit is energy efficient and provides continuous hot water. The Rheem RRTG-64DVN is an environmentally friendly gas water heater with intelligent technology to provide extra safety, including an automatic cut-off. The compact design saves space and has an automatic self-diagnosis tool to keep the water heater working at optimal efficiency. The simple electronic controls offer optimal safety and are easy to use. Consumers can also purchase additional remote controls.
---
| | |
| --- | --- |
| 4 | Bosch GL6-plus - Bosch 520-HN-LP Tankless Water Heater |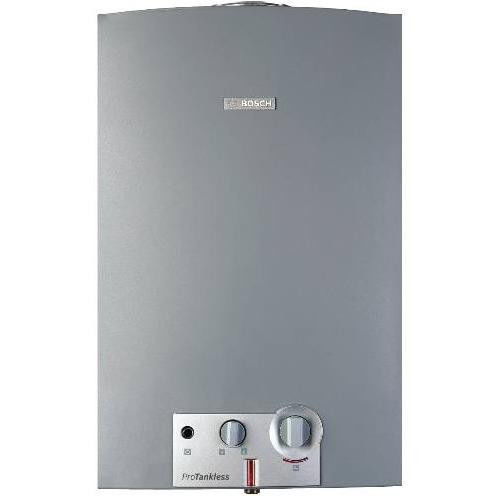 The Bosch 520-HN-LP tankless water heater is a non-condensing indoor water heater. It boasts an impressive 80 per cent water efficiency with a maximum water pressure of 150 pounds per square inch. This indoor tankless water heater is suited to any residential application, whether washing up, handwashing, or taking a bath. It provides instant hot water, heating the water as it passes through the heater to the tap. It is considered highly energy efficient, only heating the amount of water the consumer uses, helping to reduce the carbon footprint of the household and save money on energy bills.
---
| | |
| --- | --- |
| 5 | Stiebel Eltron Tempra 24 - DAFI 5.5 KW Undersink Water Heater |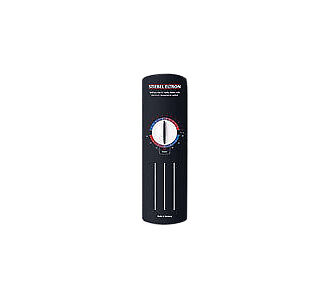 The DAFI 5.5 KW undersink water heater is a small, compact unit that fits inconspicuously beneath a sink in the kitchen, bathroom, or washroom. This small unit is great for confined areas where space is at a premium. It is suited to low flow and low capacity, such as hand washing. For convenience, this water heater is compatible with standard UK tap fixtures, including mixer taps. The water heats as it passes through the unit, so only a cold water supply is necessary. With no standby energy losses and energy consumption only occurring as water is drained from the tap, this model is energy efficient, helping consumers save on costs. This water heater is durable, with a long lifespan, thanks in part to the quality workmanship and silvered electrical contacts.
---
How to Buy Water Heaters
eBay sellers offer a wide variety of water heaters to choose from. Simply search from the search bars located on every page to find your ideal water heater. When buying heavy items like water heaters, be sure to account for postage in your budget, although you may find reputable sellers offering free postage with your purchase. For handwashing, opt for a small oversink unit. For moderate flow applications, like washing up, opt for a compact undersink unit. For large flow applications, or to provide hot water for a whole house, opt for a large wall-mounted tankless water heater.