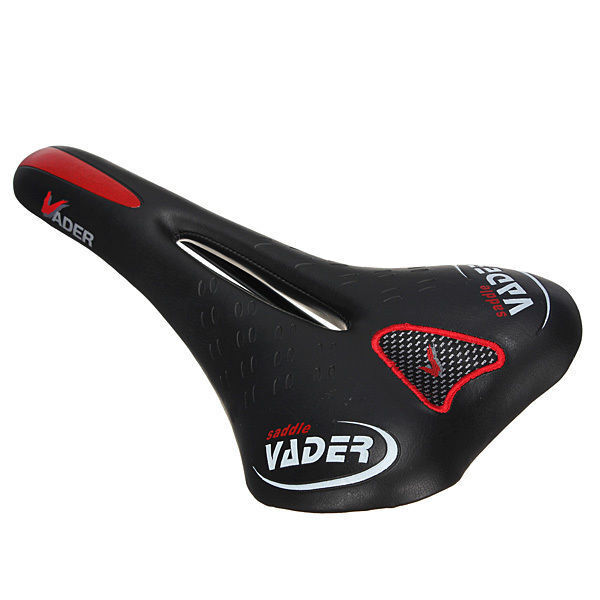 eBay is a great place to buy a new bicycle saddle. The saddle is a crucial part of any bicycle and it must suit the cyclist in order for him or her to enjoy comfortable cycling experience.
The saddle is one of only three contact points (besides the pedals and handlebars) on a bicycle so it must be comfortable to make life easier for the cyclist as well as to prevent numbness, chafing and other discomforts down below. We all have pelvises of different shapes and sizes, which is why there is such a large range of saddles to purchase on the market today.
Choosing the right saddle for a bicycle involves a lot of thought and consideration. Fortunately the purpose of this guide is to inform the reader about the top 5 bicycle saddles for men and how to purchase them from auction website eBay.
Bicycle Saddles
On a bicycle, a saddle is attached to the seat post, which can be adjusted (up or down) by the telescoping in and out of the seat tube. Besides being one of only three contact points whilst riding, the saddle is the centre point which positions you over the pedals and helps you control the bike, thus a very important component. The right saddle will make owners more efficient on the bicycle as well as making their riding experience more comfortable and enjoyable.
Most people assume that a bicycle saddle is a seat. This is not true. A seat is designed to hold a body's entire weight comfortably whilst a saddle is something that carries the body but not all of its weight.
Owning the wrong saddle can have a detrimental effect on the cyclist, as after all it is responsible for hosting an intimate and sensitive part of the body. Cyclists' complaints about their saddle can often be narrowed down to three contributing factors:
* The wrong saddle has been selected to suit the cyclist's anatomy
* The saddle isn't correctly set up for the cyclist and is causing discomfort
* The cyclist has undertaken a longer ride than his or her posterior can handle
Components of a Saddle
A bicycle saddle is chiefly made from three components: shell, cover and rails.
Shell
The shape of the saddle is dictated by the shell which can be made from several materials although most modern saddles have a hard shell made from a moulded piece of plastic such as nylon ( carbon fibre is also used in the top of the range saddles).
Cover
On top of the saddle's shell is the cover. Some form of padding is usually placed on top of the hard shell, which is then followed by an outer cover made of leather, spandex or vinyl.
Rails
The last essential component of any saddle is probably the most important: the saddles rails. These rails are the only point of connection to the rest of the bike. Saddles have two rails that run along the underside of the saddle and are clamped to the seat post below.
Rails can be solid or hollow and made from a range of materials including: aluminium, carbon fibre, magnesium, steel and titanium.
Some saddles may also feature suspension components to give the rider greater comfort by absorbing vibration transmitted by the bicycle's frame and seat post.
Types of Bicycle Saddles
Bicycle saddles are just like shoes; there are many different types for many functions to choose from.
Generally, there are three types of bicycle saddle:
* Cruiser: cushioned with support on both ends of the saddle. As cruiser bikes have upright handlebars, the cyclist's weight is directly on the saddle. The nature of cruising means slow leisurely pedalling therefore the saddle is wide and padded for extra support. Long and padded saddles are often called banana saddles and are common on cruisers.
* Comfort: wide saddles with lots of padding designed for slow and easy pedalling. Some comfort saddles are specifically designed for long distance so they absorb some of the vibrations from rough surfaces.
* Racing: designed to allow full movement whilst preventing chafing, these saddles position the cyclist forward so that more weight is on the hands and feet and less on the saddle. Road bicycle saddles are thin, hard and lightweight whilst mountain bike saddles are also thin in shape but have some form of padding to accommodate the rough and uneven terrain.
When choosing a saddle, your sitting bones should be suitably supported and you should feel comfortable whilst sitting upon it (there should be a small amount of room for manoeuvre either side of the saddle).
Men's saddles are typically long and narrow seats whilst women's saddles are usually short and wide to accommodate for their vastly different anatomy.
Top 5 Bicycle Saddles for Men
Fizik Wingflex Saddles
With over 30 top-of-the-range saddles in the collection, all Fizik Wingflex saddles have extended length providing multiple riding positions. The saddle's shell flows downward where the inner thighs meet the saddle, allowing for a more efficient full-range movement whilst pedalling. Regardless of cyclists' anatomy, Fizik Wingflex saddles adapt to the riders rather than them adapting to the saddles. These saddles are perfect for racing bikes and for cyclists who endure long distances and shift about a lot when cycling.
Vader Lightweight Saddles
Vader produce some of the best affordable and lightweight saddles around. Most saddles are designed for a specific use (racing, cruiser, comfort) although they all come with a generous amount of padding so provide a good deal of comfort to the posterior. Many Vader saddles have a weather resistant synthetic covers to protect them from the elements.
Rubar EMIR Road Saddles
Rubar road saddles provide the best of both worlds between performance and comfort. They are lightweight (less than 250g) with a synthetic leather cover and feature centre grooves for maximum blood flow in sensitive areas. These saddles are two-tone in colour and available in many different colours.
Selle Italia Saddles
Selle Italia is one of the pioneers in performance cycling. They produce top of the range road and racing saddles and spend large amounts of time researching and developing ergonomic saddles. Selle Italia's Max saddles provide high performance whilst still offering the cyclist some comfort. Nearly all Selle Italia saddles also come in gel form to provide extra comfort for those who require it.
Bontrager Evoke Saddles
Bontrager's Evoke Saddle range is for performance-demanding mountain bikers who want a more forgiving ride. The range has many different models (RL, RXL, R, SSR, Rhythm etc) in many different sizes to cater to all anatomies and cyclists. Bontrager saddles feature abrasion-resistant edges ideal for those rough mountain bike riders.
How to Buy Bicycle Saddles on eBay
eBay is a great place to buy men's bicycle saddles. Whether the buyer is looking for a racing,comfort or cruiser saddle, eBay stocks a vast range of men's saddles to suit everyone and every bicycle.
Finding the sought-after saddle has never been easier thanks to eBay's search functions. To find the desired saddle using the search toolbar, simply enter the brand name, style or shape of the saddle and press enter. From here the buyer is met with pages of search results to sift through before selecting the most suitable result.
Once they have found the most suitable search result, they can click onto it to be taken to that product's individual listings page. Every product for sale on eBay has its own product listings page full of information about the item in question including: a detailed specification, a product analysis, comments about the products condition as well as photographs of the item.
As an authoritative member of the ecommerce world, eBay also provides all of its customers with information about each product's seller. This often includes sellers' eBay rating and selling history, as well as their location.
As the latter is disclosed, shoppers can decide whether it is best to visit the seller and pick up the item or to have it delivered to their door and pay the postage charge.
Even though each item is given a comprehensive overview on its product listings page, some customers may still feel that they require more information about the product or would like to ask the seller a question. This can all be done with eBay's contact the seller function.
Once shoppers have found their sought-after saddle they can begin purchasing. On eBay, this can be done in two different manners: shoppers can purchase their item immediately ('Buy It Now') or they can bid for the item in an auction-like format ('Bid Now') attempting to seek out the best price for that item.
All transactions made on eBay are safe and secure thanks to third party payment authority PayPal.
Conclusion
There are many issues to consider and factors to take into account when purchasing a new bicycle saddle. However with the important information and crucial considerations surrounding this product outlined and explained within this guide, coupled with eBay's highly detailed and user-friendly website, buying a new bicycle saddle is easy.
This guide has provided many useful tips, hints, pieces of information and advice about purchasing bicycle saddles and other cycling products. A good saddle matched to the owner's bicycle, riding style and anatomy will provide a comfortable perch to ride on for many years to come.