A quality
blender
enables users to create a wide array of foods and beverages. There are several things buyers should consider while shopping for a blender, including its power level, number of settings, and the overall size of the product. Some items are too small to chop ice, while others occupy large amounts of counter space or have a limited number of settings. Due to the high number of blenders on the market, it is not always easy to find reliable units for the needs of the buyer. However, a handful of items stand out for their efficiency, performance, and overall value.
| | |
| --- | --- |
| 1 | Cuisinart SSB1U Soup Maker |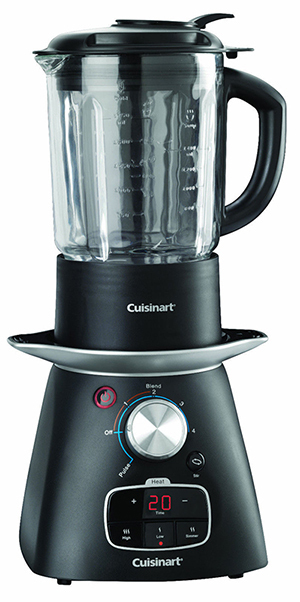 The SSB1U from Cuisinart is a speed blender that works great for creating soups. It features a built-in heating element and a non-stick cooking plate that allow users to cook and simmer foods before they blend them together. Users can operate the blender with a pulse function for chunky soup or use the standard blending mode for puree. Four speed settings also help owners find the best consistency for the food they prepare. The SSB1U features a powerful 500-watt motor that makes it suitable for grinding cold or hot ingredients. The package even includes a recipe book to help owners find great new meal ideas.
---
| | |
| --- | --- |
| 2 | Breville Blend-Active Personal Blender |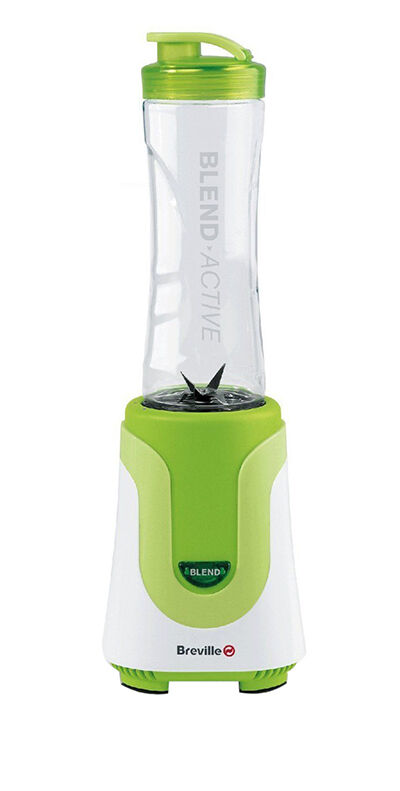 Breville's Blend-Active blender allows users to mix shakes, smoothies, and other beverages quickly. A one-touch design makes blending easy and trouble-free. The two 600-ml bottles double as blender jugs and drinking cups, which means users do not need to pour the blender contents into a separate container before drinking. Leak-proof lids for the bottles seal the beverages inside for portability. The bottles feature a durable and shatterproof material that is resistant to stains and odours, and the detachable stainless-steel blades are safe for dishwashers.
---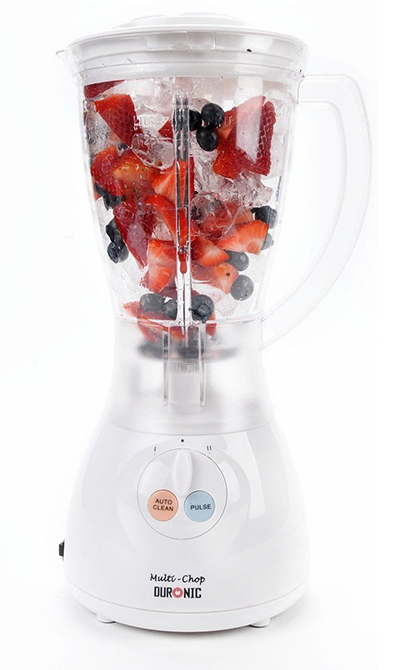 Buyers looking for a compact, versatile, and affordable blender should consider the Duronic BL400. This blender uses a 400-watt motor and a 1.5-l jug, making it suitable for most uses. The blender also doubles as a mill for grinding coffee, spices, and bread crumbs. It is even capable of crushing small ice if the user blends the cubes with liquid. Furthermore, the blender has an autoclean function that makes cleanup a fast and easy process. Duronic also produces a blender called the BL1200. This product uses several of the same design elements as the BL400, though it features a larger jug and a more powerful motor. The BL1200 can handle tough jobs like crushing large ice cubes.
---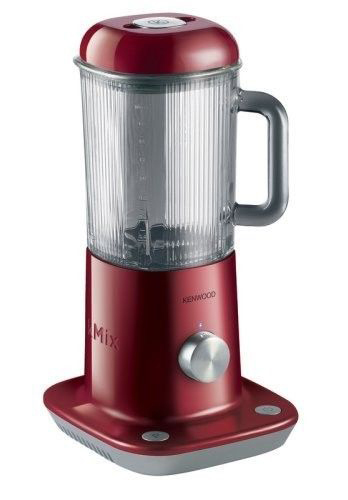 The Kenwood Kmix BLX51 features a vintage visual design with a burgundy colour that adds style to a home kitchen. It uses die-cast aluminium with a metal lid and a glass jug. The beaker has a capacity of 1.6 l and it features a built-in handle and pouring lip. Its 800-watt motor offers power for blending all types of foods, and its parts are safe in the dishwasher to provide easy cleaning options. In addition, several pre-programmed functions and settings enable users to achieve the perfect consistency without worrying about blade speed. The blender also features a pulse setting.
---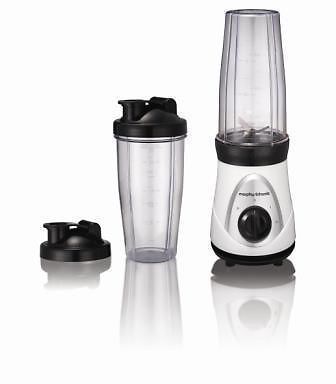 The Morphy Richards 48415 is a small blender that is perfect for making portable drinks. The unit features two 750-ml beakers that double as drinking cups, and the package includes lids to keep the beaker contents from spilling. A 300-watt motor powers the stainless-steel blades, and users can choose from two speeds, along with a pulse setting to achieve the best consistency. The stainless-steel blades are capable of crushing ice, and the blender is suitable for mixing powders, as well. The small size of the Morphy Richards 48415 makes it easy to store, and the blender has a dedicated space for the power cord to make the unit as compact as possible. The blender is also easy to clean thanks to a detachable blade base.
---
How to Buy Blenders on eBay
You can shop for a broad selection of blenders on eBay. Begin a general search by entering "blender" into the search field on any eBay page. You can refine your search by adding specific product names or clicking on relevant category links. Once you find an item you like, take the time to review details about the blender and its seller. Leave feedback about your experience at the end of the transaction to inform future eBay buyers. Whether you need a small blender to quickly create smoothies and protein drinks, or a powerful one for making soups and other meals, you can find listings for suitable items on eBay. Compare features of top products on the market to find the best blender for your needs.