Boss
produces a variety of high-quality speakers, video systems, amplifiers, subwoofers, and more to enable consumers to create and enjoy a high-tech audio experience in their vehicles. The company produces several series of speakers and car stereo systems from which consumers can choose. When selecting one of these products, buyers should consider a number of factors, such as size, function, drivers, and output capacity. An overview of the top five Boss car speakers can help buyers make an informed decision when they shop for high-quality car speakers in local car accessories and music stores or online, on eBay.
| | |
| --- | --- |
| 1 | Boss Audio D65.3 3-Way 6.5-Inch Diablo Car Speaker |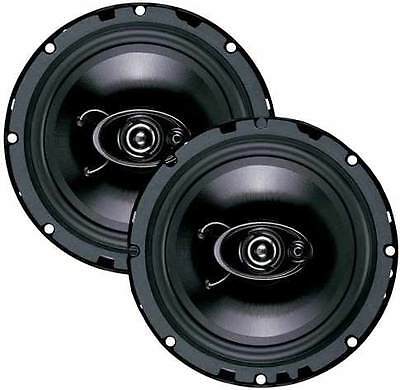 The Boss Audio D65.3 is one of the Diablo series of car speakers. It is a coaxial, three-way speaker, meaning it has three drivers that transmit sound from the same point in the driver. Its drivers are a 2.54-cm voice coil, a 1.27-cm tweeter, and a 2.54-cm dome woofer. It has an output of 350 watts, and a total diameter of 16.51 cm. This single speaker features poly injection cones that help to create the best possible sound. Its drivers excel in clearly transmitting high and mid-range sounds. The Boss Audio D65.3 is less expensive than many other, similar, car speakers, while also communicating sounds of all ranges.
---
The Boss Audio 660CK is an entire car stereo system. Its features make it capable of handling music and audiobooks from a variety of sources. For instance, it has an AM/FM radio receiver that transmits 24 preset radio stations. In addition, it plays MP3s and CDs, and accepts SD cards, providing the option for greater variety in the consumer's listening experience. This stereo system also displays track information, such as artist and song, for each track of an MP3 or CD. The consumer can adjust the volume on the 660CK without affecting the quality of the sound coming through the speakers, and the speakers comfortably handle both loud and quiet volumes. It possesses 16.51 cm speakers and wireless remote control capabilities.
---
The Boss Audio 655CK is similar to the Boss Audio 660CK. It gives an output of 200 watts, and has an AM/FM receiver that transmits 24 preset radio stations. Like the 660CK, it plays sound from a variety of sources, such as CDs and MP3s. However, this car stereo system has some additional features. These include displaying more extensive track information for each song. This stereo system displays up to 30 characters, including song title, artist, directory name, and album name. The 655CK also possesses a theft-prevention feature. It is also compatible with iPhone and iPods.
---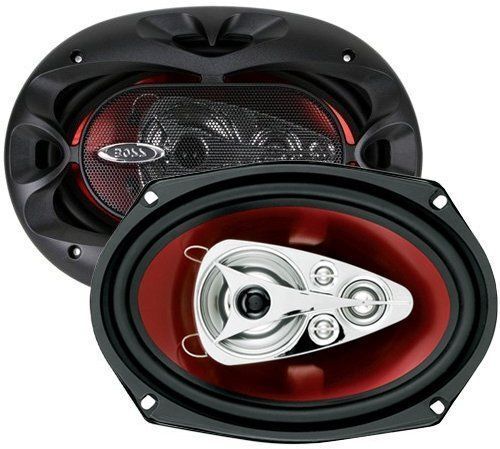 The CH6950 from Boss Audio is a member of the company's Chaos series of speakers, which include the Chaos Epic, the Chaos Erupt, the Chaos Exxtreme, and the Chaos Exxtreme II. The CH6950 is a five-way speaker with an aluminium voice coil with red poly injection cone, a 6.35-cm mid-range driver and three polyamide dome tweeters. The speakers have a 2.54-cm tweeter and two 1.27-cm tweeters. The dimensions of each speaker are 15.24 cm by 22.86 cm by 12.7 cm. They are very sensitive, at 93 dB, and give out a total power of 600 watts.
---
| | |
| --- | --- |
| 5 | Boss LA63 Outcast Car Speaker |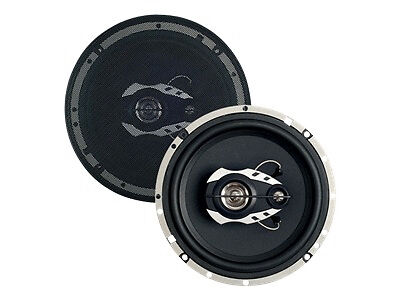 The Boss LA63 Outcast car speaker is a three-way speaker with a 15.24-cm diameter, 400-watt output, and an aluminium frame that adds strength to the speaker. As a three-way speaker, it possesses three drivers, a 16.51-cm woofer, a 3.18-cm mid-range driver, and a 1.27-cm tweeter. This speaker includes a rubber surround, or rubber piece that wraps around the inside of the speaker, that improves that accuracy and fidelity of the sound that the speaker transmits. Like the 655CK, it has detachable grilles that help to prevent theft. The LA63 also possesses coated pepper cones that ensure the sound coming through the speakers is accurate and true.
---
How to Buy Boss Car Speakers
Purchasing a Boss car speaker requires that you know what features of the speaker you want, such as the size, type of drivers, and power output. Choosing a Boss car speaker on eBay is simple. All you need to do is enter a search term, such as 'Boss' or 'car speakers', into the search bar on any eBay page. You can then sort the results by various factors. Boss car speakers are some of the most popular and high-quality car speakers available. They provide great sound at relatively inexpensive prices. Picking one of the top five Boss car speakers can help consumers to get good sound at a good price.