Boss
makes many subwoofer models that produce a surprising amount of sound, considering their size and price. Most come without an enclosure and make for an easy way to upgrade an existing sub. Others have low profiles that make it simple to install a subwoofer even when space is limited. From 8-inch, or 20-centimetre, subwoofer drivers to 12 inch, or 30-centimetre, woofers, there is a Boss subwoofer for every need. Learning about the most popular models helps consumers choose wisely. Boss subwoofers are available at car audio shops as well as online through reputable sites like eBay.
| | |
| --- | --- |
| 1 | Boss P126DVC Phantom 12-Inch Dual 4-Ohm Subwoofer |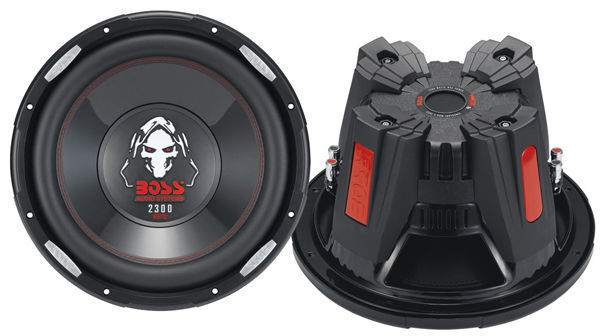 The P126DVC subwoofer from Boss is an inexpensive subwoofer that matches or exceeds the performance of more expensive subs. The P126DVC produces up to 2300 watts but has an RMS rating of 1150 watts at 4 Ohms. It has a poly injection cone and a butyl rubber surround. The frequency response is from 25 Hz to 2000 KHz, but some loss may take place at the lowest end of the range. This subwoofer works with both sealed and ported enclosures. The smaller port frequency, 39 Hz, requires 0.8 cubic feet for a sealed enclosure and 1.4 cubic feet for a ported enclosure. The larger port frequency, 38 Hz, requires 1.9 cubic feet for a sealed enclosure and 1.8 cubic feet for a ported enclosure.
---
| | |
| --- | --- |
| 2 | Boss BASS1200 10-Inch Low-Profile Amplified Subwoofer |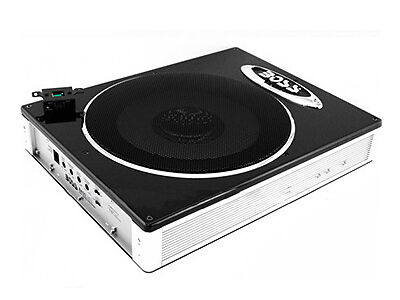 The BASS1200 is just 7.6 cm high, 39.3 cm long, and 30 cm wide. The total power output is 1200 watts, but the recommended RMS set-up is 600 watts at 4 Ohms. The frequency response is from 20 Hz to 150 Hz and there is a subsonic filter for the 20 Hz to 50 Hz range. Thermal, short, and overload protection circuits protect the electronics inside the enclosure. This box-amplifier-woofer combination not only saves space, but also time and effort for those who want to improve on their OEM sound equipment without the hassle of a complicated set-up.
---
| | |
| --- | --- |
| 3 | Boss D10F Phantom 10-Inch 4-Ohm Flat Subwoofer |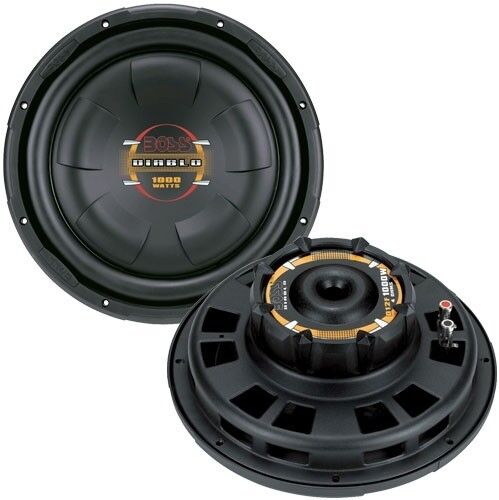 The D10F is a low-profile subwoofer with a height of around 10 cm, but, unlike the BASS1200, the D10F is a stand-alone sub that does not include the amp or the enclosure. It needs a sealed enclosure of 0.6 cubic feet at 47 Hz or 1.2 cubic feet at 45 Hz. While the total power output is 800 watts, the optimal set-up is 400 watts at 4 Ohms. The frequency response is 35 Hz to 2200 kHz. Featuring a poly injection cone and a butyl rubber surround, the D10F boasts quality materials and construction. The D10F is a great entry-level subwoofer when enclosure space is limited.
---
| | |
| --- | --- |
| 4 | Boss CX122 Chaos Exxtreme 12-Inch 4-Ohm Subwoofer |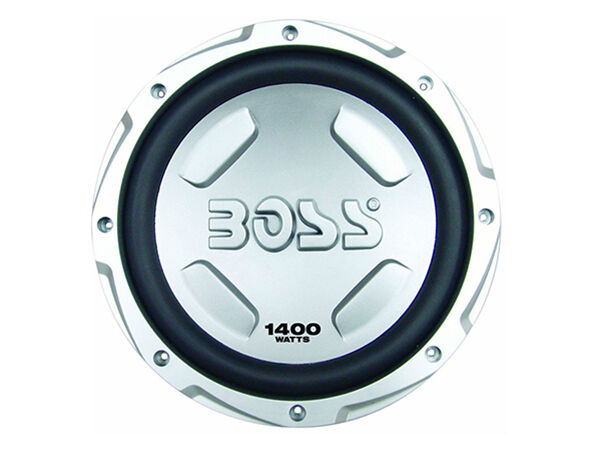 The custom-tooled, high-efficiency polypropylene cone is the highlight of the CX122. The maximum output is 1400 but the RMS rating is 700 at 4 Ohms. It has a larger frequency response range than other subs, at 25 Hz to 3000 Hz. A sealed enclosure of 1 cubic foot for the 40 Hz port frequency, or 2.5 cubic feet for the 34 Hz frequency, is best. If one has the space, this subwoofer is great for providing that ground-rumbling effect at a fraction of the price of higher-priced subs.
---
| | |
| --- | --- |
| 5 | Boss CX8 Chaos Exxtreme 8-Inch 4-Ohm Subwoofer |
The CX8 is a small Boss subwoofer and puts out 200 watts at 4 Ohms. Naturally, it is not the best sub for ground-shaking bass but it is ideal for adding a fuller sound to the mid-range and low-range frequencies. In fact, some people use this subwoofer as a mid-range driver, and with a frequency response of 40 Hz to 4500 KHz, the CX8 manages the job. Buyers should choose the Boss CX8 when the OEM enclosure cut-out is just right for an 8-inch sub. This sub works best with sealed enclosures.
---
How to Buy Boss Subwoofers on eBay
eBay's wide selection and competitive prices make it a popular place to find subwoofers. Finding a Boss subwoofer for your car is as easy as entering the term 'Boss subwoofer' in the search box on any eBay page. Then refine the search by model, price, or other criteria. A good car subwoofer completely changes the experience of driving. With Boss woofers, it does not have to cost an arm and a leg to get the bass pumping. Shopping on eBay allows audiophiles with any kind of budget to find a subwoofer for their car as easily as possible.