Different bra designs are best worn with different kinds of wardrobe or for different activities. Very few women are likely to buy one kind of bra for all purposes. The
lacy full-cup bra
that provides comfortable daily support under workwear is likely to show texture or even its edges under a weekend T-shirt. Cocktail dresses and evening wear have plunging necklines and off-the-shoulder lines that require entirely different modes of support, such as plunge bras or strapless bras. Finally, those who enjoy active sports generally prefer sports bras that constrain movement while providing support. By thinking through her activities and wardrobe, a woman is in a good position to choose the best bras to provide an appealing foundation.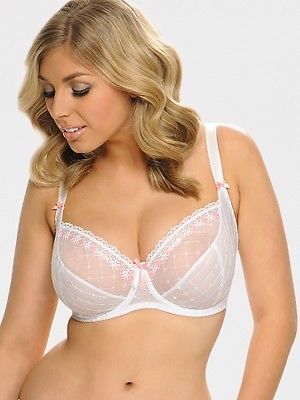 Full cup bras, also known as full coverage bras, cover the entire breast. They offer maximum coverage and may provide maximum support for daily wear. Because they can offer maximum support, these bras come in a wide range of sizes, up to K cups in some brands. Cup sizes smaller than a C are sometimes harder to find in this style. Designs vary by band width, amount of padding, strap width, location of strap adjustment, front or back fastening, level of control or support, whether underwire is built in, and a number of other factors. Some of the most elegantly designed lace bras are full cup models. Full cup designs include nursing bras, which may simply open at the front or may have panels that open each cup to make it easier for the nursing mother. Popular brands include Marks & Spencer, Panache, and Playtex.
---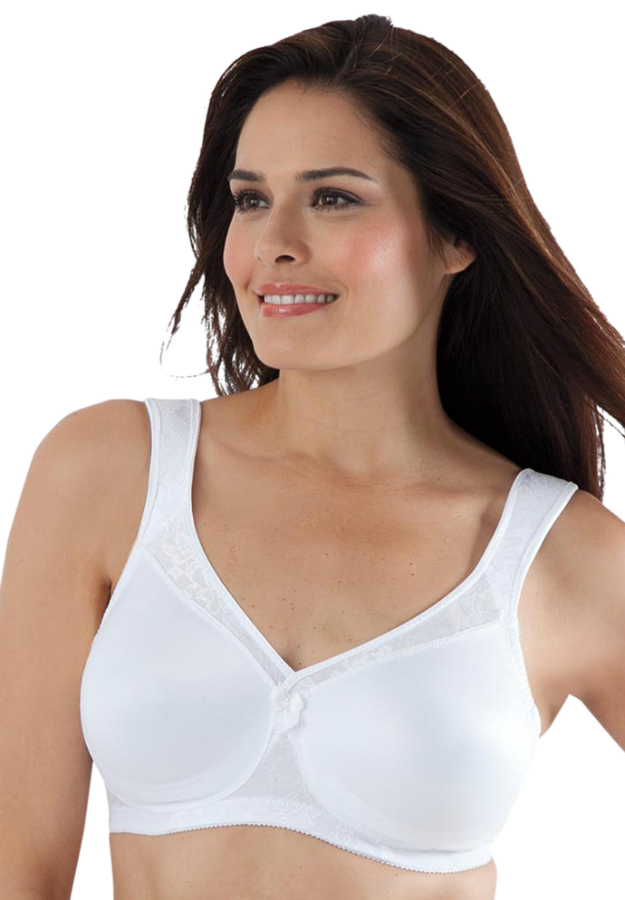 A T-shirt bra is usually seamless and very smooth. The edges generally taper to the skin to prevent any lines from appearing. It may lack lace trim or other ornament since it must avoid standing out under a clingy T-shirt. Light foam padding is often used to help the wearer avoid standing out in any undesirable fashion as well. The shoulder strap adjustments are located on the back to maintain the smooth appearance under the front of the shirt. To make this bra "disappear", especially under a white T-shirt, choose a colour close to the skin tone: darker for dark-skinned women; pale for fair women.
---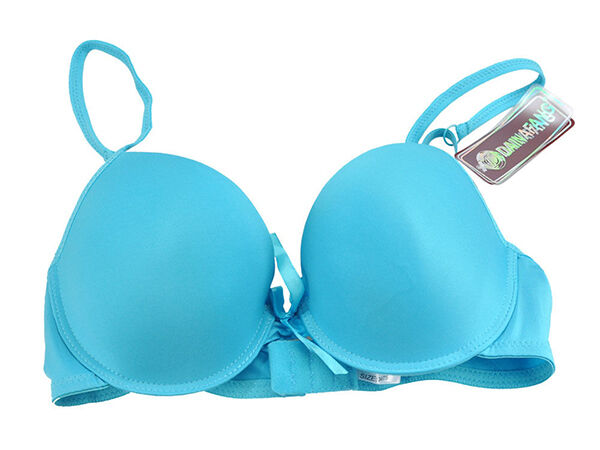 Plunge bras are made for enjoying and enhancing cleavage. They have a narrow center section and don't fully cover the breast. Many use padding or gel to "push up" the apparent size by as much as two sizes. Larger women may choose plunge bras with underwire support to maximise their comfort. Plunge bras for larger women also are likely to have wider straps for more comfortable support. Plunge bras come with either front or rear closures. The diverse fabric selections include many colours in satin and lace. Designs offer various levels of coverage, so the cut should be considered in relation to the dress. Bra sets with knickers let a woman feel well-dressed even before she gets dressed. Popular brands include Freya, Gossard, Marks & Spencer, and Panache.
---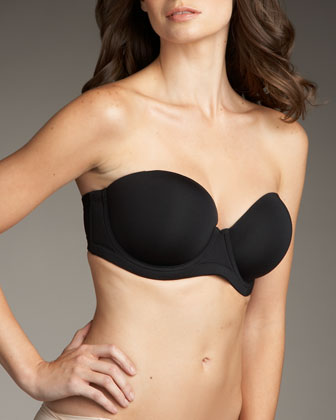 Strapless bras allow women to look beautiful in evening wear and cocktail gowns. Many are made for exclusive strapless wear while some are designed with straps that may be worn in a number of configurations, including strapless when appropriate. Ivory, nude, and black in satin and lace are typical fabrics. Many popular versions, including the "boost" and "wonder" products, enhance cleavage with strategically placed filling or even gel packs. Some, especially backless bras, adhere in place to ensure their stability throughout the evening. These stick-on bras are generally made from silicone or have a silicone inside cup to hold them in place. Others use strips of silicone to help them stay put. Sizing in some designs runs from A cups to G cups for fit in the widest range of women.
---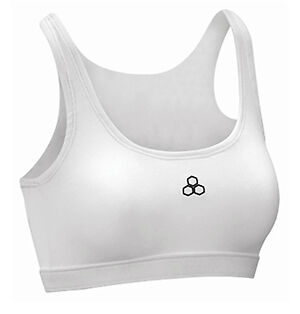 A sports bra helps women feel comfortable during athletic activity. Fabrics generally help to wick moisture away from the body and tightly compress the area to minimise bouncing while providing sufficient support. Wide straps merging into a racerback are the most common design, maximising support and stability. Designs with narrower straps work well for smaller women in low-impact sports. Formed cups inside the bra may support specific sizes, with cup support most likely in larger sizes. Adjustable shoulder straps and chest band are desirable for maximum comfort and best fit. Fastenings include front zip or rear butterfly clasps. Some sports bras are sufficiently colourful that women feel comfortable wearing them as athletic tops when running.
---
How to Buy the Bras Every Woman Must Own
Women can find the right bra for every need on eBay, where sellers offer quality goods from many popular brands such as
La Senza
and
Victoria's Secret
. Many come in bra sets with knickers. Use the search bar for a general search then refine your search by selecting chest size, cup size, brand, style, or other features. Bras are made from a variety of materials but the fibre used is not always specified. If you need more information about any issue, request information using the Ask a Question About This Item tab on the product page. Sellers usually respond speedily to such questions, allowing you to quickly purchase exactly the bras you want.