The right satchel
briefcase
keeps documents in order, holds a computer securely, and makes it easy to grab whatever business tools are needed in a flash. A well-selected leather satchel is also easy to carry and makes a positive statement about the person who is carrying it. Effectiveness is at the core of these top briefcases. Many have leather exteriors for a luxe appearance and long wear. Almost all expand so a busy manager can fit in that extra project file. Interior compartments provide secure spots for essentials, from computer accessories to business cards and pens. Decide how much space it takes to handle the day-to-day then select a top briefcase with the right spaces for it all.
| | |
| --- | --- |
| 1 | Kenneth Cole Reaction Briefcases |

The Kenneth Cole Reaction luggage line offers several briefcases including the Kenneth Cole Reaction Show Business Columbian Leather Flapover Computer Case, which are similar enough to be worth considering together. Many of these laptop bags or business cases are double gusseted with a flap-over closure, differing primarily in the kinds of leather used. The top handle may be fastened into a concealed dowel to maximize carrying strength. Some of these leather satchels also offer a shoulder strap for those who prefer carrying messenger-style. These cases are generally 40.5 cm wide 30.5 cm high by 10 to nearly 13 cm deep at the most expanded point of the gussets. Divisions on the interior of these laptop cases make it easy to organise business papers and to keep a laptop or notebook computer secure. Pockets and mini-compartments provide quick access to phone, pens, business cards, computer accessories, and other essentials. This line also includes a standard hard-side leather attache for those who prefer that look or need a more protective business case. Choose among various colours and cures of quality leather when selecting a Kenneth Cole Reaction briefcase.
---
| | |
| --- | --- |
| 2 | RoadPro CAP-003PM/BK Premium Black Leather-Like Expandable Briefcase |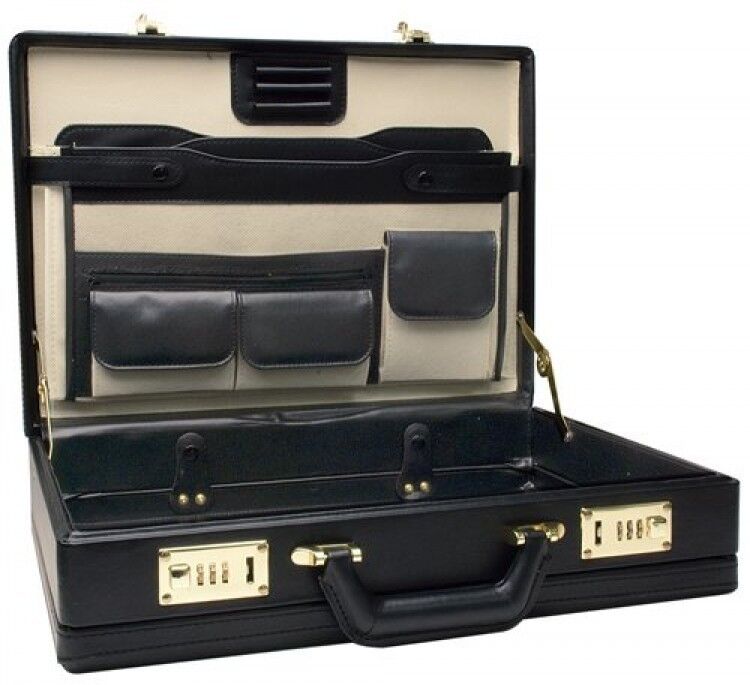 For those who like the appearance of a traditional attache but never know how much might need to fit into the briefcase, RoadPro has a solution. The RoadPro CAP-003PM/BK Premium Black Leather-Like Expandable Briefcase has sides that expand an extra 1.27 cm to accommodate. The attache starts at 44.5 centimetres long by 33 centimetres wide by 10 centimetres deep. Interior pockets hold files, pens, phone, business cards, and other essentials. The solid frame helps to protect a laptop and two changeable combination locks hold the briefcase closed.
---
| | |
| --- | --- |
| 3 | John Lewis Dalaman Briefcase |
John Lewis briefcases are popular for men and women. The John Lewis Dalaman briefcase is a synthetic leather case big enough to carry almost any laptop computer, plus essential office documents. A padded shoulder strap makes for a comfortable, easy carry when the owner wants to go hands-free. A sturdy padded handle is convenient the rest of the time. Two buckle straps hold the flap in place. Choose a black or brown satchel case. The bag is 41.5 cm wide by 29 cm high by 15 cm deep.
---
| | |
| --- | --- |
| 4 | Aspinal Suede Document Briefcase |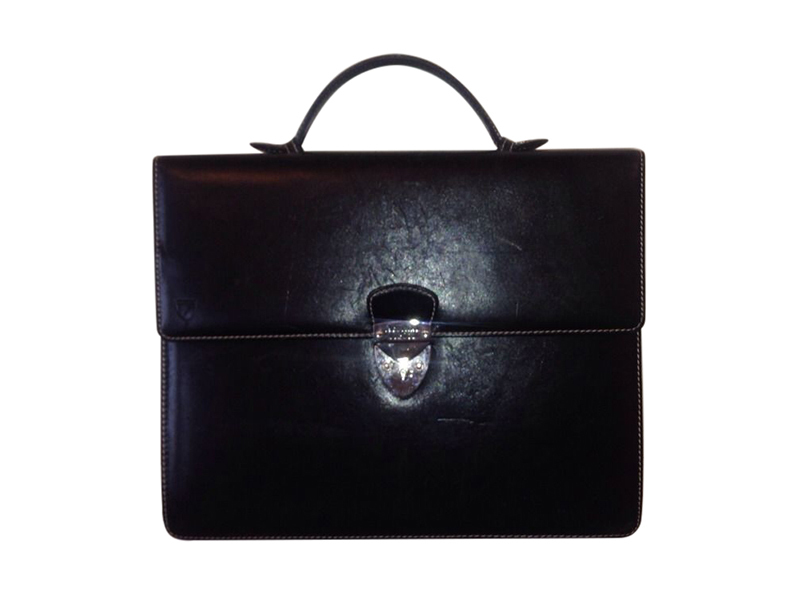 Carrying an Aspinal business case is always a mark of quality. The Aspinal Suede Document Briefcase is a bit of a misnomer, since only the interior is suede. The exterior is a polished hard leather with a well-made clasp holding the flap closure, perfect for protecting important A4 documents, padfolio, or notebook. A zip pocket on the outside extends nearly the full width and provides convenient access to anything frequently needed. Inside pockets fit a mobile, pens, and items that require secure storage behind a metal zip. The size is 35.5 cm wide by 30.5 cm high by 5.7 cm deep. From year to year, the colour combinations change, so new or vintage cases may be desirable depending on preference. Exteriors tend to be conservative with more brilliant colours reserved for the suede interiors. Some combinations to be found include cognac leather with espresso suede, black with red suede, black mock crocodile with cobalt suede.
---
| | |
| --- | --- |
| 5 | Samsonite Leather Flapover Briefcase |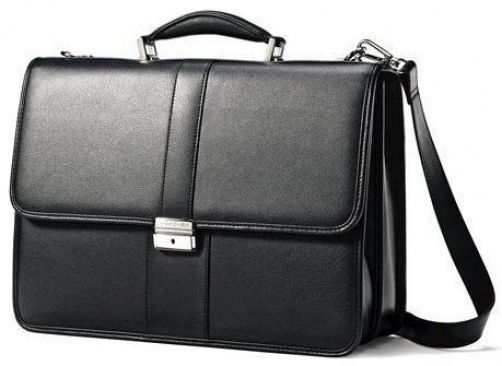 The two-gore Samsonite Leather Flapover Briefcase leather briefcase is only 16.5 inches wide but has enough give to handle a slim 17-inch laptop. Use the front pocket for documents and keep accessories and other essentials organized in the second interior compartment. The front flap closes securely with a metal latch. Use the top handle or the removable padded shoulder strap. Overall height is 30.5 cm; 15.24 cm of depth provides plenty of space in this satchel briefcase.
---
How to Buy Top Briefcases
You can find many appealing leather satchel briefcases on eBay. Key "leather satchel briefcase" in the Search window to find UK items, "flapover briefcase" among Men's Accessories or Laptop and Desktop Accessories to find cases made in other countries. Confirm the bag is large enough to carry your computer if it is always with you. Most of these bags have a shoulder strap but again, confirm that one is available if it is desired. Check the photos to make sure the bag's interior configuration works with your work style. Most sellers have a return policy: check to make sure you can return a briefcase if you are uncertain about a purchase. It's easy to find a top briefcase that meets your needs on eBay.