Ceiling fans
offer a great, economical option for circulating both coolness and warmth to any room. Studies show that ceiling fans make rooms feel up to four degrees cooler. This is enough to reduce energy costs by anywhere from 4 to 6 per cent. Ceiling fans also help to better distribute heat in the winter, again reducing energy costs. In addition to keeping the room temperature more comfortable, ceiling fans add to room decor. This is especially true of highly-unique, custom designed ceiling fans, such as those made specifically for a child. A variety of whimsy-inducing children's fans are available to interested consumers throughout the world. Many popular brands feature a dedicated line, especially for kids.
| | |
| --- | --- |
| 1 | Quorum Pinwheel 116.84 cm Ceiling Fan |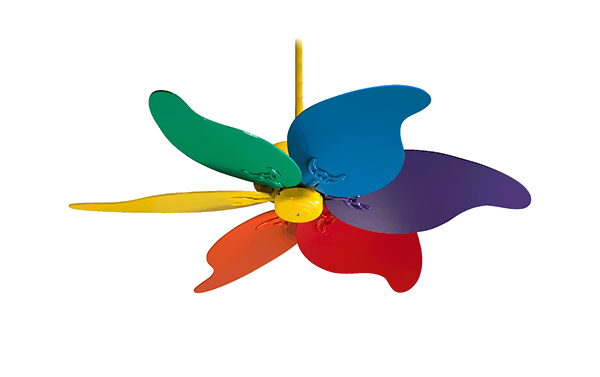 The Quorum Pinwheel ceiling fan offers the perfect design for any child-friendly room. The gender-neutral, six multi-coloured blades feature a uniquely curved, overlapping blade design, which looks just like a giant pinwheel. When turned on, the bright, basic coloured pinwheel fan spins about, eliciting fun childhood memories of spinning pinwheels in the wind on a warm spring day. The 116.84 cm blades offer cool comfort thanks to a powerful 120-volt motor.
---
| | |
| --- | --- |
| 2 | Kidsline Gossamer Wings 106.68 cm Ceiling Fan |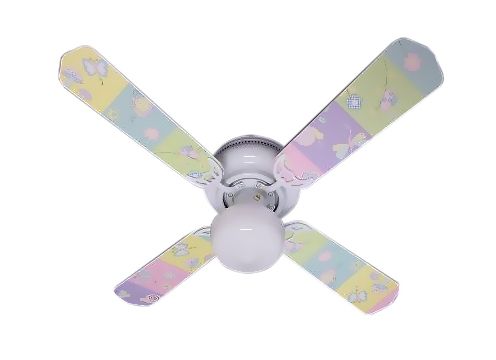 The Kidsline Gossamer Wings 106.68 cm ceiling fan features a 120-volt, 3-speed reversible motor. Each blade features a multi-coloured pastel design scheme of butterflies and flowers. Each blade features multiple coloured blocks, wherein the uniquely painted designs flourish. In the unit's centre, three lightly shaded globes hold bright, universal 60 watt bulbs to illuminate the surrounding room perfectly. The combination of light and ceiling fan offers two important room accessories in one convenient and attractive package.
---
| | |
| --- | --- |
| 3 | Hunter Discovery 121.92 cm Ceiling Fan |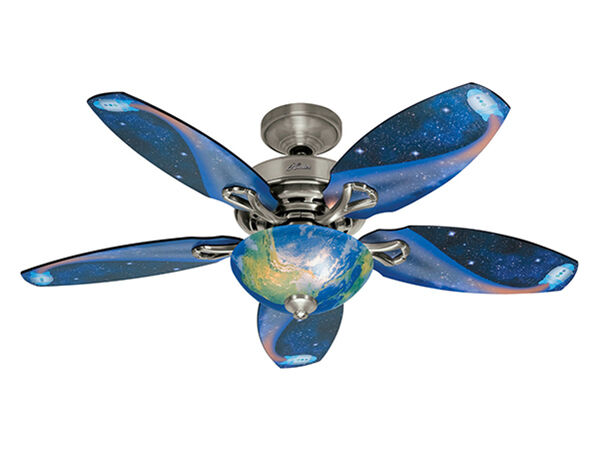 The slightly larger than standard, 121.92 cm Hunter Discovery ceiling fan offers an out-of-this-world design for the room of any space enthusiast. The dome-shaped, centre is painted in the design of Earth. Surrounding the globe are blades painted to look like outer space, complete with a twilight sky, stars, and a rocket ship flying just off the edge. Paired with glow-in-the-dark ceiling stars, this set could stoke the imagination and warm the heart of anyone. The brushed nickel ceiling fans add a unique, stylish touch of flair to an already incredible design.
---
| | |
| --- | --- |
| 4 | Kidsline Rainbow Fish 106.68 cm Ceiling Fan |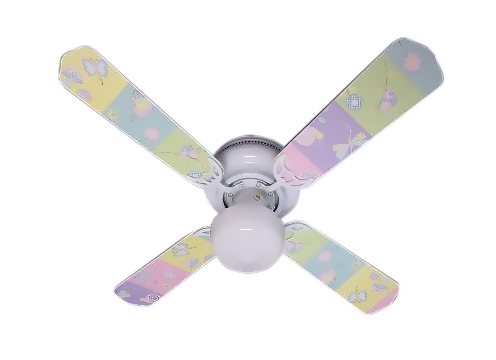 The Kidsline Rainbow Fish ceiling fan features standard 106.68 cm, handcrafted blades. The blades include a highly detailed, softly-coloured underwater theme. Several delicate, multi-coloured fish drift peacefully amongst sand and sea grass. The cool, calming shades make a great look for any children's bedroom, playroom, or nursery. Purchase the blades separately to simply jazz up an existing room fan without the expense or hassle required for complete replacement.
---
| | |
| --- | --- |
| 5 | Hunter Fantasy Flyer 121.92 cm Ceiling Fan |
The unique Hunter Fantasy Flyer fan offers an indoor flush mount design in the shape of an aeroplane. The wildly imaginative, 120-volt, 3-blade, general purpose fan features white propellers with a red central holder. Out from the side a plane body adds a new dimension. Despite only having three blades, the powerful motor allows the Hunter Fantasy to provide all the breezy luxury one would expect from a high-quality ceiling fan. Flip a switch and it is ready to take off into the wild, blue yonder. A great finishing touch for any aeronautics inspired room.
---
How to Buy Ceiling Fans for Children's Rooms on eBay
eBay sellers offer a wide selection of highly imaginative fans made expressly for children's bedrooms, playrooms, and classrooms. To find the perfect ceiling room fan, simply input a related keyword in the site's search engine. When seeking something like 'kids ceiling fan', dozens of listings are likely to appear with a simple click of the enter key. From that point, narrow results using eBay's multiple refinement options. Most ceiling fans come unassembled for easy shipping, but assembly and installment are easy tasks for even the most novice do-it-yourselfer. Within just a few short hours most homeowners can find themselves with a newly decorated, evenly tempered room all year round, perfect for the smallest members of the family.