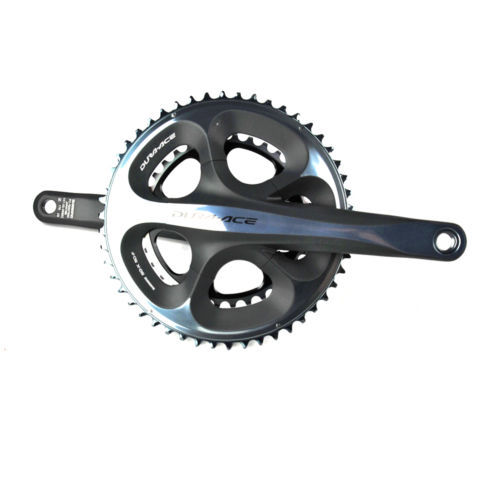 A crank set, or chainset as it is sometimes referred to, is the component of a bicycle drivetrain that converts the motion of the bike rider's legs to drive the chain or belt that drives the rear wheel of the bike. Essentially it forms part of the 'engine' that powers the bike.
There are a number of different components that make a crank set, and all of the crank parts form part of the wider mechanism. When purchasing a new crank set or repairing/replacing components of an existing one, there are a few different factors to consider.
Each component should be correctly identified and incorporated into the mechanism. This guide will outline the 5 key considerations when purchasing a crank set, as well as giving details of how to purchase all of the necessary crank parts on eBay.
1. Components
A crank or chainset is comprised of a number of different elements: usually one or more sprockets (chainrings/chainwheels) that are attached to the cranks (arms/crankarms) to which the pedals attach. It is then connected to the rider by the pedals, to the frame of the bike by a bottom bracket, and to a rear sprocket (cassette/freewheel) via the chain. When purchasing crank parts, or understanding the elements of a crank set, it is important to be familiar with each component:
Sprockets
A sprocket is the part that meshes with the chain of the bike as it passes over, generating power. It is normally a wheel shape with teeth or groves that correspond with the links of the chain. The gear ratio of the bike is directly related to the sprockets, and it is possible to vary the gear by having a large and small sprocket at either end of the chain.
Cranks
There are two cranks that are aligned on each side and mounted apart, connecting the bottom bracket axle to the pedals. There are a variety of crank sizes (referred to as the length), which for adult bikes tends to range between 165mm and 180mm. The proportion of crank length to leg length is important - those with shorter legs should use shorter cranks and vice versa.
Bottom Bracket
The bottom bracket connects the crank set to the bicycle whilst allowing it to rotate freely. It contains a spindle or axle that connects to the crank set, and bearings that allow the mechanism to rotate. The pedals then attach to the cranks.
Cogset
The cogset refers to the collection of rear sprockets that attach to the hub on the rear wheel of a bike. This then provides the gear ratios as mentioned above. There are two types, a cassette and a freewheel.
Pedal
The pedals are the part of the bike that the rider uses to propel the bike. It transfers power from the cyclist's foot to the crank, which in turn rotates the bottom bracket spindle and moves the wheels. There are a number of varieties available, and different styles and types are used for different occasions.
2. Material
The material of the crank set components is an important decision that will affect the weight, performance and cost of the gear and the bike. Here are some examples:
Steel
Often less expensive steels are used, they tend to be light and very strong. Most commonly they are used on BMX bikes that are used for stunts or tracks.
Aluminium
Cold forged aluminium is sometimes used to give the metal additional strength, which means that the cranks can be made lighter without making them brittle and subject to breaking.
Carbon
Increasingly common is the use of carbon which has low friction and can be strong and rigid, as well as being particularly light. Carbon fibre is also a material that is seeing a rise in prominence.
Alloy
Alloy tends to be quite hardy as well as quite scratch-resistant, meaning that it is perfect for adding a little aesthetic touch to the bike.
3. Number of Chainrings
The number of chainrings and the size of them will affect the gear ratio and there are a number of options available. Most commonly a double chainring will be used, but it is not uncommon to find single or triple ones too. It's important to make sure that the rest of the crank set is compatible with the number of chainrings desired.
4. Bolt Circle Diameter
Most modern bikes allow for removable chainrings so that replacements can be made. The holes on the spider arms that the chainring attaches to can have a variety of dimensions and this is referred to as the BCD. There are a variety of diameters available, but as a guide cranks that will mount one or two chainrings will have a single BCD, whilst cranks that mount three chainrings will have two different BCDs.
5. Additional Components and Variations
There are a few other features to look out for when it comes to crank sets, where the standard model does not fit. For example there are features such as chain guards and chain guides that are used on BMXs and mountain bikes that are likely to be used on rougher terrain. Tandem bikes will often have their own unique crank sets, where two different cranks will power the bike from the two different cyclists. There are other features too, such as left-side-drives and freewheeling crank sets, and each variation has its own unique properties. It is therefore important to understand the bike and the needs of the bike when making a purchase.
Buying Considerations
There are a number of points that should be considered when purchasing a crank set or parts for one.
Price
Price will be a determining factor for most people. Having a budget for purchasing or repairs is a good idea, as prices can vary based on the size, type and material. Make sure to research the market and come up with a feasible set of costs.
Condition
On eBay there are plenty of items that are new as well as those that are used . Which one to buy depends on personal preference and budget - used components can often present a more affordable means of purchasing, whilst other people prefer to have new items for custom builds.
Colour
Although it may seem unimportant, many cycling enthusiasts want their bike to look as good as possible. Having a colour scheme is a good way of doing this, and sometimes when competing it is a prerequisite. There are a huge variety of colours available, so have in mind what will work with the other components.
How to Buy Crank Sets and Crank Parts on eBay
Once the key decisions have been made, it's time to get online and start buying. On eBay the bike parts can be found on the Cycling section of sporting goods. From here there are a number of options that will help when making a purchase:
Refinement
The left-hand of the site is used for the refinements. Here there are a number of variables that can be selected so that only relevant items are displayed. Multiple refines can be used on one search, and factors such as price, condition and format are given along with more specific features such as component type, material and spindle interface. It is also possible to do a keyword search in the search bar for specific items.
Product Pages
The product page shows all the information relating to a specific product, and can be reached by clicking on any of the products that are displayed after the search and refines have been made. The product page will give a detailed description of what is for sale, as well as an image gallery, seller details and any other relevant information.
Seller Information
Clicking on the seller's name on the product page will lead the user to that seller's information page. This will show information about the seller, such as the rating that they have received from past customers, as well as any comments they have made. This is a good way of deeming what sort of customer service you will receive from them. It is also possible to contact the seller from here.
Auction and Buy Now
Once a product or products have been selected, there will be two ways that they can be purchased. Some will be listed as auctions that can be bid on. They work just like regular auctions, where there is a time limit in which bids can be placed, with the highest bid winning. It is possible to enter a maximum bid you are willing to place, and that can be resubmitted if it is outbid. It is also possible to buy the item outright if it has the buy it now option. This is an easy way of purchasing an item.
Conclusion
This guide has shown the five key considerations when purchasing a crank set or crank parts on eBay. There is a huge variety available and a number of variables so it's really important to understand how all of the different components work and relate to each other. Whether you are building a bike or simply looking to repair or upgrade, crank sets are crucial. eBay offers a safe and secure environment to shop online and has many intuitive features to help find the perfect items.