One of the great things about advancements in technology is that it gives people a chance to do things like listen to music in a variety of ways. However, sometimes there is just no replacing the feeling people get when playing music on great turntables. One exciting thing the Crosley company accomplishes is finding a way to merge those two worlds of new and old and still keep or even improve the sound quality of turntables.
Crosley turntables
come in a variety of models with each model having a unique quality or feature. Buyers find Crosley turntables at music shops and online at eBay. Being able to compare the key features of top models assists people in making their purchasing decisions less confusing.
| | |
| --- | --- |
| 1 | Crosley Keepsake USB Turntable |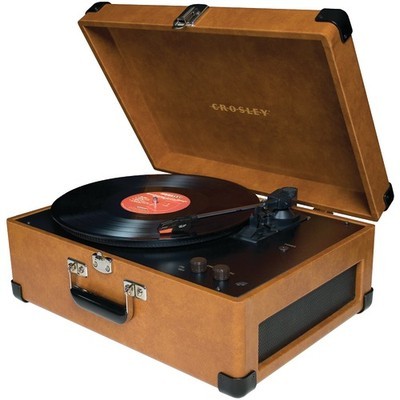 There are many valuable features that the Crosley Keepsake USB turntable offers consumers. One of the features that sets this turntable apart from many others is the ability this turntable has of transferring music to a PC via a USB connection in order to record the music in CD format. Constructed to the highest possible standards and built to last, even a used Crosley CR6249A Keepsake USB turntable is a good value if properly maintained. The turntable features a belt-drive system and has 33.3 RPM, 45 RPM, and 78 RPM speed settings. The turntable includes audio input and output jacks for connecting it to external speakers and an adapter for playing older 45 RPM vinyl records.
---
| | |
| --- | --- |
| 2 | Crosley Spinnerette Portable Turntable |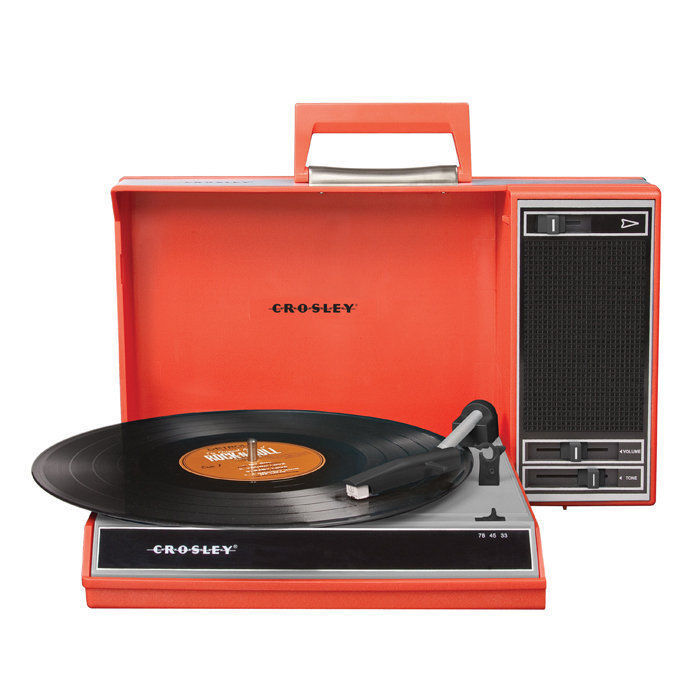 Combining a new twist with an old favourite, the Crosley Spinnerette portable turntable makes vinyl record listening enjoyment very mobile. This portable turntable includes inbuilt speakers and not only plays records in the traditional way people expect, but it also has the ability to transfer the music to a Mac or PC via a USB connection port with the help of Audacity software which comes with Crosley portable turntables. In addition, this music player also comes with a cable that allows people to connect an MP3 player to the turntable as well and edit, rip, and then download their music onto their devices. Constructed with a belt design and using a diamond stylus needle, this unit plays records on 33.3 RPM, 45 RPM, and 78 RPM formats.
---
| | |
| --- | --- |
| 3 | Crosley Rochester 5-in-1 Entertainment Centre |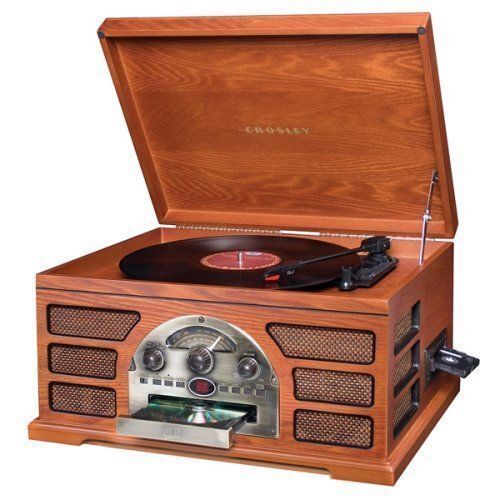 When it comes to enjoying music in a variety of ways from one mobile command centre, Crosley covers that with the Crosley Rochester 5-in-1 entertainment centre. This portable turntable with auxiliary allows people to enjoy their music in five different ways via a turntable, MP3 player, CD player, FM and AM radio, or cassette player. Built to last, the belt-driven Crosley 2450-2T wooden retro turntable style music player has a finish that is easy to clean. Inbuilt speakers pump out rich sound with no vibration from records using a 33.3, 45, or 78 RPM format.
---
| | |
| --- | --- |
| 4 | Crosley Cruiser Portable Turntable |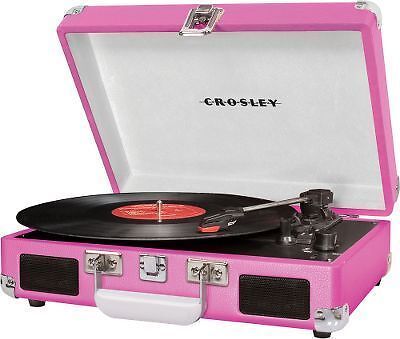 If people want a record player that is both very compact and portable, the Crosley Cruiser portable turntable deserves a good look. Featuring a sleek briefcase-style body, this music system is more than just a record player. The turntable plays 33.3 RPM, 45 RPM, and 78 RPM vinyl recordings plus also gives users the ability to plug in an MP3 device and listen to their favourite tunes over the inbuilt speakers that the Crosley Cruiser includes. The outer surface is wooden with a leather-like vinyl covering that protects the outer casing, which helps people protect it from the external elements anywhere they choose to go. If people want to really make the Crosley turntable stand out, they choose one like the green Crosley Cruiser portable turntable.
---
| | |
| --- | --- |
| 5 | Crosley Revolution Turntable |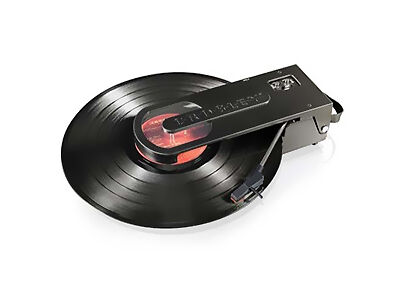 Extreme ease in portability is one aspect that makes Crosley turntables so advantageous. In addition to producing rich, high-quality sound due to the belt drive mechanism incorporated into the design, the Crosley Revolution turntable provides the option of two power sources. Users power the turntable by plugging the turntable into a standard wall outlet, or they use the alternate battery powering source capability. This unit enables users to play vinyl records at 33.3 RPM, 45 RPM, or 78 RPM speeds and listen to their favourite records on the high-quality, inbuilt speaker system. People also have the additional option of connecting the turntable to a radio and listening to music through those speakers in order to further enhance their listening enjoyment.