A fun addition to any home or office party,
DVD players with karaoke
functionality transform boring music or movie night into something with a bit more pizzazz. These all-in-one players allow for the simultaneous playing of background images or music videos with the complete audio tracks and on-screen streaming song lyrics used by karaoke singers to aid in their performance. Whether the unit comes from a local electronics shop, party supply store, or online at eBay, research into the features and functions of the top DVD players with karaoke allows for a successful and informed purchase of a unit to facilitate fun for years to come.
The professional-level RJ Tech 4200 DVD player with karaoke functionality allows for full DVD player enjoyment as well as the connection of up to two microphones and a karaoke DVD to turn the living area into a performance stage. Clear on-screen setup options allow for the configuration of word streaming speed, tone equalisation, and screen brightness via on-board controls or a remote, and the input and output connection terminals enable easy pairing with home theatre components for full, rich sound. Features like progressive scan video and multi-playback format reduce blur, skips, and distortion, and it accepts media formats including DVD, VCD, DVD-R, and JPEG for versatility.
---
| | |
| --- | --- |
| 2 | Karaoke USA System GM527 |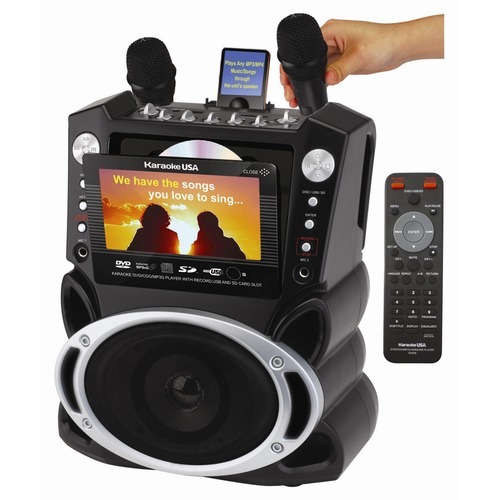 Portable and lightweight, the Karaoke USA GM527 system includes a handle for easy portability and an 18-cm screen to display a variety of backgrounds as well as the words to karaoke songs. Onboard controls allow for the quick adjustment of the volume, fade, and balance of both of the included microphones, and the side-mounted tweeters and centralised woofer convey high-, mid-, and low-range notes across all musical genres. In addition, a port situated on the top of the unit allows for iPod hookup to broadcast playlists and downloaded karaoke music through the unit.
---
| | |
| --- | --- |
| 3 | Emerson GF827 DVD Karaoke Player |
With a full-colour 18 cm display screen and portable design, the Emerson GF827 DDVD karaoke player comes with 300 machine-optimised melodies on DVD as well as dual microphones that work individually or as a complementary pair. With the addition of suitable recordable media, this device allows singers to record their harmonies and play them back at home or to a crowd of others, and the included USB and SD slots allow for the connection of an iPod for even more playback versatility. Digital echo and key control modules drastically reduce the effects of skipping and lag, and A/V component cords connect the unit to a home theatre system for even more fun.
---
| | |
| --- | --- |
| 4 | VocoPro Semi Karaoke System |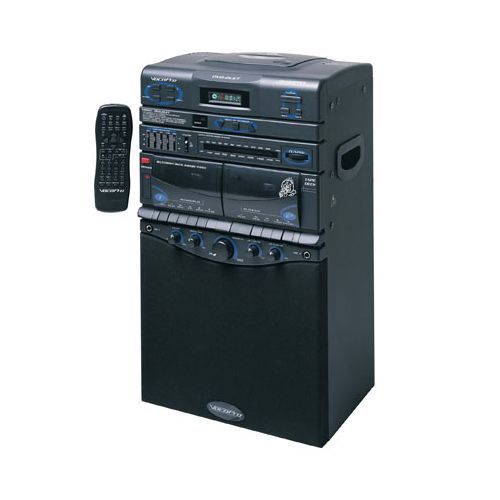 The VocoPro semi-professional karaoke system features a DVD/CD player, radio tuner, and dual cassette decks for a full karaoke experience at home or on the go. The device supports multiple media types, including CDG, VCD, DVD, MP3, and HDCD as well as CD-R, CD-RW, and JPEG. Owners can use the digital key controller to adjust the range of the music to better compliment the vocal range of the singer, and the 5-band graphic equaliser allows for individual control of all attached microphones to facilitate a better performance. In addition, four 2-way speakers provide a 40-W power output and owners can use the output ports to connect the machine to a home theatre system for a larger screen to display karaoke lyrics.
---
| | |
| --- | --- |
| 5 | U Best DA-268 Karaoke DVD Player |
The U Best DA-268 karaoke DVD player turns virtually any television screen into karaoke central. The 1 TB hard drive works as a digital jukebox to store thousands of songs and corresponding video backgrounds, and each catalogues with a corresponding song number to make recall quick and easy for parties or just a relaxing evening at home. This device supports a wide variety of playback options, including CD, DVD, SVCD, VCD, MP3, and read-write media, and the 14-step built-in key control automatically fixes tiny skips, lags, and blank spots.
---
How to Buy DVD Players with Karaoke on eBay
Whether your budget allows for a new or used unit, you can find many makes and models of DVD players with karaoke function on eBay. To find the ideal machine quickly and easily, use targeted search phrases such as " RJ Tech 4200 DVD and karaoke player", " U Best DA-268 karaoke DVD player", or " Karaoke USA GM527". Shoppers looking for a DVD player with karaoke can find the right device for their needs if they start by considering the top devices. Then it is just a matter of comparing the specifications for each device and the users' needs to ensure they find the right karaoke DVD player the first time.