Many consumers rely on DVD-R duplicators to create backups of special occasions such as weddings, graduation parties, and family reunions captured to DVD. Creating backups protects owners in case the discs holding their original footage become lost, damaged, or stolen. A DVD duplicator comes in the form of a tower with multiple trays. By inserting their original DVD in one drive and blank DVD-R drives in the other trays, users can create multiple backup copies in minutes. Users should invest time into researching the top DVD duplicators available in order to find one that matches their needs. For example, many DVD duplicators can burn multiple types of discs, such as CD-Rs for MP3 files and DVD+R, a format that complements -R.
| | |
| --- | --- |
| 1 | Produplicator CD DVD Duplicator 24x LightScribe SATA Burner 2 Target Copy Tower |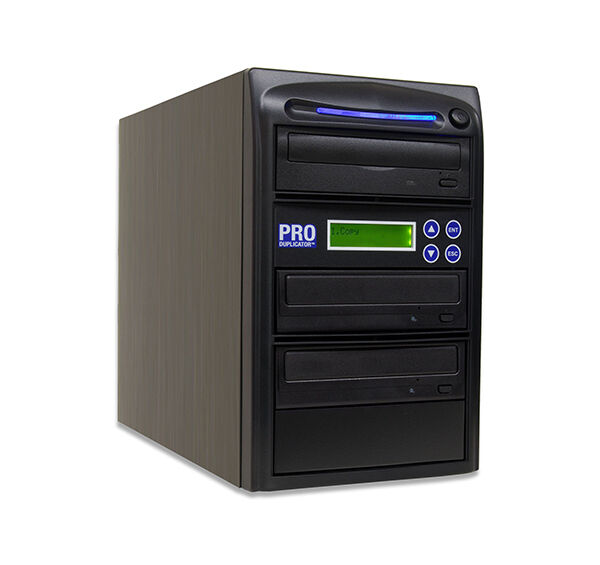 Built as an all-in-one box, the Produplicator CD DVD Duplicator 24x LightScribe does more than burn duplicates of CDs and DVDs. It also burns labels using LightScribe laser-etch technology, allowing users to forego sticky labels and ink that can seep into the inner workings of DVD players. Manufacturers designed the Produplicator to handle heavy workloads without cool down. While the machine creates a duplicate of the master disc, the laser-etching tech applies the label using software packaged with the Produplicator. The Produplicator also boasts an accessible interface. To use the machine, users set tasks using four buttons and an LCD interface. Even better, the Produplicator functions as a standalone device. Connecting to a computer is optional, but not required.
---
| | |
| --- | --- |
| 2 | TEAC Stand-Alone 1 to 1 CD DVD Duplicator |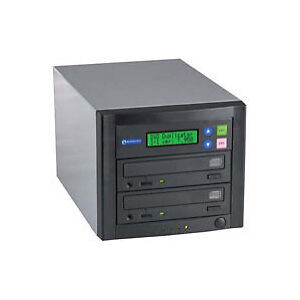 The TEAC Stand-Alone 1 to 1 CD DVD Duplicator fires off duplicates using high-speed disc drives. Burning at a rate of 16X for DVD discs and 48X for CDs, the device supports a wide array of media including DVD-R, DVD+R, CD-R, and CD-R, to name a few. Operating the TEAC Stand-Alone proves equally simple. The device runs on an internal power source, so users do not need to hook it up to a PC. Users configure the burning task using the on-board control panel, which offers access to more advanced settings through sub-menus display on the LCD screen. Further emphasizing the simplicity of the TEAC Stand-Alone, the machine requires no software to run. Users can meet all their duplication needs using the options built into the device.
---
| | |
| --- | --- |
| 3 | Xerox 1 to 1 DVD Duplicator |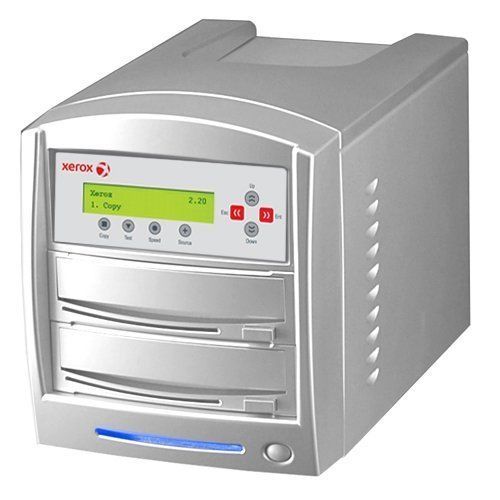 Backed by a name equipment connoisseurs trust, the Xerox 1 to 1 DVD Duplicator can churn out one copy or multiple copies at once, depending on how many drives users decide to stack in the tower. Similar to other popular DVD duplicators, the Xerox line of duplicators prioritises ease of use. To get started, users plug in the machine to a power source, place the master disc in the top drive, load one or more blank discs, and press the copy button. For those who desire to delve deeper, the Xerox line of duplicators offers a few bells and whistles. Users can connect the device to a PC and copy files to the internal hard drive, eliminating the need for a master disc. The Xerox also plays nicely with several media types such as double-layer DVD+R and dual-layer DVD-R.
---
| | |
| --- | --- |
| 4 | Microboards Quic Disc 1 to 3 CD DVD Duplicator |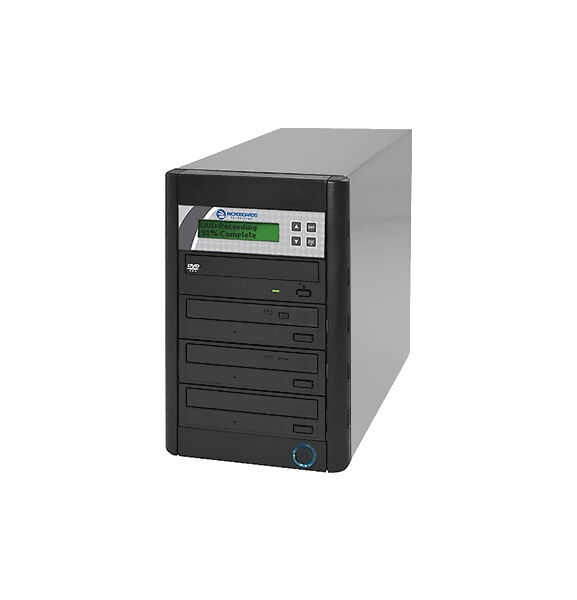 Known for its efficiency, the Microboards Quic Disc 1 to 3 CD DVD Duplicator makes it easy to follow every stage of the duplication process. Users queue duplication tasks using a small set of buttons, and then follow the progress of the tasks via the meter on the backlit LCD screen. Other features speak to the efficiency of the device. Burning takes place at up to 52X, and the 1-to-3 capacity of the tower means users can burn up to three duplicate discs at once. As a demonstration of its flexibility, the Quic Disc also allows users to burn duplicates using a USB drive as the source rather than a master disc.
---
| | |
| --- | --- |
| 5 | Systor Mini 2 - LightScribe CD DVD Autoloader / Automated Disc Duplicator |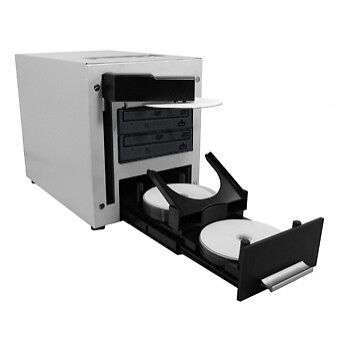 Measuring approximately the size of a shoebox, the Systor Mini 2 - LightScribe CD DVD Autoloader / Automated Disc Duplicator boasts a bevy of special features and options. Most notably, the machine can hold up to 25 discs and hold multiple master discs to juggle several duplication jobs simultaneously. Users can tweak every nuance of a duplication job, or use the fast keys to get started within seconds. Should the drives start to lag in read-write speed, users choose from selected brands for upgrades. Other useful features include support for English, Spanish, and French, as well as password-protected user accounts.
---
How to Buy DVD-R Duplicators on eBay
Whether users want to invest in a particular DVD-R duplicator or they need to stock up on blank DVD discs first, eBay's Top Sellers provide all they need to create backup of their personal media. Locate the search bar on every eBay page and enter a keyword phrase. Try "DVD-R duplicator" to get started, or enter specific phrases such as "Produplicator CD DVD Duplicator 24x LightScribe" to weed out unwanted results. eBay sellers offer new and used DVD players in addition to DVD discs and duplicators. Shoppers preparing copies for group events should consider a portable DVD player, as the attached screen encourage crowds to huddle up and enjoy videos together. Also, look into DVD-R players for home viewing.